Ambulances turn into delivery room for pregnant women
76 babies delivered in the ambulance in six months
Nikhil Bhardwaj
Our Correspondent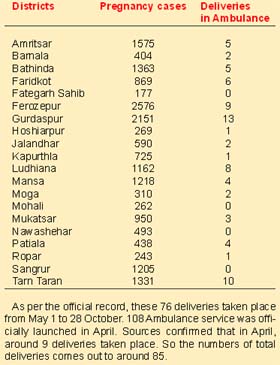 Jalandhar, November 1
Recently launched 108 Emergency Services (Ambulance) in the State has been emerging as a Good Samaritan for the expecting mothers as well as for the new born children. Since its inception in the state in April this year, 108 ambulances have handled thousands of pregnancy cases and its medical technicians have extended quality medical care to women to deliver in the emergency vehicle itself.
Record procured by The Tribune revealed that in the last six months (May to October 28), 108 emergency services handled 18,311 pregnancy cases. As many as 76 babies took birth inside the ambulance.
Chetan Sharma, Manager of Operations 108 Emergency Services, Punjab, said '108 ambulance' services has become a big hit, attending hundred calls related to labour pain in a day. In cases of advanced labour, the team of Emergency Medical Technicians (EMT), who have been fully trained to handle pregnancy cases, have helped women to deliver babies in the ambulance.
Out of 20 districts of Punjab, maximum calls came from Ferozepur district (2576), followed by Gurdaspur (2151), Amritsar (1575), Tarn Taran (1331), Mansa (1218), Sangrur (1205), Ludhiana (1162), Muktsar (950), Faridkot (869), Kapurthala (725) and Jalandhar (590).
All other districts of the state received less than 500 calls with Fatehgarh Sahib district registering only 177 and Hoshiarpur just 269.
About number of deliveries that happened inside the ambulance, Gurdaspur left other districts behind with total 13 deliveries registered, followed by Tarn Taran (10), Ferozepur (9), Ludhiana (8), Faridkot (6) and Bathinda-Amritsar (5 each). Other districts registered below five deliveries.
Sangrur, Nawashahr, Mohali and Fatehgarh Sahib Districts have registered zero deliveries in emergency vehicle.
"Our primary aim is to ensure institutional delivery in a more hygienic process and in case labour pain increases, our fully trained staff turns the ambulance into a mobile labour ward to let the women deliver in the vehicle," Chetan said.
Facts
State to get 17 more ambulances soon
Out of 17 ambulances, Jalandhar, Bathinda and Ludhiana districts will get eight, four and five ambulances, respectively.
Chetan Sharma, Manager Operations 108 Emergency services, said that Punjab has in total 223 (108 ambulances) and department has envisaged 240 ambulances (one ambulance for every 1.20 lakh population).