How technology offers heart patients a better quality of life
Dr Harinder Singh Bedi
While it is true that heart disease is spreading fast in India, our management has also improved with the help of revolutionary new technologies and improved skills. The availability of finer imaging facilities, refined hardware and techniques have led to better patient care.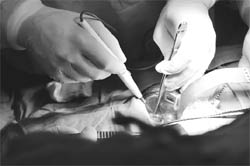 BETTER IMAGING
MODALITIES
The first step is early diagnosis - the sooner a disease is identified, the better it can be controlled. Newer imaging techniques are a boon to the cardiac scientist.
Multi-slice CT scanner: This firstly identifies patients at risk by a method known as calcium scoring - the higher the score, the more the risk of heart disease. The newer 64-slice and above CT can give a very accurate 3D anatomical image of the heart (coronary) arteries . The details and spatial orientation given are unmatched by the previous imaging modalities. A new addition to CT - the Fractional Flow Reserve (FFR) — gives valuable information about the significance of a block on the heart function.
Cardiac Magnetic Resonance Imaging (CMRI): This gives an excellent view of the anatomy of the heart and is especially useful in understanding the complex anatomy in complicated cases
Positron Emission Tomography (PET) and Nuclear Heart Scan or Cardiac Viability Study): This has an excellent predictive value — it tells the cardiac scientist whether there are any areas in the heart which are at risk for developing a heart attack and if recovery is possible after an intervention.
Genetic testing and evaluation of bio-markers will help in identifying people at the risk of developing heart disease.
By these predictive tests a person at risk could be targeted with aggressive lifestyle modifications and other therapies so that he is saved from an avoidable heart attack.
New technology may predict heart attack in waiting.
A new imaging technology may hold the key to not only stopping heart attacks in their tracks but also preventing them for ever occurring. For the first time, researchers at Mount Sinai School of Medicine have shown the use of multi-detector computed tomography (CT) imaging along with a novel contrast agent that can detect dangerous, high-risk plaque which may cause heart attack and stroke.
VALVULAR HEART DISEASE
Repair of valves is now possible by a skilled cardiac surgeon. Such volves have an edge over artificial valves as they will not need any blood thinner and would hopefully last longer. A new technique called TAVI (Transcatheter Aortic Valve Implantation) has now crossed the research stage and is being used successfully on humans. In this technique a heart valve is implanted without putting the patient on a heart-lung machine or making any cut. This should be especially useful in old and high-risk patients.
For patients requiring conventional surgery, better quality valves are being developed. These need less or no anti-coagulation (blood thinners), are safe during pregnancy and last longer than before.
CORONARY ARTERY DISEASE
Bypass surgery has undergone a sea change with the advent of beating heart surgery. Patient mortality, morbidity, hospital stay and use of blood products have markedly got reduced.
Another new technology that has been developed is Minimally Invasive Cardiac Surgery (MICS). Here special instruments and cameras are used to do almost any kind of open-heart surgery, including valve and congenital heart surgery (in children) through a tiny incision.
NEWER CATHETER INTERVENTIONS
Here are some very interesting techniques:
l Intentionally scarring a part of the heart to stop a rhythm disturbance
l Routing a tiny umbrella-shaped device to patch a hole in the heart
l Cutting away excess calcium in arteries with a diamond-coated burr, a cutting instrument that rotates at 150,000 rpm (or about 15 times faster than a race car engine)
l Opening tough blockages using a cutting balloon with sharp blades
l Removing a blood clot within the heart arteries, using a suction catheter or a special jet catheter
l Using a catheter with an ultrasound probe (IVUS or intra-vascular ultrasound) at its tip to look at the inside of the heart arteries. This is done after an angiogram or a heart catheterisation study. It is done when we do not get a good enough picture of the calcium or plaque, and how bad the narrowing is. This gives us a circumferential view of the inside of the artery, like going through a tunnel.
l ICE or intra-cardiac echo to look at the chambers of the heart from inside
l Bio-degradable stents which will disappear after doing their job — reducing the incidence of restenosis
STEM CELL THERAPY
This is a novel approach and holds promise for patients with end-stage heart disease. The basis is the use of the stem cell from the patient's own body. This miracle cell has the potential to develop into a heart tissue to replace the dead muscle. This concept has come a long way from the bench to the operating room and carries a lot of hope for the patients who otherwise would have needed a heart transplant.
GENE THERAPY
The unlocking of the human genome has thrown open vast possibilities in the total eradication of disease from the root. Thus, it may be possible to actually repair the 'defective' gene responsible for the higher incidence of heart disease in Indians.
Home-monitoring system of pacemakers, ICDs
This technology helps in continuous and automatic monitoring of congestive heart failure patients in their homes, resulting in fewer re-admissions to the hospital and lower healthcare costs. The home monitoring system observes any fluctuations or inconsistencies in the signals being received by heart-monitoring devices like the pacemaker and implantable cardioverter defibrillator (ICD) and sends the signals to the patient's physician via email, SMS or fax. This system allows physicians to remotely monitor their patients' clinical and device status any time and from anywhere in the world.
Self-testing of blood coagulation profile
PT/INR self-testing kit allows patients to measure their blood's anti-coagulation levels — how long it takes their blood to 'clot' - at their places of residence.
BLOODLESS VASCULAR TRAUMA SURGERY
An interesting recent development has been the approval of a gel called LeGoo. This is a temperature-sensitive gel that is liquid at room temperature and solid at higher temperatures. When injected into a blood vessel, LeGoo forms a gel plug that molds to the shape of the blood vessel and stops blood flow for up to 15 minutes. This can give vital time in emergency cases to control blood loss.
Use of mobile phones
The iPhone ECG is a device that turns the iPhone 4 into a heart monitor. Oklahoma physician David Albert invented a slim case that fits over the iPhone, featuring low-power electrodes. When pressed against the chest or fingers, it displays the electrical activity of a person's heart. The device can be used to detect heart blockage and unstable heartbeat, and can the monitor heart rate at rest and during exercise. A simple, yet ingenious kit has recently been developed in Africa that turns a low-cost mobile phone — not a smartphone — into a sophisticated stethoscope.
All good gyms have treadmills which monitor the heart rate continuously just by holding on to the handle bars. Small belt -worn devices tell you how much you walked in a day and how many calories you burnt.
NANOTECHNOLOGY
This is indeed a revolutionary concept in medicine. Microscopic implantable drug delivery systems and slow release capsules are changing the way drugs are being given. Bio-feedback mechanisms attempt to mimic the human body's methods of keeping vital molecules — electrolytes, blood sugar etc — under tight control.
All these new technology-driven advances are patient-friendly and effective. They reduce mortality, morbidity and hospital stay. A better quality of life for the patient is the final aim. A word of caution: One should never forget the need for good history taking and a proper physical examination of the patient.
The writer, Head of Cardio-Vascular, Endovascular & Thoracic Surgery at Christian Medical College & Hospital, Ludhiana, and was earlier at the St Vincents Hospital, Sydney.
Email drhsbedicmc @gmail.com