M A I N N E W S
Setback for Modi as SIT says Ishrat encounter was fake
Ahmedabad, November 21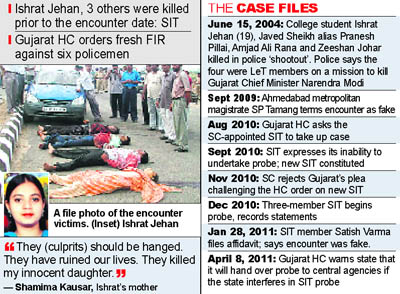 In a huge setback to the Gujarat Government, court-appointed investigators today concluded that college girl Ishrat Jehan and her three friends were murdered by the state police in a staged shootout and later passed off as militants.
The conclusion by the special investigation team (SIT) probing the 2004 killings prompted the Gujarat High Court to order a fresh complaint against the accused police officers for the murder under Section 302, which covers death penalty.
The court-appointed SIT headed by police officer RR Verma found that Ishrat, a 19-year-old student from Mumbai, Javed Sheikh alias Pranesh Pillai, Amjad Ali Rana and Zeeshan Johar were were not killed at the time, place and manner stated in the police FIR filed after the encounter near Ahmedabad on June 15, 2004. The police had claimed that they were linked to the Lashkar-e-Toiba and were in the city to assassinate Gujarat Chief Minister Narendra Modi.
A total of 21 policemen, including four IPS officers — then joint commissioner PP Pande, suspended deputy inspector general DG Vanzara, then assistant commissioner GL Singhal and assistant commissioner NK Amin — were involved in the staged shootout. Vanzara and Amin are also accused in the Sohrabuddin Sheikh fake encounter case and murder of Sheikh's wife Kausar Bi and are presently behind bars.
The conclusion by the SIT that the encounter was not genuine was contained in its report submitted to the division bench of Justice Jayant Patel and Justice Abhilasha Kumari. The court initially said a fresh FIR under section 302 IPC (murder) was required to be filed as the nature of offence had changed completely. However, later after hearing the state government which opposed filing of fresh FIR and petitioners who were in favour of fresh FIR, the court decided to pronounce its final order on Wednesday.
"The probe agency needs to find out who played the key role in the encounter... what was the motive and what was the actual time of the death of the four people," the court said.
The SIT report gave relief to Ishrat's family who called it a "victory because it washed away the terror blot police had stamped on them".
"She was innocent when she was alive, she was innocent when her body was brought to us. It is our victory," her uncle Rauf Lala said outside the court.
Ishrat's mother Shamima Kausar thanked the court but said the justice was still awaited till the culprits were punished. "They should be hanged. They have ruined our lives. They killed my innocent daughter," a choking Kausar said.
Human rights activists and lawyers also hailed the SIT conclusion and sought a public apology from the police and media for tarnishing the image of the family and the young girl with a terror tag.
In Kerala's Alappuzha, Gopinathan Pillai, the father of Pranesh Kumar Pillai alias Javed Shaikh, said he was a relieved man. "I am much relieved… No one will now accuse me as the father of a terrorist," Pillai said. — Agencies