Hot and Happening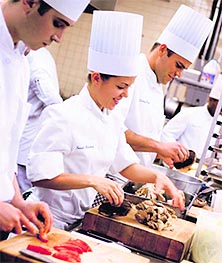 A specialisation in bakery truly enables you to have your cake and eat it too.
Hemant Kumar Kochar outlines the immense possibilities of this field that promises a career that is
Whether making sugar sculptures, elegant wedding cakes, or simply adding that final drizzle of chocolate to the perfect torte, a baker knows the importance of visual appeal as well as of good taste. Bakery and confectionery as a career is both an art and a science. Being a baker is more than just knowing how to bake bread. In the culinary community, pastry chefs have a unique focus on baked goods and desserts. From kneading the dough for a morning Danish, to icing a child's birthday cake, to dipping strawberries in chocolate for a romantic evening, a career in this field involves a wide range of ingredients and culinary techniques that capture the imagination of the most creative and skilled chefs.
Not a cakewalk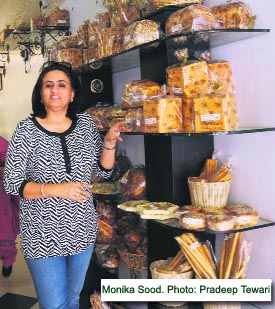 Monika Sood of Monika's Puddings and Pies in Sector 8, Chandigarh, has been in this field for the past 18 years and has carved a niche for herself. She shares her experiences with those aspiring to bake their way to fame and fortune
The lure: Baking is a very vibrant and vast field that promises a fruitful and creative career for those with a passion for it. With pies, souffles, quiches, tarts and a huge assortment of breads finding their way on our plates and palates there is immense demand in the market and that is what makes this a very exciting and lucrative career. It is an upmarket career and you have to keep your passion for baking ignited and red hot at all times to move to the top. Be like a sponge and absorb as much as possible from everything around you, be it the new techniques, books or clients' feedback.
Career Hotline
Check out rural development fellows scheme
Q. I have done my master's in political science. Earlier, I had planned to join the IAS, but after visiting our peon's village in a remote part of Orissa, I'm now quite sure I would rather do some meaningful social work for those living in backward tribal areas instead. However, since I don't have a degree in social work, will it be possible to find a good break? I want to try it out for a while, to be absolutely certain that I'm really suited for this kind of work. Which is why I don't want to rush into a course in social work or development studies just yet.
career compass
PHOTOGRAPHY
FOCUS to excel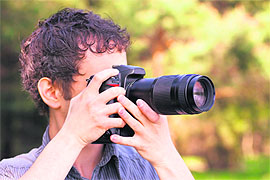 From being considered a rich man's hobby, Photography has today emerged as one of the most sought-after, full-fledged careers with various specialisations to boot. And, the digital revolution has contributed immensely to the renewed interest in photography. Unlike their bulky and complicated predecessors, modern digital cameras are infinitely easier to use and easier to obtain. With equipment getting better and cheaper every year, it's easier than ever to enter this field. All you need is a head teeming with ideas and imagery, a decent camera, some photo editing software, tenacity and a bit of know-how.
SMART STRATEGY
Deal clinchers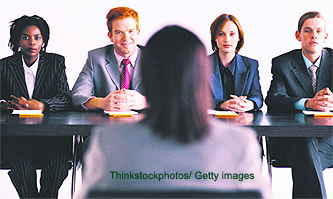 If you are among the innumerous freshers gearing up to face the interview board in the placement drive on your campus, then remember that other than the subject preparations there are several other considerations about which you should be completely hands on before you enter the interview room. One of main questions that stumps many freshers is "how much salary are you expecting?" One is always in a dilemma here as it should not be too ambitious or too timid. Similarly, there are other terms of employment which you should be clear about before accepting a job offer. Not paying attention to these points can land you in a spot rather than give wings to your career.
Where to train
In India, formal education and training in photography is still at a nascent stage. However, some universities and institutes offer diploma and certificate-level courses.


CareerCature
Sandeep Joshi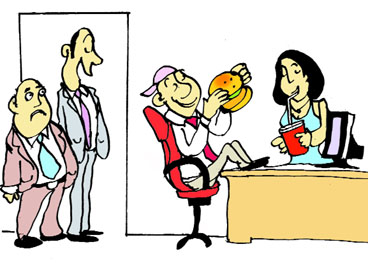 Sir, we are providing a "feel at home" atmosphere to our employees.

Happiness @ work
Gems of ancient wisdom
Don't step out of line
Queues are made for our convenience. Don't break these in your eagerness and cause discomfort to everyone. When Kadru became the mother of 1,000 snakes as granted by her husband sage Kashyap, Vinata became impatient to see her two eggs hatch. She broke one egg, but the thighs of the child inside were yet to develop. Cursing his mother with slavery, the thigh-less child, named Arun (dawn), rose to the heavens and became the charioteer of the Sun-God. Mercifully, Vinata allowed the second egg to develop and from it, emerged Garuda who freed his mother from slavery, became the king of birds and the mount of Lord Vishnu.
Global experience for students
Glasgow Caledonian University has signed co-operation and exchange agreements with Chitkara University Punjab and Himachal Pradesh. The agreements outline 3+1 and 4+1 agreements between the universities. The 3+1 model allows students from the third year of degrees in a range of engineering, electronics, civil engineering and computing programmes to complete the final year of their studies at Glasgow Caledonian University. A key feature of the partnership is that the students will graduate with an award from Glasgow Caledonian University as well from their "home" university ensuring that they receive recognition for their work in India and abroad.
Fortnightly Quiz- 401
1. Who has been named to head the Tata Group conglomerate?