JPC chief again questions CAG on 2G loss
Aditi Tandon/TNS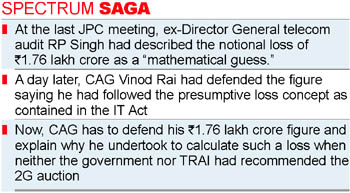 New Delhi, November 29
On a day when all accused in the 2G Spectrum scam except former telecom minister A Raja secured bail, the chief of the Joint Parliamentary Committee (JPC) probing the matter once again questioned the motive of the Comptroller and Auditor General (CAG) in calculating the presumptive loss of Rs 1.76 lakh crore on account of non-auction of the national asset and said no statute talked of the concept of notional loss.
Speaking to The Tribune, JPC chief and Congress leader PC Chacko said there was no provision in the Income Tax Act of 1961 to calculate the presumptive losses as argued by the CAG before the JPC at the last hearing.
The committee has summoned CAG Vinod Rai again on December 19 to defend his loss calculations and explain why he undertook to calculate such a loss when neither the government nor TRAI had recommended auction of 2G Spectrum.
Meanwhile, Chacko has written to the Central Board of Direct Taxes, asking them if the IT Act or the proposed Direct Taxes Code speak of any such thing as the calculation of presumptive loss, as the CAG stated. At the last meeting of the JPC, former Director General, Telecom audit, RP Singh had described the notional loss of Rs 1.76 lakh crore as a "mathematical guess." A day later, the CAG had defended the figure before the panel, saying he had followed the presumptive loss concept as contained in the Income tax Act.
"When asked why he arrived at the notional loss figure when the government had taken a policy decision not to auction Spectrum and only to allocate it on a first-come-first-served basis, CAG told the JPC that he followed the Income Tax Act which provided for the calculation of presumptive loss.
He also said the Direct Taxes Code talked of presumptive loss. "However, upon verification, we found that the said Acts and proposals do not provide for any calculation such as presumptive loss," Chacko told The Tribune.
He added, "I have written to the CBDT for further verification. I have asked them if any methodology of calculating notional loss as argued by the CAG existed. We will take their opinion on board before arriving at a conclusion."
CAG will appear before the JPC on December 19. He was to be questioned by the committee last week on November 22, the day the winter session of Parliament commenced. "That day, it was the turn of Congress members on the JPC to ask CAG some questions. But the meeting was cancelled because several members expressed their inability to attend due to the commencement of the session. We now hope to ask CAG some questions that are engaging our minds," a Congress member of the JPC said.