Directions issued to banks
Jalandhar, November 29
If you withdraw more than Rs 1 lakh from a bank after the election code of conduct comes into force, there is a possibility that your bank account will be monitored. Aimed at eliminating the chances of misuse of money during the poll, the Election Commission has decided on some very stringent measures.


Badal promises more memorials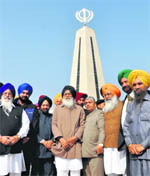 Rohira (Mandi Ahmedgarh), November 29
Paying tributes to martyrs, Chief Minister Parkash Singh Badal dedicated the Wada Ghallughara Kup Rohira Memorial to humanity at an impressive ceremony held here today and announced the decision to construct similar memorials to revive the sequence of events related to the freedom movement. The proposed memorial would be constructed at a cost of Rs 300-Rs 400 crore in the Doaba region.




Parkash Singh Badal and Tikshan Sud at the Wada Ghallughara memorial. Tribune photo: Himanshu Mahajan

Cong: PM, not CM, should get Panth Rattan
Chandigarh, November 29
The Punjab Congress has fired another salvo at Chief Minister Parkash Singh Badal saying Prime Minister Manmohan Singh "better deserved" the Panth Rattan Faqr-e-qaum award that was given to the SAD leader.
Ticket tussle: Akalis plan to boycott CM's function
Jalandhar, November 29
As Punjab Chief Minister Parkash Singh Badal has planned a Sangat Darshan programme in Jalandhar Cantonment constituency on December 4, it is likely that a few Akali ticket aspirants may boycott the event.
Capt says state's division Badal's only contribution
Fazilka/Abohar, November 29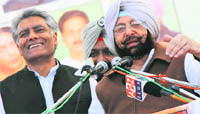 PPCC president Capt Amarinder Singh today alleged that Chief Minister Parkash Singh Badal's only contribution to the state was fragmentation of the erstwhile Punjab. Amarinder said before asking the Congress what it did for Punjab, the Akali leaders, particularly Badal, should list their own achievements.


PPCC chief Capt Amarinder Singh and MLA Sunil Jhakhar in Abohar on Tuesday. Photo: Raj Sadosh

PPP leader's SUV set ablaze in Ferozepur
Ferozepur, November 29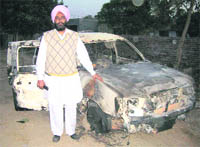 The SUV of PPP leader Ratinder Singh Saiyanwala (Neelu) was allegedly set afire by unidentified persons last night while the vehicle was parked inside his residence at Church Road locality in the cantonment. Neelu said that yesterday night when the family members were asleep inside the house, some miscreants allegedly set his Ford Endeavour vehicle bearing the registration number PB 05Q 1111 on fire, following which the vehicle was charred completely.


Ratinder Singh with his SUV
PPP central committee
Chandigarh, November 29
The People's Party of Punjab today announced its first Central Committee here this evening.


Pollution board to put up hoardings across Punjab
Patiala, November 29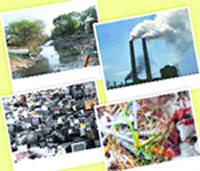 In an effort to involve general public in its tirade against those indulging in violation of water and air pollution norms, the Punjab Pollution Control Board (PPCB) would soon put up pollution control awareness hoardings in all parts of the state. The hoardings would list details in simple language about the ill-effects of the violation of the Water (Prevention and Control of Pollution) Act, 1974, and Air (Prevention and Control of Pollution) Act, 1981, on the environment as well as humans.

A collage shows various types of pollutants that can be hazardous for environment and human beings. A Tribune photograph
Docs hold protest for second day
Patiala, November 29
Continuing their statewide protest, at least 2,500 Punjab Civil Medical Services (PCMS) doctors from Directors downwards, irrespective of their posting and seniority, wore black badges and held protest rallies for the second day today on a call given by the PCMS Association Punjab for the inordinate delay in implementing their nine demands accepted by the Punjab Chief Minister at a meeting on November 5.
No promotions despite quota
Patiala, November 29
While 900 masters, including those belonging to general and SC/BC categories, were promoted as headmasters almost two months ago, the masters who were to be promoted as headmasters under 3 per cent quota reserved for differently abled, including 1 per cent each for visually impaired, hearing impaired and physically challenged, are still waiting for the Departmental Promotion Committee (DPC) meeting.
Govt college teachers to court arrest tomorrow
Patiala, November 29
In the wake of delay in the release of 40 per cent of the arrears to the teachers working in the government colleges of Punjab, members of the Government College Teachers Association have decided to court arrest at Chandigarh on December 1.
Ball in India's court, says Pak
Amritsar, November 29
Syed Asif Hashmi, Chairman of Pakistan's Evacuee Trust Property Board (ETPB), which is responsible for the upkeep of gurdwaras in the neighbouring country, today said it is yet to receive any official proposal from India regarding the Kartarpur Sahib Corridor.

Syed Asif Hashmi, Chairman of Pakistan's Evacuee Trust Property Board, at the Golden Temple on Tuesday. Photo: Vishal Kumar

SDM's body recovered from Bhakra canal
Anandpur Sahib, November 29
The body of Anandpur Sahib Sub-Divisional Magistrate (SDM) Karanbir Singh Mann was recovered from the Bhakra canal's Kotla powerhouse this morning. It was taken to the Civil Hospital, Anandpur Sahib, for a post-mortem examination.
Deceased KS Mann
Justice Kumar to head NRI commission
Chandigarh, November 29
Chief Minister Parkash Singh Badal today approved the constitution of Punjab State Commission for NRIs and appointed Justice Arvind Kumar (retd) as its chairman.
Pathologists' meet from tomorrow
Patiala, November 29
The Department of Pathology of the Government Medical College here is organising annual conference of International Academy of Pathology-Indian Division (IAP-ID) and the 60th National Annual Conference of Indian Association of Pathologists and Microbiologists (IAPM) from December 1 to 4 here. It is for the first time that a scientific meet of this level is being held in Punjab. About 1,000 delegates from across the country and abroad will participate.
Fatehgarh Sahib schools closed today
Fatehgarh Sahib, November 29
Deputy Commissioner Yashveer Mahajan has announced that all government and private schools of the district will remain closed tomorrow so that the students and staff can participate in a function dedicated to Baba Banda Singh Bahadur Sirhind Fateh Diwas being celebrated by the state government at Chhapar Chiri in Mohali on November 30.


Attempt to murder case against Cong MLA's son
Moga, November 29
Even as the Congress is preparing for the assembly elections, Rahul Gandhi's youth brigade in the district has been fighting a "bloody war" with each other in the race to become delegates and office-bearers of the Youth Congress.
PIL seeks accountability norms for non-players
Chandigarh, November 29
More than a month after "India against Corruption" stepped in the election arena at Hisar against the Congress party, an advocate-cum-RTI activist today moved the Punjab and Haryana High Court saying intervening in the electioneering process must be subject to accountability norm.
Seven NIT students get 3 years' jail in ragging case
Jalandhar, November 29


In a ragging case, holding seven students of the local Dr BR Ambedkar National Institute of Technology (NIT) guilty of abetting their junior Amit Gangwar to commit suicide, a city court today sentenced them to three years' imprisonment and fined them Rs 2,000 each.



One of the accused at the Jalandhar courts complex. A Tribune photo