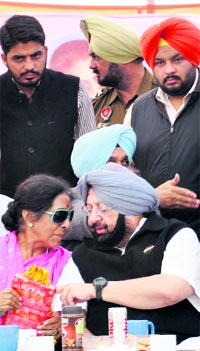 PPCC president promises to bring industry to Kandi belt
Mahilpur (Hoshiarpur), November 27
Ridiculing suggestions by various quarters that Chief Minister Parkash Singh Badal be awarded the Nobel prize and the title of Panth Rattan for his services to the people, PPCC president Capt Amarinder Singh has said that the CM should actually seek an apology from the people of Punjab for having "betrayed their trust time and again." "Yes, Badal should get the Nobel Prize, not for peace, but for corruption", quipped Amarinder Singh at a Punjab Bachao rally here today. Attacking his rival, Capt Amarinder Singh said that owing to Badal's lack of vision, Punjab was on the verge of a financial emergency with the state debt accumulating to Rs 1.72 lakh crore.




Punjab Pradesh Congress Committee chief Capt Amarinder Singh shares a point with Member of Parliament Santosh Chaudhary as other Congress leaders look on at a rally in Mahilpur on Sunday. A Tribune photograph

Sanjha Morcha assures 1 lakh govt jobs a year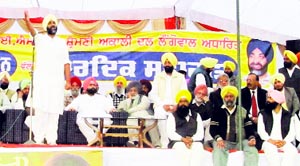 Tarn Taran, November 27
Hitting out at the SAD-BJP coalition for their "inability" to generate ample employment avenues in the state, People's Party of Punjab president Manpreet Singh Badal today claimed that if voted to power, the Sanjha Morcha would provide one lakh regular government jobs per year.

Manpreet Badal addresses a rally organised under the banner of Sanjha Morcha in Tarn Taran on Sunday. A Tribune photograph

Now, Gidderbaha turning protest hub
Gidderbaha, November 27
After Bathinda, now Gidderbaha seems to be the favourite destination of protesters. Over a hundred University Grants Commission-qualified guest faculty lecturers working in various government colleges in the state today started a relay fast here, demanding regular jobs and higher wages.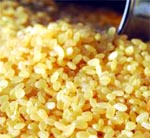 Food Security Legislation
State seeks help for storing foodgrain
Chandigarh, November 27
The Punjab Government has urged the Centre to provide financial and technical support to the state for scientific storage of foodgrain to be distributed under the proposed Food Security Act. The proposed Food Security Bill is likely to be passed in the current winter session of Parliament.
SAD, BJP differ on FDI: Badal
Sahnewal (Ludhiana), November 27
Foreign direct investment (FDI) in the retail sector, as envisaged by the Congress-led UPA Government at the Centre, seems to have become a bone of contention between the coalition partners Shiromani Akali Dal (SAD) and Bharatiya Janata Party (BJP).
Gurdaspur BJP in a state of turmoil
Pathankot/Gurdaspur, November 27
The BJP is in a state of disarray in this parliamentary constituency where it holds five out of a total of 11 seats, a development which does not augur well for it ahead of the assembly elections in Punjab.


'Atta-dal' scheme: Shanta hails Capt's statement

Ticket Race
DCC chief thrashed by party worker
Jalandhar, November 27
District Congress chief Arun Walia was reportedly slapped and kicked in the abdomen by a party worker, identified as Raju, when the latter was prevented from entering the room of visiting Congress observer Chandresh Kumari at Congress Bhawan here this evening.





Sidhu: EVMs are foolproof
Ludhiana, November 27
The Electronic Voting Machines (EVMs) to be used for the coming Punjab elections are foolproof and cannot be tampered with, according to Kusumjit Sidhu, Chief Electoral Officer, Punjab.

cause of concern
Bathinda sees alarming rise in HIV cases
Bathinda, November 27
Steps taken by various agencies to spread awareness about HIV (human immunodeficiency virus) have failed to deliver the desired results in Bathinda, something that can be gauged from the sharp rise in the number of cases in the district.

Youth's death
Family calls it murder
Patiala, November 27
A few days after young Charanpreet Singh Dhaliwal (22) was reported to have died in an accident, the New Zealand police has now termed it as a possible murder case. The shattered victim's mother, Karamjit Kaur, wants the harshest punishment for her son's killers.

Industrialists offer facilities to retain migrant labourers
Ludhiana, November 27
To retain migrant labourers, who work at various industries here, industrialists have started providing various "facilities" to them.

Notice to Jumbo Circus on cards
Patiala, November 27
Following reports of cruelty to animals and allegations that the Jumbo Circus authorities are yet to prove the ownership of their animals, the Wildlife Department is preparing documents to issue a notice to the circus authorities.

Nurses of Rajindra Hospital to boycott work from today
Patiala, November 27
There seems to be no end to the woes of the Rajindra Hospital with the Joint Action Committee of staff nurses and Class IV employees deciding to boycott work at the hospital from November 28. During the strike, all regular and contractual employees working in various branches, including operating theatres, ECG, workshop and X-ray, will go on strike.

Power corp JEs to take mass casual leave on Dec 2
Patiala, November 27
Junior Engineers working with the Punjab State Power Corporation Limited (PSPCL) and the Punjab State Transmission Corporation Limited (PSTCL) will go on mass casual leave on December 2 in protest against the change in the eligibility criteria for the post of Assistant Engineer (AE).

PCMS doctors to go on three-day strike
Fatehgarh Sahib, November 27
The PCMS doctors Association in its meeting held here today decided to stop work for two hours daily and to stage dharnas in the hospitals for three consecutive days from Monday onwards.

School panel chief booked for fraud
Tarn Taran, November 27
In a case of embezzlement of funds worth lakhs of rupees, president of the local Arya Girls High School and others have been booked under Sections 420, 419, 406, 408, 120B of the IPC.