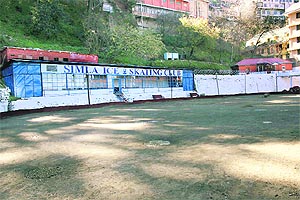 Warm weather delays ice skating season
Shimla, November 27
The Meteorological Department may have predicted a harsh winter, but the season has actually begun on a warm note rather with the temperature staying much above normal, thereby delaying the start of ice skating in Asia's oldest natural rink here.

The ice skating rink in Shimla. Photo: Amit Kanwar

Sarva Kalyankari Sabha honours soldiers, kin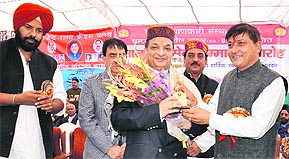 Sujanpur (Hamirpur), November 27
The Sarva Kalyankari Sabha today organised the Matribhoomi Sewa Samman Samaroh at its annual function where the sabha honoured a large number of serving Army personnel and their families hailing from the Sujanpur area at Sujanpur Tihra today.
Rajinder Rana, president of the Sarva Kalyankari Sabha, confers the Himachal Rattan Award on Dr Raj Bahadur, Director, Government Medical College, Chandigarh, at a function in Sujanpur Tihra on Sunday. A Tribune photograph

Raid at Party Office
BJP demands recall of poll observer
Shimla, November 27
The BJP has alleged that the raid at the party election office at Sangrah was conducted by the election observer (expenditure) with mala fide intention at the behest of a Congress leader to damage the election campaign of the BJP candidate in the Renuka byelection. It demanded the observer's immediate recall.
No chinks in party: Dhumal
Solan, November 27
Chief Minister PK Dhumal today said there was no dissidence in the party on account of former MLA Roop Singh's joining the Congress as the latter was a Janata Dal ex-MLA who had crossed over to the Congress after staying in the BJP for some time and hence had lost his credibility.
Samaroh projects Rana as next candidate
Hamirpur, November 27
Though the Matribhoomi Sewa Samman Samaroh, organised by NGO Sarav Kalyankari Sabha at Sujanpur Tihra today, was held to honour serving armed personnel and their families, the occasion was in fact utilised more to project president of the sabha Rajinder Rana as the next candidate for the Assembly election.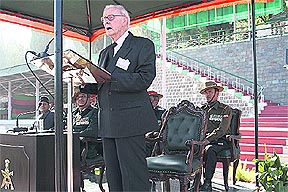 4th Gorkha Rifles reunion takes off
Solan, November 27
The reunion of 4th Gorkha Rifles started with a guard of honour to the Colonel of the Regiment, Major-Gen PS Paul, VSM, and a colourful drill led by Major Brahmmachary Hirendra Sharma at Subathu today.
Major Geoffrey Robert Lloyd addresses the guests at the reunion of 4th Gorkha Rifles at Subathu on Sunday.
Six lakh visit Himachal Pavilion in New Delhi
Shimla, November 27
A record number of six lakh visited the Himachal Pavilion during the India International Trade Fair which concluded in New Delhi today. Director of the pavilion RR Patyal said woollen products like Kullu and Kinnauri shawls, socks, caps and sweaters were in great demand. Woollen pullovers, pashmina shawls and other woollen products for children were much appreciated by the visitors who showed keen interest in the purchase of these products.
NSUI to hold protest demonstration
Nurpur, November 27
The National Students Union of India (NSUI) will hold a protest demonstration against the commercialisation of education in the state next month.