Cong charges baseless: BJP
Shimla, November 26
Refuting allegations of distributing money among voters to win over the electorate of Renuka, the ruling BJP said today that a case should be registered against the Congress which was resorting to "goondaism" by forcing its way into the BJP office and making false allegations.
Fund crunch hits Hamirpur Nagar Parishad
Hamirpur, November 26
Routine meetings of the Hamirpur Nagar Parishad are turning into a formality as lack of budget for new development schemes is a major hindrance in giving a practical shape to these projects.
CBI seeks departmental action against IPS officer
Shimla, November 26
The CBI, enquiring into the suicide by a young girl Ritu Kalmotia, has asked the government to initiate departmental action against Pradeep Kumar, a senior IPS officer, for misconduct on his part in the case.
Bantony row reaches High Court
Shimla, November 26
The controversy over the acquisition of the heritage building Bantony here on the Mall has now landed up in the state high court with London-based businessman Ranjay Trehan, who had sought permission to set up a resort, seeking the intervention of the HC to quash rejection of his case in an unfair manner.
Constitution way of life: Chief Justice
Shimla, November 26
The Constitution of India is a way of life, said the Chief Justice of the state high court and told lawyers that the conduct of the lawman was not only to live in order, but also to prevent disorder by every act.
Training programme for mediators ends
Sundernagar, November 26
A six-day training programme for mediators of Mandi and Kullu districts concluded on Thursday in the Conference Hall at the District Court Complex in Mandi.
Central varsity VC stresses on quality education
Kangra, November 26

Teachers should be the role model for students and the teaching community should impart quality education to students besides infusing in them values of life.



Students present a dance during the annual fest Navrang 2011 organised at the Dronacharya College of Education, Rait, on Saturday. Photo: Ashok Raina
Cheer pheasant enters Red Data Book
Mandi, November 26
Bird watchers have something to cheer as the cheer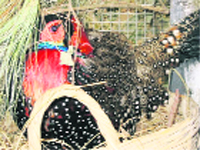 pheasant, a rare bird of beauty, has entered the Red Data Book of International Union for Conservation of Nature (IUCN). The high-piercing "chewewoo" notes of the grey brown puff-tailed chir are alive and kicking in the Bandli Wildlife Sanctuary in Mandi district. The news of the cheer pheasants, now found in good number in the Bandli Wildlife Sanctuary, has come as a shot in the arms for environmentalists and bird watchers at a time when residents in Sundernagar are opposing a controversial cement plant being set up just 5 km away from this sanctuary.
Four convicted in bid to rape minor
Nurpur, November 26
The local judicial court on Saturday convicted Ajay Kumar of Haathi Dar and sentenced him two-year imprisonment and fined him Rs 3,000 for committing an unnatural intercourse with a minor girl (5) of the same village. A case under Sections 377, 506 and 201, IPC, had been lodged against him.
Man killed in hit-and-run case
Mandi, November 26
In a hit-and-run case, Jaidev Saini of Dadour was hit by a speeding tipper (HP 65 0928) on the highway near Sundernagar town and died on the way to IGMC, Shimla. The police has arrested driver Hemraj of Gagal, Balh, in connection with the case.
Pathania to lead power-lifting team
Kangra, November 26
Congress leader and party spokesman in Himachal Pradesh Kewal Singh Pathania will lead the 52-member Indian power-lifting team, which is participating in the four-day Commonwealth Powerlifting Championship at Bournemouth University, England, from December 15, this year. Pathania was given a public reception at Gaddi Bhawan today. On the occasion, Pathania said the Indian power-lifting team had been participating throughout the world in different championships since 1975 and had bagged a number of medals, besides breaking the world records.