Seeking divine blessings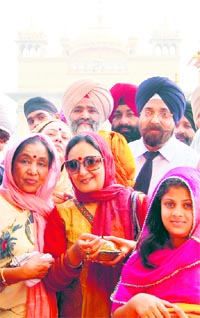 Singers Asha Bhonsle and Jaspinder Narula at the Golden Temple in Amritsar. Photo: Vishal Kumar

Seizure of Unaccounted Money
Khaira files criminal complaint against Sukhbir, Bibi Jagir Kaur
Kapurthala, November 26
Congress MLA from Bholath Sukhpal Khaira today filed a criminal complaint against Deputy Chief Minister Sukhbir Badal, former SGPC chief Bibi Jagir Kaur, Rajpura SP Manmohan Sharma, PTC Channel and some others on the charge of defaming him by dragging his name in a case of hawala money a few days ago.
Ex-jathedar Rode's daughters Indian Youth Cong voters?
Jalandhar, November 26
A controversy has erupted over the ongoing elections of the Indian Youth Congress (IYC) with the names of two married daughters of former Akal Takht jathedar Bhai Jasbir Singh Rode figuring on its voter list and an infuriated Rode threatening to challenge the "mischief".
SAD projects Badal as chief ministerial candidate
Chandigarh, November 26
The SAD has firmed up the nomination of Chief Minister Parkash Singh Badal as its chief ministerial candidate to take on the Congress in the forthcoming assembly elections.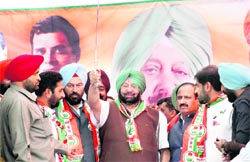 Capt woos Rai Sikhs, promises ticket
Guruharsahai (Ferozepur), November 26
In an attempt to woo the Rai Sikh community which comprises a formidable chunk of electorate in this border area, PCC chief Capt Amarinder Singh today announced that a representative from this community would be given Congress ticket from one of the assembly segments.

Capt Amarinder Singh, Rana Gurmeet Sodhi (2 from L) and other Congress leaders at Guruharsahai on Saturday. A Tribune photo


Leaders sing paeans to Capt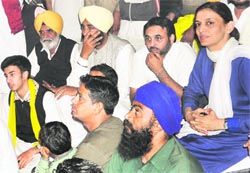 'Sanjha Morcha still in touch with BSP'
Gidderbaha, November 26
A day after Bathinda MP Harsimrat Kaur Badal's three-day Sangat Darshan programmes in the Gidderbaha assembly constituency ended, PPP president Manpreet Badal today reached Gidderbaha village without much fanfare.



Manpreet Badal with his wife Veenu, son Arjun and Bhagwant Mann, at a meeting in Gidderbaha on Saturday. A Tribune photograph

Badal draws flak from Sikh bodies over award
Amritsar, November 26
Various Sikh organisations have reacted sharply to the Akal Takht Jathedar's announcement to award Panth Rattan Faqr-e-Qaum to Chief Minister Parkash Singh Badal at Anandpur Sahib yesterday.


BJP for Nobel to CM

BSF ups vigil as fog engulfs border areas
Fazilka, November 26
The Border Security Force (BSF) has made special arrangements to combat intrusion and smuggling of narcotics from across the border in view of the dense fog in winter months.

Security up ahead of President's visit
Patiala, November 26


With a fleet of 300 tanks participating in the parade before President of India Pratibha Devi Singh Patil here tomorrow, the city has been turned into a virtual fortress with the officers from the state police counter intelligence units, the military intelligence and the NSG camping here. Patiala would get the rare distinction of becoming the second place in India, post-Independence, where the President herself would present "The Standards" to the five armoured regiments (5 Armoured Regiment, 6 LANCERS, 70 Armoured Regiment, 73 Armoured Regiment and 74 Armoured Regiment), under the aegis of the Headquarters 1 Armoured Division. During the ceremony, besides the tanks, the bofors guns would be positioned at artificially created dunes.

PSEB nod to elimination of semester system
Ludhiana, November 26
The Punjab School Education Board gave assent to the recommendation of the core committee of the Punjab Education advisory board to eliminate the semester system of Classes X and XII.

Three hurt as Youth Congress workers clash
Ludhiana, November 26
It was free for all during the selection of delegates for booth committees of the Youth Congress here today.

Income tax workshop held
Patiala, November 26
The Income Tax department, TDS wing, Patiala, organised a modernisation workshop at DMW here today. Over 350 drawing and distributing officers from Patiala, Sangrur, Fatehgarh and Barnala districts attended the seminar.




Pak trader arrested with live cartridges at airport
Amritsar, November 26
A Pakistani trader was arrested today after seven live cartridges were found in his luggage while he was about to board a flight to Delhi. Identified as Sheikh Arif Mahmood from Sialkot, the trader was on 15-day visit to India for participating in a trade fair at Delhi.

Accused: Mahmood
Mandi Gobindgarh MC 'duped' of crores
Fatehgarh Sahib, November 26
The district police has registered a case against three persons allegedly for duping the Municipal Council, Mandi Gobindgarh, of crores of rupees by selling 32 bighas and 13 biswas land to the council for dumping of garbage by creating bogus offer to sell land.