Joshi Cong screening panel chief


Capt Amarinder Singh to head election committee
New Delhi, November 17
With assembly elections just three months away, the Congress today announced a 20-member election committee and also a five-member screening committee to decide on ticket distribution and other matters related to the Punjab assembly poll. The five-member screening committee will be headed by Union Minister for Surface Transport CP Joshi, a Rahul Gandhi acolyte. It will comprise Delhi Congress chief JP Aggarwal, Capt Amarinder Singh, CLP Leader Rajinder Kaur Bhattal and party affairs incharge Gulchain Singh Charak.
Don't field Alam, warns Khalra Mission
Jalandhar, November 17
The Khalra Mission and Punjab Human Rights Organisation have opposed the candidature of former DGP Mohammad Izhar Alam from Malerkotla for the coming assembly elections.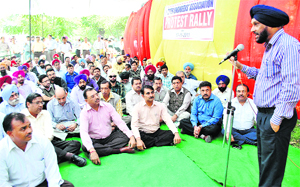 Engineers hold protest rallies
Patiala, November 17
In response to the call of the PSEB Engineers' Association, engineers all over the state walked out of their offices and held "protest rallies" at Zonal headquarters.
Members of the PSEB Engineers' Association holding a protest in support of their demands in front of the Punjab State Powercom Headquarters in Patiala, on Thursday. Tribune photo: Rajesh Sachar

Nominations to the SGPC
SAD may stick to old guard
Amritsar, November 17
With the first meeting of the newly elected SGPC members expected to take place any time now, various names have started doing the rounds for nomination to the mini-parliament of Sikhs.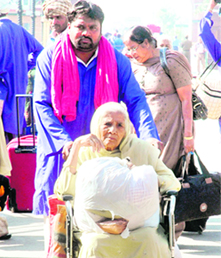 Back from pilgrimage


Amenities for pilgrims at Gurdwara Nankana Sahib, Gurdwara Panja Sahib and other historic shrines have improved considerably


New inns, langar halls and washrooms have come up in most shrines, reveal SGPC representatives, who led a 634-member jatha to Pak for Guru Nanak Dev birth anniversary celebrations


Beautiful landscaping has been done and hut-like structures have been raised for stay of devotees in all these gurdwaras


There are, however, still shortcomings in the internal management of the shrines including the langar facility, they said
Pilgrims after their return from Pakistan at the Wagah check post in Amritsar on Thursday. Tribune photo

Case against Dullet's mother, two others
Sangrur, November 17
Police investigations into the Riki Dullet murder case continue to be "shoddy" with the police registering an FIR against the victim's mother, brother-in-law and a friend for attempt to murder. The police has also failed to arrest the accused, Sukhwinder Singh, who escaped from DMC, Ludhiana.
Flood-hit Ferozepur farmers await compensation
Ferozepur, November 17
Hundreds of farmers living along the Sutlej belt in this border district who lost their crops in the monsoon rains this year have not yet received compensation against the losses incurred in the nature's fury.
Info Commissioner pulled up
HC says he has no powers to order an inquiry
Chandigarh, November 17
The Punjab and Haryana High Court today made it clear that the State Information Commissioner (SIC) has no power to issue directions to conduct an inquiry in any matter. The inquiry ordered by the SIC, in fact, amounts to misuse of power and is without jurisdiction.
Shri Om Prakash Bhasin Award for PAU VC
Ludhiana, November 17
Dr Baldev Singh Dhillon, Vice Chancellor, Punjab Agricultural University (PAU), has been honoured with, the "Shri Om Prakash Bhasin Award for Science and Technology." It was bestowedon him by Shri Om Prakash Bhasin Foundation for Science and Technology during the awards, held at the India International Centre, New Delhi on November 15.
Vienna flight hits turbulence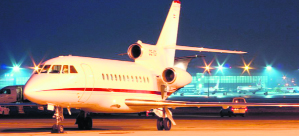 Amritsar, November 17
The Comtel Air flight connecting Amritsar to Vienna, which was launched amid much fanfare on October 2, seems to have run into rough weather. Reports from British media today suggest that the trouble for the flight started on Saturday when passengers of the Amritsar-Vienna flight were reportedly forced to fund the remainder of their trip back to Britain.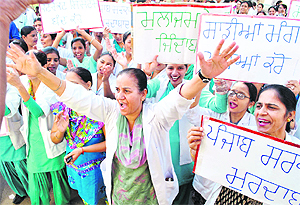 Doctors demand healing touch

: Members of the joint action committee, Government Rajindra Hospital, Government Medical College, Dental College and the Ayurvedic College holding a protest against the Punjab government in support of their demands in Patiala, on Thursday. Tribune photo: Rajesh Sachar

Former Cong minister Randhawa cremated
Dharowali, (Gurdaspur), November 17
The mortal remains of former Punjab minister Santokh Singh Randhawa (87), who died of brain haemorrhage at Chandigarh yesterday, were consigned to flames at his native village here today. The pyre was lit by his eldest son Inderjeet Singh.
Speaker apologises to High Court
Chandigarh, November 17
The Vidhan Sabha Speaker today tendered an "unconditional apology for any inadvertent or unintentional lapse" to the Punjab and Haryana High Court. The apology came less than 10 days after the High Court took serious note of defiance of orders directing the maintenance of status quo in an under-secretary's service matter.
Advertisement tax: Ludhiana MC gives notice to bottling plant
Chandigarh, November 17
Ludhiana Municipal Corporation's notice to Aradhana Drinks & Beverages Pvt. Ltd. seeking details of Pepsi company's advertisements and its advice to deposit advertisement tax has failed to find favour with the Punjab and Haryana High Court.
A daily wager entitled to minimum pay
Chandigarh, November 17
A Full Bench of the Punjab and Haryana High Court has ruled that a daily wager, ad hoc or contractual appointee hired against regular sanctioned posts after undergoing a fair selection process shall be entitled to "minimum of regular pay scale from the date of engagement".
Appointment of Info Commissioners
Follow due process: HC
Chandigarh, November 17
In a significant order, the Punjab and Haryana High Court today restrained the States of Punjab and Haryana from appointing State Information Commissioners without following procedure prescribed by its Full Bench in the Punjab Public Service Commission case.


Case reopened
MLA's son booked for assault
Darshan Brar sees Deputy CM Sukhbir's hand
Moga, November 17
Kamaljit Singh Brar, son of Congress MLA Darshan Singh Brar, a youth Congress activist, has been booked by the police on charges of assaulting and looting another youth leader Rajdeep Singh.