Iran keen on strengthening ties with Punjab
Chandigarh, November 8
For strengthening bilateral relations with India in general and Punjab in particular, Mohammad Aliabbadi, Deputy of the first Vice-President of Iran, arrived for a three-day official visit of Punjab yesterday.


Manpreet's Sanjha Morcha is 'B team' of Congress: Badal
Faridkot, November 8


Punjab Chief Minister Parkash Singh Badal today said the Sanjha Morcha, floated recently, was in fact the "B" team of the Congress and its sole purpose was to ensure the defeat of the ruling SAD in the coming assembly election in the state.

Won't let you loot shrines, Amarinder tells Sukhbir
Amritsar, November 8
Former Chief Minister and PPCC chief Capt Amarinder Singh today categorically made it clear to Deputy Chief Minister Sukhbir Badal that he would not let them "loot and plunder" the gurdwaras.

'SAD desperate, looking for nondescript allies'


Nadala (Kapurthala), November 8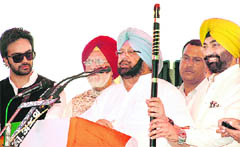 Continuing his tirade against Parkash Singh Badal and Sukhbir Badal, PPCC president Capt Amarinder Singh today said the father-son duo had become so "nervous and desperate" that they were looking for even "non-descript" allies and were resorting to "semi-nude dances".



Amarinder Singh, Sukhpal Khaira and (below) Rajinder K Bhattal. Tribune photo: Malkiat Singh


Tongues wag as Cong MLA meets Ramdev
Moga, November 8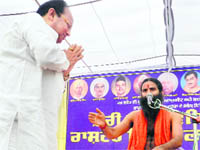 Congress MLA for Moga Joginder Pal Jain has earned the displeasure of his party men for meeting Baba Ramdev a couple of days back. Local leaders say the meeting was "against the party interests." They have reportedly brought the matter to the notice of PCC chief Capt Amarinder Singh.




Congress MLA Joginder Pal Jain with Baba Ramdev in Moga on Tuesday. A Tribune photograph

Manpreet Badal asks state MPs to lobby for Punjab package
Chandigarh, November 8


Chairman of the Sanjha Morcha and former Finance Minister Manpreet Singh Badal today said that like West Bengal, Punjab should be given an economic package by the Centre without delay. Speaking to The Tribune, he said the Centre had selected three states, West Bengal, Punjab and Kerala, for a financial bailout. A committee was set up by the Union Finance Ministry on the issue.

Ramoowalia defers decision on pre-poll pact
Jalandhar, November 8
Lok Bhalai Party chief Balwant Singh Ramoowalia has deferred a decision on reaching a pact with any political party ahead of the assembly elections after he faced bitter opposition from within the party on the issue yesterday.


Power Corp inks purchase pact with Delhi firm
Patiala, November 8
The Punjab State Power Corporation Limited (PSPCL) has signed a Power Purchase Agreement (PPA) with Sam India Hydro Power Private Limited, Delhi, for the purchase of power from 1.2-MW Mini Hydro Project. The project that would comprise two units of 0.6-MW is being established by the company at Bowani village in Ludhiana district.
Vivekananda Express reaches Patiala
Patiala, November 8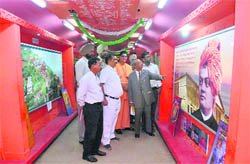 The Vivekananda Express, an exhibition train showcasing the life, teachings and works of Swami Vivekananda reached the Patiala railway station today.




The Vivekananda Express, a train showcasing the life, teachings and works of Swami Vivekananda at the Patiala Railway Station on Tuesday. Tribune photo: Rajesh Sachar

Clerks protest against PSSB's selection criteria
Mohali, November 8
The change in the selection criteria by the Punjab Subordinate Selection Board (PSSB) for recruitment of around 800 posts of clerks in different departments today attracted strong protest by the candidates appearing against the posts.
Junior doctors on strike from today
Patiala, November 8
Junior doctors working in Punjab's three government medical colleges have announced a two-hour strike from tomorrow in the wake of the delay in the non-acceptance of their demands. They will go on an indefinite fast from November 10.
Anganwari workers want job regularisation
Patiala, November 8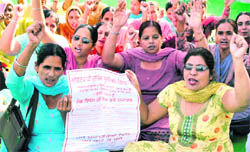 Anganwari Helpers and Workers Union initiated a "Jail Bharo Andolan" in Patiala today, demanding regularisation of their jobs. Around 300 workers staged a dharna outside the mini-secretariat and raised slogans against the state government.



Anganwari workers hold a protest in support of their demands in Patiala on Tuesday. Photo: Rajesh Sachar

Book on farmers' suicide released
Chandigarh, November 8
Gurnam Kaur of Sangrur district lost her three sons to financial distress with each committing suicide for inability to repay farm loans. She now suffers the trauma alone. There are many more like her undergoing the same suffering.
University appointments put on hold
Chandigarh, November 8
Taking up the petition alleging backdoor appointments in Punjabi University, the Punjab and Haryana High Court today restrained the Vice Chancellor from carrying out appointments without the Bench's permission.
Another controversy rocks women kabaddi
Ludhiana, November 8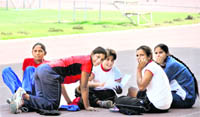 Merely three days before the inaugural edition of the women's Kabaddi World Cup, another controversy has erupted-this time on "unfair" selection trial.




Kabaddi players at Guru Nanak stadium, Ludhiana. Tribune photo: Himanshu Mahajan



HC quashes plea seeking shifting of school from fort
Chandigarh, November 8
Refusing to entertain a petition against the shifting of a government school from a protected fort at Payal, the Punjab and Haryana High Court has made it clear that encroachments at a historical monument are not justified.
HC: Police did bundle Dhanaula into a car
Chandigarh, November 8
Referring to a photograph carried in a newspaper, the Punjab and Haryana High Court today observed rebel SAD leader and former SGPC executive member Tek Singh Dhanaula was indeed bundled into a car by the police.


Two Moga residents held for cyber crime
Mohali, November 8
Two Moga residents were arrested by the cyber crime branch of the Punjab Police for creating a fake profile of a girl on social networking site Facebook.