Badal honours Izhar Alam with a siropa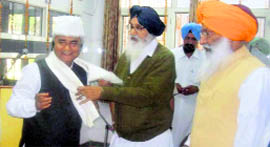 Malerkotla, November 7
Setting aside allegations against retired police officer Izhar Alam regarding his involvement in the killing of Sikh youths during the militancy era, Chief Minister Parkash Singh Badal today urged local Akali leaders to unite under his leadership for uplifting the Muslim community.

Chief Minister Parkash Singh Badal honours retired DGP Izhar Alam with a siropa in Malerkotla. A Tribune photo

Notification appointing tribunal member withdrawn
Chandigarh, November 7
In what is being seen as a major embarrassment, the Punjab Government has withdrawn its July notification appointing retired IAS officer Surjit Kaur Sandhu as member of the educational tribunal without holding consultations with the Chief Justice of the Punjab and Haryana High Court.


Ramoowalia faces revolt against move on pre-poll pact

Jalandhar, November 7
Following stiff opposition from within the party, Lok Bhalai Party chief Balwant Singh Ramoowalia was today forced to put on hold an announcement on the party's alliance with the ruling coalition.



Workers walk out of a meeting of the Lok Bhalai Party in Jalandhar. Tribune photo: Sarabjit Singh

Centre sanctions Rs 1,300 crore for renovation of Indira Gandhi canal

Abohar, November 7
The first phase of the renovation of Indira Gandhi Canal Project (IGCP) is likely to be taken up at the end of the wheat crop season next year.



The Indira Gandhi canal in Abohar. A Tribune photograph

Sikh outfit begins march to Haridwar
Amritsar, November 7
The All-India Sikh Conference (AISC) today launched a protest march from the Golden Temple seeking allocation of original site for reconstruction of Gurdwara Gyan Godri Sahib at Har Ki Pauri in Uttarakhand.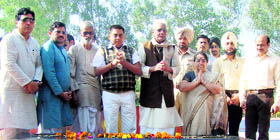 Delegates from Bihar pay tributes at the National Martyrs' Memorial, Hussainiwala, on Monday. Photo: Anirudh Gupta
Family awaits return of its head from Pak jail
Mudki, November 7
It has been an agonising wait for Harbans Kaur of Fiddey village near Mudki in Ferozepur. Wife of an inspector with the Punjab Police, she is among many women hoping against hope that her husband, arrested in Pakistan for espionage in January 1981, is still alive.
Bihar House delegation visits Hussainiwala
Ferozepur, November 7
A six-member delegation of the Bihar Vidhan Sabha ,led by Dr RB Rai, today visited the National Martyrs Memorial, Hussainiwala, and paid tributes to the heroes of the freedom struggle. The delegation comprised leaders from the BJP, JD(U), CPI and CPM, Kedar Nath Pandey, Basu Deo Singh, Niraj Kumar, Kiran Ghai Sinha and Bihar Vidhan Parishad Deputy Secretary VN Jha.
Administration gears up for Kabaddi World Cup matches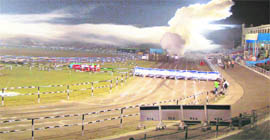 Patiala, November 7
The Kabaddi World Cup, an official Punjab government event, would now also affect the students of the city as the Deputy Commissioner has ordered all schools in Patiala to be closed two hours prior to their scheduled time of closing.

A view of the Yadavindra Public School stadium a day ahead of the scheduled Kabaddi World Cup matches to be played there. Tribune photo: Rajesh Sachar

Panic as Dakala residents sight a leopard
Patiala, November 7 Sandeep (10)and his younger brother have not been allowed out of their house for the past three days after a full-grown leopard with two cubs was spotted near Dakala. The villagers are scared to venture out even though there has been no incident of the animal attacking anybody.
Film on female foeticide on Dutch TV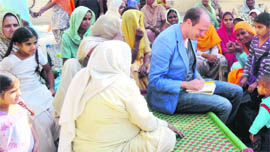 Patiala, November 7
India has always attracted foreign filmmakers and documentary makers for numerous reasons. They are fascinated by Indian culture and tradition and like to focus on real-life social problems that afflict society.

NR Jelle Brandt, Dutch researcher, in a village near Patiala for the shooting of his documentary. Tribune photo: Rajesh Sachar


Cops in trouble over Dhanola's arrest
Chandigarh, November 7
The Punjab and Haryana High Court has asked the State of Punjab to explain as to how rebel SAD leader and former SGPC executive member Tek Singh Dhanola was arrested by the police, despite orders directing the issuance of a five-day pre-arrest notice.
CIC issues notice to SGPC
Ludhiana, November 7
The SGPC is in the dock for delay in providing information under the Right to Information Act to a local resident. The Central Information Commission has issued a show-cause notice to SGPC's Public Information Officer, asking as to why a penalty of Rs 25,000 should not be imposed on him.


2 arrested with fake currency in Muktsar
Muktsar, November 7
With the arrest of two persons, the local police claims to have busted a fake currency racket. As per the police, the accused, Kala Singh of Fatuhi Khera and Kuldeep Singh of Lambi village, allegedly used to circulate counterfeit currency not only of Rs 1,000 and Rs 500 denomination, but also that of Rs 100 and Rs 50, the notes that were comparatively less suspected.
Cop kills villager over land dispute in Ferozepur
Makhu (Ferozepur) Nov 7
A head constable of the Punjab police posted at Ferozepur allegedly shot dead a farmer over a property dispute at Chirag Shah Wala village of this border district on Monday.
Couple held for illegal deliveries
Patiala, November 7
Five years after the remains of at least 50 female foetuses were recovered from a well in this tiny town, a team of police and health officials yesterday arrested Ashok Kumar and his wife Devinder Kumari for conducting illegal deliveries.