Farmers block rail traffic to protest fertiliser price hike
Tribune Reporters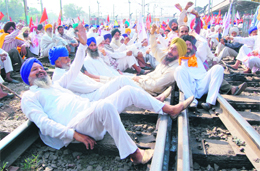 Farmers lie on a railway track in Amritsar on Saturday. Activists of 17 farmer bodies in Punjab blocked rail traffic across the state from 1 pm to 4 pm, seeking a rollback in the price of fertilisers. Commuters were a harassed lot as trains in most cities ran two to six hours late. Photo: Vishal Kumar
Amritsar, October 29
Rail traffic was thrown out of gear as activists of 17 farmer and labour organisations, under a joint front, today staged a protest on railway tracks at the railway station here between 1 pm and 4 pm seeking a rollback in prices of chemical fertilisers.
Hundreds of activists of the joint front descended on the railway station at 1 pm and blocked all the rail tracks.
The trains which were affected include Katihar Express, Dadar Express, Shan-e-Punjab and Swarn Shatabdi. Among the worst hit was Shatabdi that was running six hours late and Shan-e-Punjab which was running late by over five hours.
The passengers who had to board different trains from Amritsar were a harried lot as they were left stranded due to delays in the arrival of the trains which they were supposed to board for their onward journeys.
Addressing the protesters, Rattan Singh Randhawa of Jamhoori Kisan Sabha said the farmers are passing through a bad phase after the government, following its policy of globalisation and privatisation, put an end to fertiliser price control.
"By bringing in laws like the Seed Act and the Land Acquisition Act, the authorities are adding to the woes of the farming community," he averred.
The farmer leaders demanded that these Bills be scrapped failing which they warned that they would launch a protest in Chandigarh on November 22 that would continue until their demands are met.
Randhawa said the state government was indifferent towards the plight of farmers, especially in view of the rising fertiliser prices and declining farm produce.
He said that in 2008, the Pusa 1121 and Basmati was sold at Rs 3,300 and Rs 4,200, respectively while in 2011, it has gone down to Rs 1,600 and Rs 2,200, respectively.
He said the quantum of farm produce has reduced considerably over the past decade while the input cost has risen making it impossible for small farmers to make both ends meet. He demanded that the Swaminathan Commission report be implemented, prices of Pusa 1121 and other crops be fixed by the government and procured by government agencies.
Besides restoration of government control on the price of fertilisers, the farmer organisations have demanded Rs 500 bonus per quintal on paddy, and revoking the notification of 186 acres of farm land in Gobindpura, waiving off the electricity bills of tubewells etc.
Farmer leaders Balwant Singh Saidpur, Davinder Singh Chatiwind and Satnam Singh Pannu also addressed the protesters.
Phillaur/Phagwara: On a call given by the joint action committee of 17 different kisan unions, hundreds of farmers belonging to different unions blocked rail traffic here in support of their long-pending demands near Phillaur for more than three hours today.
The Indore-bound Malwa Express remained stranded between Phillaur and Goraya, the Amritsar-bound Dadar Express was stuck at Phillaur station, Lohian-bound Diesel Multiple Unit Train stood near Akalpura railway crossing, the Delhi-bound Flying Mail was at Phagwara station, the Hapa Express at Jalandhar Cantt railway station and a passenger train at Chiherru railway Station.
Rail commuters were much inconvenienced due to the blockade. More than three dozen mail, express and other passengers trains ran two to three hours behind schedule.
Addressing the protesters, union leaders Tersem Peter, Gurnam Singh and Jaswinder Singh threatened to intensify their stir if their demands were not accepted soon.
They appealed to the farmers to assemble in Chandigarh on November 22 to participate in a state-level demonstration.
Ajitwal (Moga): Peeved over the 'forcible' acquisition of productive land of farmers at Gobindpura village in Mansa district for a private company to set up a power plant, the 'ungenerous' bonus for paddy, increasing farm input costs, high cost of diesel and non-remunerative minimum support price, farmers blocked rail traffic and staged a protest at Ajitwal in Moga district today. Rail traffic stood disrupted on Moga-Ludhiana-Ferozepur track for three hours.
Addressing the protesters, Sukhdev Singh Kokri, general secretary of the BKU, demanded a resolution to the Gobindpura issue to the satisfaction of the affected farmers without displacing them.
He alleged that the local people were being forcibly evicted from their land and the private company had started work on the project against the wishes of the farmers there.
He also condemned the incidents of recent atrocities committed by the Punjab police on the farmers who had been resisting the 'forcible' acquisition.
Kokri also demanded that a notification be issued to provide free power to water pumps used for irrigation purposes, poor labourers and farmers be provided free plots measuring 250 sq yards for housing, raising the amount of Shagun Scheme to Rs 51,000 and inclusion of poor farmers, irrespective of caste in the scheme and that the dependents of those farmers, who committed suicide, be given adequate compensation, demanded a bonus of Rs 500 on paddy and roll-back of the recent increase in the price of fertilisers.
Bathinda/Mansa: Various farmers' bodies today disrupted train services in Bathinda and Mansa districts from 1 pm to 4 pm.
District president of BKU (Ekta-Ugraha) Ram Singh Bhainibagha said that the Ferozepur-Delhi railway line was blocked near Mansa railway station and in Rampura Phul and Lehra in Bathinda district.
Potash fertiliser rate up 88 pc, DAP 52 pc in six months
Kulwinder Sandhu
Tribune News Service
Moga, October 29
The price of DAP fertiliser has increased by about 52 per cent and potash fertiliser by about 88 per cent during the past six months.
According to the details available from the market, the price of DAP fertiliser was Rs 600 per bag (50 kg) on June 30. It has now increased to Rs 905 to Rs 918 per bag after deducting a subsidy of Rs 908 per bag being given by the Union government. On September 5, the price was Rs 690 per bag and on September 30, it was Rs 770 per bag
Similarly, the price of potash fertiliser has increased from Rs 300 per bag (50 kg) to Rs 565 per bag as on date. In the first week of September, its price was Rs 480 per bag.
The price of urea (Rs 268.15 per bag) has not increased during the past one year across the state.