Hijacker of Indian plane wins battle for passport
Chandigarh, October 24
"Hijacker" Davinder Singh has won the legal battle for passport against the Centre. Clearing the decks for the release of his passport, the Punjab and Haryana High Court has observed no case was pending against him now.
Most NRIs duped of property, cash by their own kin
Jalandhar, October 24
Usurping of their valuable property, be it land or plush homes or misuse of money by none other but their own near and dear ones back home are the major sources of tension for the NRIs staying in different parts of the world.
Hansi-Butana wall row
Committee demands petition in SC to stop wall construction
Patiala, October 24
Even as Punjab is all set to file a review petition in the Supreme Court, pertaining to the matter of the a 3.75-km toe-wall, being constructed by Haryana alongside the Hansi-Butana canal embankment, the farmers of the flood-prone villages on the Punjab-Haryana border have announced that they would continue to hold demonstrations till the matter is resolved up to the satisfaction of the villagers.


Lifting of ban on export a boon for paddy growers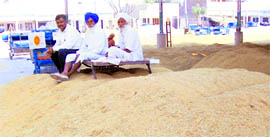 Chandigarh, October 24
The lifting of ban on the export of non-basmati paddy has come as a boon for the farmers in Punjab. After many years, rice exporters are buying non-basmati paddy from mandis across the state by paying Rs 70-100 per quintal over and above the minimum support price.

Wait continues: Farmers sit on a heap of basmati paddy in Fazilka. Photo: Praful Chander Nagpal

Fazilka farmers await procurement
Fazilka, October 24
Following a deadlock over the payment schedule between commission agents and rice mill owners, there is a glut-like situation of popular 1121 variety of basmati paddy at the grain market here as the procurement has not been started yet.


Decked up for Diwali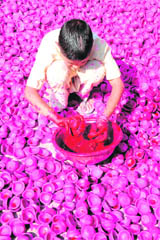 A child dips earthen lamps into red paint in Amritsar ahead of the festival of lights. — AFP photo
Nod to filling of 2,251 posts in power utilities
Chandigarh, October 24
Punjab Chief Minister Parkash Singh Badal today gave his approval to the filling of 2,251 vacant posts in the Punjab State Power Corporation Limited (PSPCL) and the Punjab State Transmission Corporation Limited (PSTCL) on regular basis.
Bhattal seeks probe into teachers' recruitment
Chandigarh, October 24
Rajinder Kaur Bhattal, Leader of Opposition in the Punjab Assembly, has sought a high-level probe into the recruitment of 9,998 elementary trained teachers who were "low on merit".
Jakhar alleges misuse of border funds on Sangat Darshan
Chandigarh, October 24
Sunil Jakhar, Congress legislator and Chairman of the Flagship Programme Monitoring Committee, Punjab, has alleged that the backwardness of the border areas of Punjab is being used by the SAD-BJP government of Punjab to finance its Sangat Darshans.
Badal demands Rs 1,800 as MSP for wheat
Chandigarh, October 24
The Punjab Chief Minister Parkash Singh Badal today demanded that the minimum support price of wheat should be fixed at Rs. 1800 per quintal for 2012-13 to account for the massive increase in the cost of agricultural inputs which had put a burden of Rs.800 crore on the already beleaguered peasantry.
Special ward for dengue patients in Patiala hospital
Patiala, October 24
Keeping in view the increasing number of dengue patients, Government Rajindra Hospital, Patiala, has established a special ward besides the isolation ward to keep these patients.
Students take out rallies against bursting crackers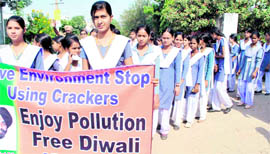 Patiala, October 24
In order to spread awareness among city residents for celebrating eco-Diwali by not bursting crackers, students of various schools took out awareness rallies in the city.


Students take out a rally to spread awareness for celebrating eco-Diwali by not bursting crackers in Patiala on Monday. Tribune photo: Rajesh Sachar

Security beefed up ahead of Diwali
Patiala, October 24
Security agencies are on high alert in the city ahead of Diwali festival by ensuring round-the-clock vigil to keep a check on anti-social elements. While all vehicles are under tight scrutiny, the cops are also checking the illegal sale and storage of crackers.
Bio-medical waste collection up in Punjab

Patiala, October 24
With the Punjab Pollution Control Board (PPCB) authorities conducting as many as 1,000 surprise visits to the hospitals all cross the state since July 2011, the compliance with the Bio-Medical Waste (Management & Handling) Rules, 1998, by the hospitals and other health centres has improved.
A file photograph of bio-medical waste dumped near a hospital in Patiala. A Tribune photograph

Woman donates Rs 40 lakh to Mata Gujri College
Fatehgarh Sahib, October 24
In a magnanimous gesture, Shivinderpal Kaur, daughter of a landlord Kanwar Raminderpal Singh, donated Rs 40 lakh to local Mata Gujri College today for helping the meritorious and needy students of the college to pursue their studies.


Abducted Bathinda child found abandoned near house; two held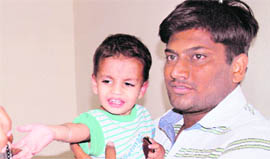 Bathinda, October 24
Two-and-a-half-year-old Kartik who was kidnapped on Saturday afternoon was found abandoned beneath a peepal tree at a secluded place in Model Town, Phase-II, here today at around 6:15 am. Three persons have been booked in this connection, two of whom have been arrested.

sigh of relief: Kartik with his father at the Civil Hospital in Bathinda on Monday. Tribune photo: Pawan Sharma

Woman, son booked for duping youth of Rs 6.5 lakh
Moga, October 24
The police has registered a criminal case of fraud against a woman and her son for allegedly duping a youth of Rs 6.5 lakh on the pretext of sending him to Greece for a job.