Badal tries to 'woo' Talwandi
Ludhiana, October 18
In the run-up to the coming assembly elections, politics of "wooing" seems to be going on full swing. CM Parkash Singh Badal visited former SGPC president Jagdev Singh Talwandi's house here today.
News Analysis
Sanjha Morcha may eat into Cong, SAD votes
Chandigarh, October 18
The joining of hands by the People's Party of Punjab (PPP) with the CPI, the CPM and the Shiromani Akali Dal (Longowal) to form the Sanjha Morcha is one of the most significant developments in Punjab in the run-up to the elections.

Morcha to release its agenda on Nov 6: Manpreet
Amritsar, October 18
The Sanjha Morcha, formed by PPP, Left parties and SAD (Longowal), will release its common minimum programme (CMP) at Dhudike village in Moga on November 6, which will also coincide with the launch of "Izzat Sambhal Yatra" by the newly formed front.
New education policy draft ready
Committee to discuss recommendations with Sewa Singh Sekhwan today
Chandigarh, October 18
The draft of the new education policy is ready and its salient features would be discussed with Education Minister Sewa Singh Sekhwan here tomorrow. Three separate policy documents have been prepared for primary schools, secondary schools and for colleges, universities and other such institutions.
Saanjh Kendra: State takes lead in implementing community policing
Chandigarh, October 18
With the launch of "Saanjh Kendras", Punjab has become the first state in the country to implement community policing in an institutionalised manner.
Rift in SAD, BJP over Aggarwal's appointment as AG
Chandigarh, October 18
Rift between the BJP and the SAD has surfaced over the issue of senior advocate Ashok Aggarwal's appointment as Punjab Advocate-General. Up in arms against Aggarwal, the BJP has lodged a protest against his appointment. Available information suggests the matter has even been taken up with Punjab Chief Minister, Parkash Singh Badal.

Capt warns Akalis against intimidation


Chandigarh, October 18
PPCC chief Capt Amarinder Singh today asked his party cadres to take up lathis against Akali goons. He said he had no faith in the police officials who had been made to report to the Akali jathedars instead of their line of command.

Deputy CM all praise for Anna
Ludhiana, October 18
The SAD- BJP alliance seems all set to play the Anna card in the assembly elections.



33 panchayat secys, 3 others suspended in transfer scam
Chandigarh, October 18
The Punjab Government has suspended 33 Panchayat Secretaries and Gram Sewaks for allegedly getting transfers to preferred places without the knowledge of senior officials of the department. After an inquiry ordered by the Panchayat and Rural Development Minister Ranjit Singh Brahampura found things amiss at the lower level, he ordered the suspension of three officials along with all 33 beneficiaries.

On fast for 24 days, teacher forcibly admitted to hospital
Sikhiya Karmi Adhiyapak Union members stage protest, block traffic
Patiala, October 18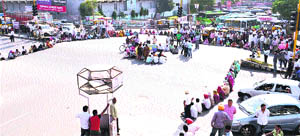 The Patiala police forcibly took away Ajmer Singh Aulakh today, state president of the Sikhiya Karmi Adhiyapak Union, who had been sitting on hunger strike since September 25 while he had gone to freshen up at a nearby house in Rajpura Colony and got him admitted to the Government Rajindra Hospital here.
Teachers block traffic on the bus stand roundabout in Patiala on Tuesday. Tribune photo: Rajesh Sachar

Gobindpura farmers offered land elsewhere
Mansa, October 18
In a bid to resolve dispute between farmers and the state government over the land acquisition for Indiabulls in Gobindpura village to set up 1,320 MW thermal plant, the state government today offered a piece of land to the agitating farmers.
2,500 dengue cases, 15 deaths in Ludhiana
Ludhiana, October 18
As the unofficial count of dengue patients crosses over the 2,500 mark in Ludhiana, with 15 reported deaths, the district health department has initiated a series of measures to tackle the disease.
Rural Medical Officers to go on strike from today
Patiala, October 18
Perturbed over non-disbursal of salaries for the past six months, as many as 42 Rural Medical Officers (RMOs), looking after five dozen rural dispensaries in the Patiala district will go on indefinite strike from tomorrow.
5.92 lakh MT paddy procured
Fatehgarh Sahib, Oct 18
The government agencies has procured 5.92 lakh MT of paddy till Saturday in the Patiala division, comprising Fatehgarh Sahib, Patiala, Barnala, Sangrur and Ludhiana districts.
Cop pens down teachings of Kabir
Chandigarh, October 18
Senior Superintendent of Police Kunwar Vijay Pratap Singh has penned down "universal teachings" of Kabir.
Car found at Ambala with RDX was stolen from Ludhiana


Ludhiana October 18
The RDX-laden car, which was found abandoned from Ambala Railway Station on October 12, has a Ludhiana connection. Inputs provided by the intelligence agencies have sent the local police in a tizzy, who are reluctant to share any information and termed the issue related to national security.
Youth Fest
Punjabi varsity wins overall trophy
Patiala, October 18
Punjabi University, Patiala, won overall trophy during the three-day youth festival of Patiala zone, which concluded at State College of Education today. IG Paramjeet Singh Gill and Municipal Commissioner Gurloveleen Singh were chief guests on the occasion.


HC tells Punjab not to grant new bus permits
Chandigarh, October 18
The State of Punjab's move to "favour" private bus operators has hit a roadblock. Acting on a petition alleging willful violation of the transport scheme by diluting the share of the State Transport Undertaking (STU) to favour private players, the Punjab and Haryana High Court today directed against the grant of new permits during the plea's pendency. Issuing notice of motion to the State of Punjab and other respondents, the Division Bench of Acting Chief Justice MM Kumar and Justice RN Raina also fixed December 7 as the next date of hearing in the case.


600 kg infected meat seized in Patiala
Patiala, October 18
A team of Health and Family Welfare Department today conducted a surprise raid on the godown of Happy Frozen Food located at Friends Colony and seized 600 kg infected meat. They then carried the meat to Municipal Corporation dump and destroyed it.
3 held for attacking teacher
Muktsar, October 18
A day after an Akali sarpanch and his six supporters in Mohlan village of Lambi assembly constituency paraded a government schoolteacher in an open jeep after smearing his face black, the Muktsar police today arrested three of the accused, including a politically influential sarpanch.