MC RAID
200 illegal cracker sellers
Chandigarh, October 24
Around 200 unlicensed cracker sellers were detected in the Sector 26 grain market during a raid conducted by the MC fire department here today.



The MC fire department team cracks a whip on illegal cracker sellers in Sector 26, Chandigarh, on Monday. Tribune photo: Manoj Mahajan

Playing with fire
Mohali, October 24
Facing criticism for failing to crack its whip on wholesalers and retailers selling firecrackers along the Kurali-Ropar highway and the Kurali-Morinda road without seeking an NOC, the district administration today swung into action by issuing notices to at least 130 violators.
Illegal cracker stalls have come up along the Mohali-Kurali road in violation of safety guidelines. Tribune photo: Vicky Gharu


All Booked
Airlines cash in on Diwali rush
Chandigarh, October 24
This Diwali, all the airlines operating domestic flights out of Chandigarh have their hands full. With most flights packed to capacity and the demand for tickets pouring in, the airlines have hiked fares by 15 to 20 per cent across most domestic sectors.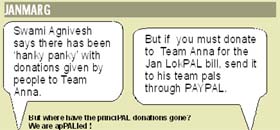 PGI eye centre to remain open
Chandigarh, October 24
The Advanced Eye Centre at the PGI has made elaborate arrangements to meet emergencies on the occasion of Diwali. Doctors will be on special emergency duty round the clock at the centre from October 25 till the morning of October 28. — TNS
Advanced Eye Centre emergency 2756117
Emergency mobile no. 9814014464
But OPDs closed on Diwali
All OPDs in the PGI will remain closed on October 26 on account of Diwali. Emergency services will function as usual, an official press note stated.
UT hikes DA
Chandigarh, October 24
The UT Administration has enhanced the dearness allowance (DA) given to its employees from 51 per cent to 58 per cent of the basic pay with effect from July 1 this year. The increase will cover employees of the UT, Chandigarh, and those working here on deputation from Punjab. — TNS
CITY DECKS UP FOR FESTIVITY


Traffic jam at the road separating Sectors 21 and 34 in Chandigarh. Tribune photo: Pradeep Tewari


People busy buying dry fruits, pushing up their sale this season in Mohali. Tribune photo: Vicky Gharu

A view of the traffic rush at the Sector 17 roundabout in Chandigarh. Tribune photo: Pradeep Tewari

Residents throng shops to buy crockery to celebrate Dhanteras. Tribune photograph


Markets witness a huge rush of people shopping ahead of Diwali in Chandigarh. Tribune photograph

A view of the illuminated Sector 22 market in Chandigarh. Tribune photo: S Chandan


People busy shopping for crackers in the Sector 26 market, Chandigarh, on Monday. Tribune photo: Manoj Mahajan
Norms go for a toss


Shopkeepers have encroached upon the land outside shops by putting up stalls; and (right) cars parked haphazardly on a road at the Sector-7 market in Panchkula. Tribune photos: Nitin Mittal
Green Diwali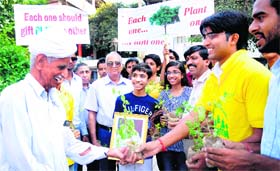 Students of Gurukul Vidyapeeth distribute saplings to senior citizens during the Green Diwali campaign in Chandigarh on Monday. Tribune photo: Pradeep Tewari
Diwali fails to cheer them
Chandigarh, October 24
Diwali, the festival of joy, has failed to cheer up hundreds of students pursuing vocational courses in city schools. Reason: UT education department has failed consecutively for the third year to revive the good old Diwali Mela.
Gambling, hot favourite again this season
Chandigarh, October 24
Rising inflation and crashing markets have had no impact on people's love for gambling during the Diwali season, as is evident from the avid gathering behind closed quarters, mainly residential, all over the tricity.
Shopkeepers asked to be vigilant
Chandigarh, October 24
The Chandigarh Police today held a meeting with representatives of the Market Welfare Associations of the city and apprised them to take security measures during the festive season.


Duronto losing steam
Chandigarh, October 24
With just 16,254 passengers travelling from Amritsar to Chandigarh and vice versa since its inaugural run on August 24, the Amritsar-Chandigarh Duronto, launched amid fanfare, is losing steam. Records from August 24 to October 10 show that the maximum number of passengers to have travelled by this train are from Amritsar.
Pinjore-Parwanoo bypass to be opened by year-end
Panchkula, October 24
The Pinjore-Parwanoo bypass will be thrown open to traffic by year-end. "We are hopeful of completing the project by December," said Anil Dahiya, project director, National Highway Authority of India (NHAI).


Work under way at the Timber Trail end of the Pinjore-Parwanoo bypass; and (right) a portion of the bypass. Tribune photos: Nitin Mittal
Architecture college drafts plan for Tripura to draw tourists
Chandigarh, October 24
The Chandigarh College of Architecture (CCA), as part of their project allotted by the Tripura Tourism Development Corporation, has developed a project for the state to promote the tourist destinations that have been left unexplored.
Staff crunch plagues Zirakpur MC
Zirakpur, October 24
In the absence of adequate staff, the Zirakpur municipal council is apprehensive about the effective implementation of the Right to Service Act. The apprehension stems from the fact that as many as 17 posts in the council have been lying vacant for the past several years.
YPS Chowk gains popularity among agitators
Mohali, October 24
With the Assembly elections nearing, the YPS Chowk in Phase VIII (Sector 62) adjoining the UT border has become the new address for the regular and contractual employees of various state government undertakings to agitate in support of their demands.


Curse in disguise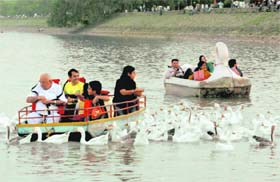 Despite a ban, people feeding the ducks at the Sukhna lake in Chandigarh. Tribune photo: Vicky Gharu
Location blues for bus terminus
Zirakpur, October 24
Even as the work of setting up a bus terminus in Zirakpur is yet to start, objections are already being raised on its location. Some persons believe that it will add to traffic congestion. They feel that the site for the bus terminus should be shifted to the outskirts of the town.
MC ropes in RWAs for improving situation
Panchkula, October 24
Drawing criticism for poor sanitary conditions in the city, the Panchkula municipal corporation has now roped in the Residents Welfare Associations (RWAs) to improve the situation.
CII fair, a crowd puller
Chandigarh, October 24
The 16th edition of the CII Chandigarh Fair organised at the Parade Ground, Sector 17, witnessed a huge rush of visitors. The fair witnessed a footfall of over two lakh visitors, which is around 15 per cent of the Chandigarh population.
Ban on carrying of firearms inside marriage palaces
Zirakpur, October 24
The Mohali administration has imposed a ban on carrying firearms inside banquet halls and marriage palaces in the district till November 26. The ban has been imposed with an intention to maintain law and order situation in the area during marriage and other functions. DJs have been asked not to play loud music between 10 pm and 6 am.
Good news for Armymen
Mohali, October 24
In a big sigh of relief for Army personnel posted outside Punjab, the Greater Mohali Area Development Authority (GMADA) has decided to waive off extension fee even in the case of Army personnel who remained posted outside the state.
Work on contemporary architecture exhibited
Chandigarh, October 24
Works of six city architects is being showcased at an ongoing international exhibition being held at Singapore. The exhibition, "ArchiFest 11", being organised from October 3 to October 28 by the Singapore Institute of Architects has various events, including forums, architours, exhibitions and competitions, etc. The theme of ArchiFest is "Common Spaces".
FROM SCHOOL
Contests mark Diwali celebrations in schools
Chandigarh, October 24
St Xavier's Senior Secondary School celebrated Diwali with great fervour on Monday, as students were enlightened with a tableau from the Ramayana. Various competitions were held in the school where Priya Raag, Riya, Ramneek and Yangchen made the best rangoli amongst students of Classes VIII and IX, while Maitali, Jhanvi, Ria and Shweta stood first in Class X, Sriparna, Ramandeep, Mehak, Amandeep and Loveleen bagged first position in Class XII.