OPED

Agriculture
Reorienting village economy
Dr. B. S. Ahloowalia
The development of village-based storage, packaging and marketing of primary agricultural produce can lead to job creation, improved rural sanitation, diversification of agriculture and prevention of environmental degradation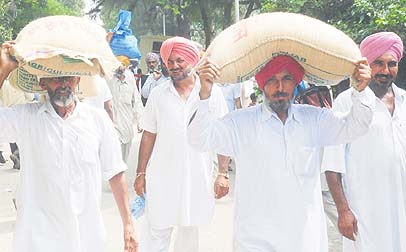 All seeds can be produced in villages and delivered at the doorstep of farmers. Tribune photo

During the past 50 years, Punjab has achieved remarkable success in food production. This production is sustained on resources of its fertile land, water and adoption of new technologies by farmers. However, the added value from increased food production has not translated into an increased purchasing power of the rural masses mainly because it did not create the anticipated rural employment for Punjabis.
The adoption of many existing exiting technologies can increase rural employment and enhance incomes. These include village-based storage, processing, packaging and marketing of primary agricultural produce, thus creating a rural agro-industry sector. Much of the technical information and resources required to create rural employment already exist in India, and can be adapted or adopted with minimal costs. However, such technologies can succeed only if policy changes are undertaken and actively promoted by the state government to create "techno-villages".
The three agricultural sectors that need to be located in the villages are: (a) grain storage, milling, processing, packaging and distribution; (b) seed production, packaging, storage and distribution; and (c) horticultural crop production, packaging and marketing.
Grain silos & other storage systems
It is ironical that whereas all primary agricultural products — grains, pulses, oilseeds, fruits and vegetables are produced in villages, their storage, milling, processing, packaging and distribution takes place in cities. This is in stark contrast to Europe and North America, where much of the grain storage is located in rural areas and in many cases, milling, processing, packaging and even distribution (at least to the surrounding villages) is undertaken in rural areas.
In the olden days, grain milling and oil extraction was undertaken within villages by using ox-drawn mills and later with diesel engines. As a starting point, groups of 10 to 20 villages around major cities should be selected for storage, processing, packaging and marketing of primary agricultural produce, particularly grains, pulses, oil seeds, and sugar. The establishment of grain silos and storage systems should be promoted through one-time subsidy.
For milling, processing and packaging, 10 to 20 per cent subsidy should be provided during the first two years of their operation. To establish modern steel silos, participation of grain and seed handling companies such as Cargill, known for its worldwide experience, should be sought in joint public-private ventures. Now that nearly all villages in Punjab have electricity and roads, such agro-industry can be mechanised and infrastructure upgraded. This would generate employment in villages at all levels from farmers, labourers, agricultural graduates to banks. Of course, quality assurance of packed products is essential to build consumer confidence in the rural-based marketing industry. The same model can be used for processing oilseeds, vegetables and fruits.
High-quality seeds
Seed is the very basis of crop production. Ensured high-crop yields require high quality seeds and planting material obtained from cuttings, bulbs, runners and graft buds. Seed production is a fast expanding area in India worth billions of dollars. Crop diversification in Punjab will require the availability of high-quality seeds and planting material of new crops, and its easy access to growers.
All seeds and planting material could be produced in villages, and delivered at the doorstep of farmers instead of them running to universities and extension centres. The opportunities in this sector include production, packaging, storage and distribution of high quality seeds of major crops and planting material of flowers, indoor ornamentals, decorative shrubs, and forest and fruit trees.
Many crops are based on hybrid varieties which have high market value. Seed of many crops such as wheat, rice, cotton, pulses, millets, oils seed crops, vegetables such as carrot, cabbage, egg plant, radish, mustard (sarson sag), cauliflower, tomato, spices and medicinal plants such as cumin coriander, mustard seeds, ajwain, isbgoal (psyllium) and fennel offer a major opportunity for village-based marketing.
An advanced stage of production of high quality planting material is through test-tube multiplication (micro-propagation). Crops such as sugarcane, potato, banana, strawberry and mint, ginger and turmeric, ornamentals such as chrysanthemum, roses, jasmine and bougainvillea are ideally amenable to this technology. Small micro-propagation units can be established in villages near cities, and can be based on low-cost options. Many such units exist in Cuba, where village houses are converted into such units and can employ as many as 100 persons per day, often in two shifts.
Growing demand for shrubs
This will open up a whole new agro-industry for the production of nursery stock and forest trees based on a combination of micro-propagation and conventional multiplication — the latter can be done both under plastic or outdoors. There is a growing demand for shrubs and short rotation trees for agro-forestry. The will make Punjab cleaner and greener. There is also a major potential to produce mushroom spawn in centralised units that provide spawn-inoculated mushroom compost in black plastic bags to growers. Such a system has been used in Ireland and has grown worth millions of dollars.
Horticultural production under plastic has become a new source of income for small landholders and large corporate farming in Europe. Growing vegetables such as tomato, melon, cucumber, strawberries and banana, cut flowers of chrysanthemum and roses under plastic is widespread in Greece, Morocco, Spain and Ireland. Plastic dome-shaped tunnels and houses with drip irrigation are popular in Israel, Italy, Ireland, the UK and Spain. Often, soil within a plastic house or tunnel is covered with black plastic to keep off weeds and insects, and to provide extra heat and retain soil moisture, thus reducing not only cost but also leading to high quality produce with uniform size. This in turn allows easy packaging and quality assurance to consumers.
Since the system is labour-intensive, it leads to rural employment, particularly that of women. Such systems can be adapted into Punjab agriculture without much modification and a little innovation for the production and export of many vegetables, particularly winter tomato, flowers and small fruits. In Punjab several crops such as winter tomato, banana, strawberry, chili pepper, bell pepper, Chinese lettuce, red beet root, red radish and lettuce can be produced under plastic. Growing of crops under plastic is ideal for the production of high quality planting material free from viruses, and fungal and bacterial diseases.
Often plants multiplied from test-tube culture such as strawberry runners, citrus, rose, chrysanthemum and potato are first grown under plastic for hardening and then packed in clear plastic bags and sold by growers. The packaging and shipment of such short-life produce requires a highly streamlined cool storage system and road transportation for shipment to cities and airports.
Recycling village waste should be seen as an integral part of horticultural production and environmental improvement. When properly composted through wormiculture or turned into biogas, animal waste is converted into a high-grade fertiliser. The biogas saves firewood and cuts down the emission of carbon dioxide from dung burning. Above all, recycling will result in improved rural sanitation. The production of high-grade compost is important for the production of nursery stock, flowers and potted plants and trees, which would create rural employment and supplementary income. The sale of packed organic compost is a million-dollar business in the US and Europe.
Rejuvenate forests
Needless to say, that the production of forest trees is badly needed in Punjab to rejuvenate forests, provide wood for construction and fuel, and above all, to prevent soil erosion. Forestry in Punjab may be the way forward for many of the ecological problems relating to pollution, use of marginal lands, maintenance of soil fertility and reducing pressure on land. A combination of the existing and available simple technologies to handle rural waste can trigger a chain reaction for the benefit of health and wealth of rural Punjab. Additional rural employment and income can also be generated from village-based tourism. The establishment of entertainment picnic parks along rivers and canals can generate additional income for villages if rural waste is removed and recycled.
The farmers and growers have to be the key players in the storage, packaging and marketing of agricultural produce and should set up small and medium enterprises. They should control the management, purchase of equipment, technology adoption and marketing of the produce. Farmers can also establish cooperatives as in Switzerland. Such cooperatives undertake bulk purchase, marketing, packaging and sales. Many of these actions can be implemented by individual farmers and entrepreneurs on their own. However, the existing state agencies and boards should promote each sector. The agencies should establish standards for produce; for example quality for seed, packaged vegetables, flowers, grain and grain products.
The writer has formerly worked with the International Atomic Energy Agency, Food and Agriculture Organisation of the UN, Vienna, and Agriculture and Food Development Authority, Ireland