Organ donation is still a topic not well understood
Every year in our country there is a need of approximately 175,000 kidneys, 50,000 hearts and 50,000 livers for transplantation. As against the need, only 5000 kidney transplants in 180 centreers, 400 livers in 25 centreers and 10-15 hearts in very few centteres are done annually. 95 per cent kidneys and livers are from living donors.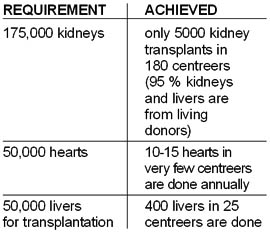 Human organ donation yet to make a significant mark in India. India lags behind in the implementation of a cadaveric donation programme. For example: merely 3000 are lucky to get kidney donor, while over 100,000 Indians suffer from End Stage Renal Disease.

Although the contemporary science has brought in tremendous success in the field of healthcare. aAnd one such advancement is organ transplant, but due to lack of awareness, nobody comes forward to donate organ. People are not aware of organs that can be donated, other than eye.

Many patients succumb to death suffering from chronic illnesses, waiting for organ transplants and they die without receiving suitable organ. To encourage organ transplantation procedures and reduce mortality rate through timely transplant, a major improvement is required to happen in the existing organ donation and transplant system.

Facts on organ donation/transplant
COST:
It is important to note that the cost of organ donation is incurred by the transplant recipient and the donor's family is never charged for it. Also in case of cadaver transplant, the cost charged by the hospital to save the patient's life is usually misinterpreted as the cost related to organ donation. T While, the additional expenses that a living donor experiences like loss of wages, child care expenses during recovery, food, lodging and travel costs, are to be incurred by the donor only.

A person should be well aware of the cost of the donation, if he/she is considering to be an organ donor.

The cost of organ transplant, principally include preliminary testing, the surgery cost and the post-operative recovery costs. The cost of an organ transplant can be segregated in terms of Medical costs and non-medical costs.

n

Medical costs may include:

n

insurance deductibles

n pre-transplant evaluation and testing surgery

n fees for the recovery of the organ from the donor

n follow-up care and testing

n additional hospital stays for complications

n fees for surgeons, physicians, radiologist, anesthesiologist and recurrent lab testing rehabilitation

n Non-medical costs include:

n food, lodging and long distance phone calls for you and your family

n transportation, to and from your transplant center, before and after your transplant

n Air travel to get to your transplant hospital quickly

n lost wages if your employer does not pay for the time you or a family member spends away from work

The costs or organ transplant vary in different countries, hospitals and the type of organs.

One of the driving forces for illegal organ trafficking and for "transplantation tourism" is the price differences for organs and transplant surgeries in different areas of the world. According to the New England Journal of Medicine, a human kidney can be purchased in Manila for $1000–$2000, but in urban Latin America a kidney may cost more than $10,000. Kidneys in South Africa are sold for as high as $20,000. Price disparities based on donor race are a driving force of attractive organ sales in South Africa, as well as in other parts of the world.

In China, a kidney transplant operation runs for around $70,000, liver for $160,000, and heart for $120,000. Although these prices are still unattainable to the poor, compared to the fees of the United States, where a kidney transplant may demand $100,000, a liver $250,000, and a heart $860,000. Chinese prices have made China a major provider of organs and transplantation surgeries to other countries.

In India, a kidney transplant operation runs for around as low as $5000.