'Tainted' officials at the helm of Dasuya MC
Chandigarh, October 21
Funds for development works at the disposal of the Municipal Council, Dasuya, continue to be up for grabs even as an inquiry pointed out serious lapses in its functioning, way back in June 2010. Charge-sheeted officials continue to work on the same posts.

Badal slams UPA for delaying SGPC session
Tarn Taran, October 21
Chief Minister Parkash Singh Badal today lashed out at the Congress-led UPA government "for hurting the sentiments of Sikhs" by deliberately delaying the permission for holding the first session of newly elected SGPC.
BJP, Cong leaders blame each other for controversy
Moga, October 21
The stay granted by the Punjab and Haryana High Court on October 17 against the notification issued by the Punjab Government to change the status of Moga Municipal Council into Corporation on a petition moved by two councillors has created a controversy among local politicians, who are blaming each other for trying to hinder the process of urban development.
Get enrolled as voters, Manpreet urges youth
Chandigarh, Ocotber 21
People's Party of Punjab (PPP) President Manpreet Singh Badal has asked the youth of the state to participate in the next general elections of the state.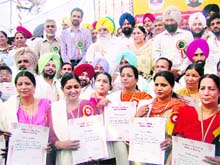 State award for 44 teachers
Kahnuwan (Gurdaspur), October 21
State awards were conferred upon 44 teachers by Punjab Education Minister Sewa Singh Sekhwan at a function held here today.Hundreds of teachers from all over the state converged on this tiny hamlet, barely 5 km away from the native village of the Education Minister.


PROUD MOMENT: Jubilant teachers after receiving the award at Kahnuwan in Gurdaspur on Friday.

Devotees barred from carrying 'palki sahib'
Amritsar, October 21
The SGPC has discontinued the practice of allowing devotees to carry "palki sahib" on their shoulders from Sri Akal Takht to Sri Harmandar Sahib early in the morning everyday.
Kin of youths detained by Kuwait company seek help
Jalandhar, October 21
Family members of 20 Punjabi youths, illegally detained by a Kuwait-based company after the expiry of their visas, have sought the intervention of the Union Ministry of External Affairs for the rescue of their dear ones.
All set to market Bathinda refinery products
Bathinda, October 21
The work on Rattangarh Kanakwal railway station and two pipelines meant for transporting fuel from Guru Gobind Singh Refinery has been completed. Raman Mandi has been developed as the marketing terminal of petroleum finished products.
Ailing protester released from jail
Bathinda, October 21
Deepak Kumar, a protester who was in judicial custody in the Central jail here along with over 100 employees of various Farad Kendras of the state, was released yesterday evening owing to ill health. He is said to be a suspected dengue fever patient.
Lt-Gen Rajinder Singh to be honoured
Nabha, October 21
Punjab Public School Nabha will celebrate its 52nd founder's day on October 23. The school will honour Lt-Gen (retd) Rajinder Singh Sujlana, PVSM, AVSM, VSM, an ex-student of PPS with the prestigious Roll of Honour Award. General Sujlana has commanded the 3rd Battalion Sikh Regiment and 77 Mountain Brigade.
Fight against drugs, IG tells policemen
Patiala, October 21
Patiala Zone IG Paramjit Gill today gave a clarion call to all policemen and social activists to ensure a fight against drugs on the commemoration day function held at the Police Lines here. The function was held to pay homage to all policemen who lost their lives fighting terrorism in the past years.
Timings of Patiala govt schools cut by 20 minutes
Patiala, October 21
The Education Department has reduced the winter timings of government schools by 20 minutes and the decision will be implemented in all government schools of Patiala from tomorrow.
2 held with ornaments worth `1.5 crore
Patiala, October 21
The Rajpura police has arrested two persons and recovered ornaments of gold, silver and diamond worth over Rs 1.5 crore from their possession which they were to deliver to a jeweller with showrooms in Panchkula, Chandigarh and Ludhiana.
Missing paddy: Rice mill owner booked
Patiala, October 21
In yet another case of stored paddy (worth over Rs 4 crore) going missing from a rice sheller, the Patran police has registered a case against the rice sheller in Bhootgarh village. The police has registered an FIR following a complaint by an officer of Punjab Agro Foodgrain Corporation Limited.According to the complaint, paddy procured by the government agency was allegedly stored in the rice sheller owned by Bhalinder Singh.