Even after death, Gaddafi divides Libya
n Arguments over disposal of body n Leaders, Western nations hail new dawn n Liberation declaration in Benghazi today
Misrata(Libya), Oct 21
Muammar Gaddafi's body lay in an old meat store on Friday as arguments over a burial, and his killing after being captured, dogged efforts by Libya's new leaders to make a formal start on a new era of democracy.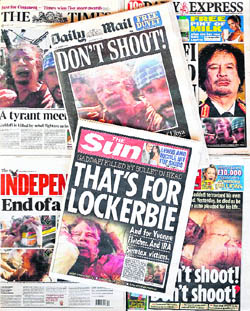 Breaking news: A snapshot of some British dailies announcing the death of Libyan dictator. — AFP
With a bullet wound visible through the familiar curly hair, the corpse shown to Reuters in Misrata bore other marks of the violent end to a violent life that was being broadcast to the world in snatches of grainy, gory cellphone video.
The interim prime minister offered a tale of "crossfire" to explain the fallen strongman's death after he was dragged, very much alive, from a highway drainage culvert.But with footage showing him being beaten, while demanding legal rights, to the sound of gunfire, many assume he was simply summarily shot.
The liberation of Libya will be declared on Saturday in the city of Benghazi, often referred to as the cradle of the revolution that overthrew Muammar Gaddafi, and not in the capital Tripoli, interim government officialsaid .
Gaddafi's wife, Aisha, who found refuge in neighbouring Algeria while her husband and several sons kept their word to fight to the death, demanded an inquiry from the United Nations. Its human rights arm said one was merited.
Controversy over the final moments of a man who once held the world in thrall with a mixture of eccentricity and thuggery raised questions about the ability of Libya's National Transitional Council to control the men with guns, as well as discomfort for the Western allies about respect for human rights among those who claimed to be fighting for just those ideals.
The body appeared to be the latest object of wrangling among the factions of fighters who overthrew him -- along with control of weapons, of ministries and of Libya's oil wealth.
Libyans, and the Western allies who backed their revolt that ended Gaddafi's 42-year rule two months ago, have indicated their impatience to begin what the United States declared was a democratic "new era".
But regional and other rivalries were holding up the disposal of the corpse of Gaddafi, who was seized by fighters on Thursday, and a formal declaration of Libya's "liberation".
A failure to find Gaddafi's son and heir-apparent, Saif al-Islam, left another loose end after Thursday's surprise climax to eight months of war, when the 69-year-old fugitive was discovered hiding in a drainage culvert under a roadway.
NATO jets had halted a bid by a large armed convoy to break out of his last redoubt in his hometown of Sirte. — Reuters

Saleh, Assad next in line: Protesters
Sanaa, October 21
Tens of thousands of demonstrators took to the streets of the Yemeni capital today to demand the resignation of veteran President Ali Abdullah Saleh, galvanised by the death of Libya's Muammar Gaddafi.
"Ali, it's your turn next, yours and Bashar's," the protesters chanted referring to Syrian President Bashar al-Assad. "Every dictator meets his end," they chanted as they marched down Sanaa's Sittine Avenue under the protection of dissident troops of the First Armoured Division.
As on most Fridays, the President's supporters held a counter-demonstration after the main weekly Muslim prayers in Sabine Square in the south of the city, which is controlled by loyalist troops.
The killing of Gaddafi fuelled anti-government rallies across Syria after Friday prayers and security forces killed 13 people in a continued crackdown on protesters seeking President Bashar al-Assad's ouster, activists said. — AFP