Two snatchers caught in the act
Ambala, October 29
Two motorcycle-borne youths snatched the gold chain of a woman in the main market here this evening. They were overpowered by shopkeepers and handed over to the police.
Industrial unit caught discharging effluents
Lalru, October 29
Following the drive to clean choes and drains in the Dera Bassi subdivision, a Punjab Pollution Control Board team has caught a gelatin-manufacturing industry discharging industrial effluents into the Jharmal choe yesterday.


Smooth flow of traffic? No way!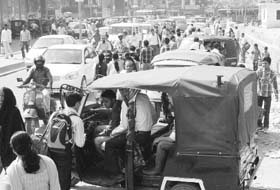 Autorickshaws parked in a haphazard manner on a road at Zirakpur. Tribune photo: Nitin Mittal
Polluted groundwater makes farmers dig deep
Dera Bassi, October 29
Farmers of some villages near here have been facing a water crisis due to polluted groundwater. They are not getting enough water for drinking and irrigation purposes.
Insurance firm told to pay full claim
Fatehgarh Sahib, October 29
The District Consumer Disputes Redressal Forum has directed ICICI Lombard Insurance Company to pay Rs 83,216, the claim assessed by the surveyor, to a complainant.
One killed in accident
Dera Bassi, October 29
One person was killed in an accident on the Barwala road near here the previous night. He was identified as Balkar Singh of Kuranwala village, near here.
One held with 5-kg opium
Lalru, October 29
The Lalru police has seized five kg of opium at a 'naka' set up near Dehar village on the Ambala-Chandigarh highway.


Insurance company directed to compensate complainant
Chandigarh, October 29
The District Consumer Disputes Redressal Forum-I has directed Reliance General Insurance Co Ltd to pay Rs 6.20 lakh to a Sector 38 resident.
Company told to replace refrigerator
Chandigarh, October 29
The District Consumer Disputes Redressal Forum has directed Hitachi Home and Life Solution (India) Limited to replace a refrigerator of a complainant.
Emaar MGF fined Rs 25,000
Chandigarh, October 29
The District Consumer Disputes Redressal Forum-I has slapped a fine of Rs 25,000 on Emaar MGF Land Pvt Ltd for failing to complete development work on time.


Two brothers held for assaulting five during 'kirtan'
Panchkula, October 29
The local police has arrested two persons for assaulting five persons, including four women, performing a 'kirtan' here today.
rape Case
Cops to match mobile locations
Panchkula, October 29
Investigating the case of rape of a 27-year-old television actress, the Panchkula police is obtaining the locations of the mobile phones of the victim and the accused.
Obscene SMSes for cop
Panchkula, October 29
An FIR has been registered on the complaint of a constable regarding the receipt of lewd messages from unknown numbers.


TN struggle at 236 for 8 against Punjab
Chandigarh, October 29
Punjab restricted Tamil Nadu to 236 runs for the loss of eight wickets in 91 overs during Col CK Nayudu Trophy being held at the Dhruv Pandove Stadium, Patiala.
Tennis meet: Vilashar, Sachin cruise ahead
Chandigarh, October 29
Vilashar Khate of Haryana and Sachin Kumar moved into the final qualifying round of the Sanjog Kapur Memorial-CLTA-AITA Men's & Women's-50K Chandigarh Open Tennis Tournament being held at the CLTA Complex here today.
SGGS College lift badminton trophy
Chandigarh, October 29
SGGS College beat PU Campus to lift the Panjab University Inter-College Badminton (men) Trophy being held at PU gymnasium hall here today.
Kho-kho meet
Chandigarh, October 29
The second 3-day Luxmi Arya Memorial Kho-Kho Trophy (U-14 Boys and Girls) will be organised by Maharishi Dayanand Adarsh Vidyalaya School (MDAV), Sector 22-A, from November 17.