Encroachment, unkempt parks & poor garbage collection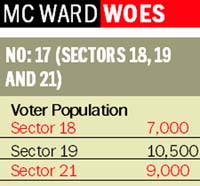 Ward No. 17 comprises centrally located Sectors i.e. 18, 19 and 21. This ward is infested with encroachment, with residents infringing on service lanes by storing construction material or parking vehicles during night. Even makeshift rooms and security tents for guards have been set up there. Some residents have used the MC land for displaying plants. The lanes are also being used by laundrymen, who have set up shanties there.
E-sampark
Two years ago, the UT administration had earmarked a site for the construction of an e-sampark centre in Sector 21 after area residents made a number of representations. Even though work has been allotted to the contractor, who has stored his construction material there, the construction is yet to start.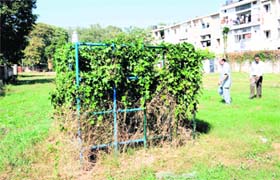 (Above) Playing equipment for children is overrun by wild growth at a park in Sector 18; and (below) a trench dug up in a park along with illegally parked private buses in Sector 21.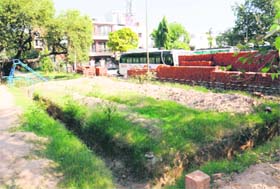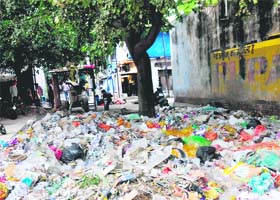 Garbage strewn near a residential area in Sector 19, Chandigarh. Tribune photos: Manoj Mahajan
Sanitation
The authorities have failed to monitor the proper functioning of the door-to-door garbage collection system and have been blaming the contractor, allotted the contract for the collection of garbage in the ward, for lapses. The contractor's staff often fail to turn up in the area for the collection of garbage. In fact, sweepers also work at will as the department has failed to supervise their work. Even though the authorities have constructed Sehaj Safai Kendras for the collection of garbage, the residents have been forced to use their back alleys to dispose of their horticulture and domestic waste.
Internal parks
A majority of internal parks developed in the ward have not been properly maintained by the MC horticulture department. The authorities have spent lakhs of rupees on installing lights in the parks but have not bothered to ensure their proper maintenance. In most parks, lights are broken and have not been replaced for a long time. Whenever residents complain about it, officials wash their hands of the issue citing paucity of adequate material for replacement.
Encroachment on back lanes
Encroachers are having a field day as the MC has failed to frame any policy on encroachment on service lanes in the city. City's master plan had earmarked these service lanes to ease traffic congestion in front of markets but the authorities have not devised any policy for their proper maintenance. These are currently being used by residents for storing construction material, parking vehicles, putting up maids or security guards and displaying plants. These lanes are also being used by laundrymen, who have set up temporary shanties.
Encroachment on MC land
This ward tops in terms of encroachment on MC land in the city. In Sector 18, an illegal taxi stand has been running for a long time and residents have been complaining to the authorities in this regard. However, no action has been taken to remove it so far. Similarly, in Sector 21, private bus operators illegally use MC land to park their vehicles. However, all complaints made to the authorities have fallen on deaf ears.
Stray animals
On paper, the MC has chalked out plans to control the problem of stray dogs in the ward, but on the ground, the picture is entirely different. Special campaigns have been organised by the authorities to deal with the menace but the issue remains unresolved.
Councillor
Anju Baniwala
(Sr Deputy Mayor in 2008)
Congress
Ward development fund?
Out of Rs 130 lakh allotted in the past five years, Rs 133.90 lakh have been spent till March, 2011
Tech know-how?
Has failed to respond to the grievances of residents posted both on Facebook and official e-mail ID
Questions asked in House in 2010
Never tabled any question in the question hour of the General House
Achievements
First community parking in Sector 19
Community centre in Sector 21, pending for 40 years
Two green belts each in three sectors