Lokpal IG probing Badals' transport business shifted
Chandigarh, October 28


The SAD-BJP government, which is being accused of coming in the way of the smooth functioning of the Lokpal by not allocating adequate staff, today transferred the Inspector General (IG) who had been probing the "illegal" plying of air-conditioned buses owned by Chief Minister Parkash Singh Badal and Deputy Chief Minister Sukhbir Badal.
Gakhar retains Patiala residence
Patiala, October 28
After failing to exert pressure on IPS officer Sham Lal Gakhar to vacate his government residence early this month, the state government has "cleverly" given him a "plum posting". The government issued his transfer orders along with new posting orders for as many as 20 senior police officers.
Attack on Bhaniara Wala was well planned
Payal, October 28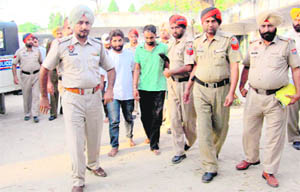 The trio, apprehended for allegedly attempting to stab the controversial spiritual guru Baba Piara Singh Bhaniara Wala during his discourse at the dera campus, located in Damana Kala near Nurpur Bedi in Ropar district yesterday, had conducted a recce of the Dera previously and even partaken the free meal offered in the premises. Not only this, the trio had laid a trap near the dera for the last three days.
The accused being taken to a court in Anandpur Sahib on Friday. A Tribune photograph
Delay in payment by PRTC
KM Scheme buses to go off road from Nov 11
Patiala, October 28
PRTC's financial situation is not hidden from anyone. Time and again, contractual employees and pensioners have been protesting against the management for causing delay in making payments. Now, the KM Scheme bus owners have expressed anger over non-payment of their dues for almost six months. They have announced that if their payments are not made till November 11, they would halt their buses for indefinite period.
Gurdas Badal accuses Cong, SAD of tactical understanding
Muktsar, October 28
Gurdas Singh Badal, younger brother of Punjab CM Parkash Singh Badal and father of PPP president Manpreet Singh Badal, today accused the SAD(B) and the Congress in Punjab for having a tactical understanding at Lambi and Patiala assembly constituency seat in the forthcoming assembly elections.
300 awareness camps in next three months
Badal (Muktsar), October 28
The state government has now embarked on an initiative of organising 300 cancer awareness camps across the state in the next three months. Badal, the home village of CM, was the venue of such first awareness camp today.
Bhattal slams govt for slow procurement
Moga, October 28
Leader of the Opposition in the Punjab Vidhan Sabha, Rajinder Kaur Bhattal has criticised the Punjab Government for slow procurement of paddy in the state.
Ex-serviceman dies in police custody
Moga, October 28
A 52-year-old ex-serviceman died under mysterious circumstances in the police custody at Fatehgarh Panchtoor police station in Moga district this evening. The administration has marked a judicial inquiry into the incident. The deceased, Surjit Singh, a resident of Kussu Wala Mor village, near Makhu in Ferozepur district, was picked up by the police last night in a theft case.
18 police officers reshuffled
Chandigarh, October 28
In a major police reshuffle, the Punjab government today effected the transfer of 18 IPS officers, including one DGP, three ADGPs and IGs each, and promoted four DIGs. DGP Punjab Armed Police, Jalandhar Rajan Gupta has been transferred as DGP law and order and also incharge of armed battalions. The ADGP railways and traffic R P Singh has been divested of the railways charge. The ADGP IVC and human rights Mohammad Mustafa has been appointed ADGP railways. The ADGP administration Hardeep Singh Dhillon has been given additional charge of ADGP IVC and Human Rights.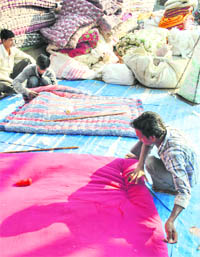 A quilt maker gives the final touches to a quilt at the Nabha Gate in Patiala on Friday. Tribune photo: Rajesh Sachar
PM's 'unlikely visit' triggers political debate
Chandigarh, October 28
With assembly elections in Punjab just about three months away, a debate has started between the ruling Shiromani Akali Dal (SAD) and the Congress over the proposed Punjab visit of Prime Minister Manmohan Singh.
Panel submits education policy draft to govt
Chandigarh, October 28
The governor should be the Chancellor of the private universities in the state. Appointment of the Vice Chancellor of a private university should be made from the panel of names recommended by the search committee as has been provided by the University Grants Commission (UGC) in case of the government universities.
Fuel surcharge on power tariff to stay
Chandigarh, October 28
The Punjab State Electricity Regulatory Commission (PSERC) has allowed the Punjab State Power Corporation Limited (PSPCL) to extend the fuel surcharge allowed to the electricity utility for the first quarter of this year to the entire year. The PSPCL recently filed a petition asking the Commission to increase the fuel surcharge to 10 paisa per unit.
Kabbadi World Cup
Sukhbir promoting himself: Amarinder
Chandigarh, October 28
Questioning Deputy Chief Minister Sukhbir Singh Badal's wanton extravagance, Punjab Pradesh Congress Committee chief Capt Amarinder Singh today asked the Deputy CM whether he was organising the Kabbadi World Cup or a campaign for personal promotion on the eve of elections.
Power corp engineers to support striking JEs
Patiala, October 28
The Council of Junior Engineers PSEB has decided to extend support to the Junior Engineers of Punjab, Haryana and Chandigarh who are agitating since October 18 against the non-acceptance of their demands by the Punjab Government.
Teachers to protest in Ludhiana tomorrow
Patiala, October 28
After massive protests at Patiala and Rajpura, the Sikhiya Karmi Adhiyapak Union will stage a protest at Ludhiana on October 30. Ajmer Singh Aulakh, state president of the union, who is admitted to the Government Rajindra Hospital, here, said sikhiya karmis from all over the state would reach Ludhiana in the morning and block traffic at Samrala Chowk.
Police recruitment test on Oct 31
Fatehgarh Sahib, October 28
The process for recruitment of 154 police constables in Fatehgarh Sahib district will start from October 31 with physical efficiency test comprising 1,600-metre race, long jump and high jump at Baba Banda Singh Bahadur Engineering College grounds.
Kewal Dhillon bereaved
Chandigarh, October 28
Sajjan Singh Dhillon (85), father of the Congress MLA from Barnala Kewal Singh Dhillon, passed away here today after a brief illness. He is survived by three sons and a daughter. The cremation will take place tomorrow at Sector 25 cremation ground. Punjab Pradesh Congress president Capt Amarinder Singh and other senior Congress leaders have expressed grief over the death of Sajjan Singh.—TNS
Constable booked for cheating
Patiala, October 28
The Patiala police has registered a case of cheating against Darshan Singh, a constable with the Indian Reserve Battalion band staff, who allegedly used fake certificates to procure his job.