A cracker of an eco-friendly measure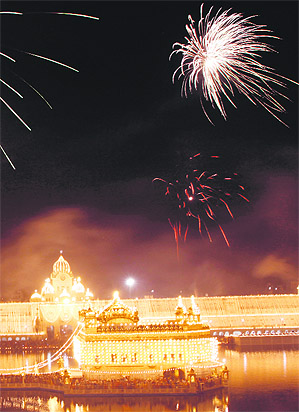 Amritsar, October 27
In a measure aimed at protecting the Golden Temple, the SGPC on Wednesday reduced the duration of fireworks to celebrate Bandhi Chhod Diwas and Diwali to 15 minutes. This was half the time compared to previous years. This is for the first time that the SGPC slashed the time of fireworks to minimise the threat of pollution to the shrine. SGPC chief Avtar Singh Makkar said, "We had issued instructions to our staff that the fireworks should not exceed 15 minutes and we even warned they would be penalised if they voilated orders. We also ensured that there were no fireworks on the ground. It all took place well in the air and as a result there was minimum possible smoke." He said they would try to look for some other solution to deal with the pollution in the coming years. "We are concerned about the safety of the Golden Temple and we should take all possible measures to ensure the same."
Fireworks display at the Golden Temple in Amritsar on Diwali. A Tribune photograph

HC: Companies still hiring goons for debt recovery
Chandigarh, October 27
The Punjab and Haryana High Court has minced no words to say finance companies are still employing recovery or collection agents, and using aggressive methods, despite Supreme Court observations against the practice.
Amarinder says he'll lead yatra
Chandigarh, October 27
Punjab Pradesh Congress Committee (PPCC) president Capt Amarinder Singh has categorically said the Punjab Bachao Yatra is being organised by the state Congress and will be led by him in coordination with party's state affairs incharge Gulchain Singh Charak.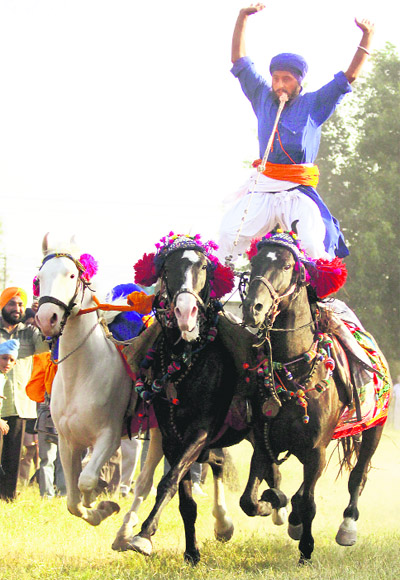 A dare-devil rider: A Nihang performs stunts while riding horses on Fateh Divas in Amritsar. Photo: Vishal Kumar

Number of proclaimed offenders down in state
Chandigarh, October 27
It is not only crime, which has come down in 2010-11 in Punjab, the state police has also been successful in substantially reducing the number of absconders during this period. The number of proclaimed offenders (POs) has also come down.


11 fire incidents in Patiala on Diwali
Patiala, October 27
While residents of Patiala were busy celebrating Diwali, the local fire brigade remained on their toes throughout the night with almost a dozen incidents of fire being reported during the festival evening. Property worth lakhs was gutted in two of the total 11 incidents, but there was no loss of life
SSA staff puts off strike till Nov 3
Patiala, October 27
After 15 days' pen-down strike by the contractual staff working under the Sarv Sikhiya Abhiyan (SSA), the Director General of School Education, Punjab, Baldeo Purushartha, has finally called the core committee members of the union for a table talk on November 3. In the wake of this meeting, this strike has been postponed till then.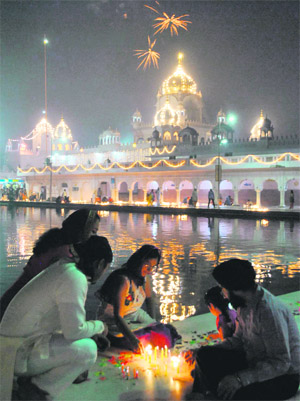 Faith lights up lives: Devotees celebrate Diwali at Gurdwara Dukh Niwaran Sahib in Patiala. Tribune photo: Rajesh Sachar

Infantry Day celebrated
Fazilka, October 27
Army units at Fazilka celebrated the raising day of the Infantry, known as the "queen of the wars" in Army parlance, at a 1971 Indo-Pak war memorial at Asafwala village near here. Army Commander Brig Arul Dennis and other senior Army officers laid wreath at the memorial and saluted the martyrs as contingents of Army jawans sounded the last post.
Docsfed blames health, local bodies departments for dengue spread
Patiala, October 27
The Doctors Federation of India (the Docsfed India) has stated that the state departments of Local Bodies and the Health and Family Welfare are responsible for the endemic of dengue fever in certain districts of the state. It has sought a high-level inquiry into the malfunctioning of these departments and dereliction of duty in checking the spread of the disease.
CBI raids on CCI official's houses
Sriganganagar, October 27
The CBI today raided the houses of SS Vashisht, purchase officer, Cotton Corporation of India (CCI), at Sukhadia Nagar, Sriganganagar, and Jaipur. The 12-member team, led by inspector RS Shekhawat, was told that Vashisth, presently posted at Hanumangarh, was away to Chandigarh for official work. Efforts to get him back for questioning could not succeed.
Key witness in Khalra murder case dies
Tarn Taran, October 27


Kuldeep Singh Bachre, a key witness in the murder of human rights activist Jaswant Singh Khalra, died of heart failure last night at his native village Bachre, 4 km from here. The city police has lodged a report under Section 174 CrPC. The postmortem was conducted at the local Civil Hospital by a team of three doctors, said the SSP Manminder Singh. As per the report lodged with the police, Kuldeep complained of some uneasiness at about 9 pm. Kanwaljit Kaur, Kuldeep's wife, sought the help of the CRPF personnel deputed for his security to take him to the Civil Hospital where doctors declared him brought him dead.
Paddy procurement picks up pace
Patiala, October 27
Post-Diwali the agencies in Patiala have procured a little over 8.30 lakh metric tonnes of paddy in all the markets here. Though lifting is still on the slower side, the arriving paddy is low on moisture making things easier for the procurement agencies.
Ex-AAG's book placed in Cambridge library
Chandigarh, October 27
Punjab's former Additional Advocate-General Harpreet Sandhu's book "Indo-European Legal System - A Comparative Study" has been placed in the Trinity Hall, Cambridge University library, as a valuable edition.


Jilted lover sets teenaged girl afire
Faridkot, October 27
A youth set a teenaged girl, who had spurned him, on fire in Kotsukhia village of Faridkot today morning. With over 80 per cent burns, the condition of the girl, admitted in the Guru Gobind Singh Medical College and Hospital in Faridkot, is reported to be critical.
Dismissed patwari found murdered in Moga village
Moga, October 27
A 52-year old patwari, dismissed from service, has allegedly been found murdered on a roadside at Data village in Moga district. His dead body was recovered by the police and sent to the district hospital for a post-mortem examination, which would be conducted on Friday. As per the details available, the retired revenue employee Baldev Singh went out from his home last night to light-up a 'diya' at the 'memorial' of Baba Kala Mehar situated on the outskirts of the village but did not return home.
Constable uses forged documents for job
Patiala, October 27
The Patiala police has registered a case pertaining to cheating against Darshan Singh, a constable with the Indian Reserve Battalion band staff, who allegedly used fake certificates to procure his job.