Country reports 15 suicides every hour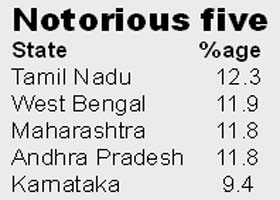 New Delhi, October 27
Around 15 persons commit suicide in the country every hour with majority of them (69.2 per cent) being married persons, according a government report released today. One out of every five suicide victims is a housewife.
"It is observed that social and economic causes drive most males to commit suicide, whereas most of the female victims are driven by emotional and personal causes," the report, released by Home Minister P Chidambaram, said.
Of these persons, 41.1 per cent happened to be self-employed while only 7.5 per were unemployed.
More than one lakh persons (1,34,599) in the country committed suicide during 2010. Around 70.5 per cent of these persons were married males, while 67 per cent were married females, according to the report of the National Crime Record Bureau.
Kerala, Tamil Nadu, Karnataka, Maharashtra and Andhra Pradesh accounted for 65.8 per cent of suicides in the age group of 60 years and above.
The figures for suicides because of "family problems" and "illness" stood at 23.7 per cent and 21.0 per cent, respectively. The percentage of suicides due to "property dispute" and "death of dear person" showed an increase of 48 per cent and 28.9 per cent, respectively.
The overall male:female ratio of suicide victims for the year 2009 was 65:35. However, the proportion of boys:girls suicide victims (up to 14 years of age) was 52:48.
Around 26.3 per cent of the total suicide victims happened to be educated up to primary level, 22.7 per cent up to middle school level, while 19.8 per cent were illiterate. Around 1.4 per cent of the suicide victims were government servants.
Of the total number of suicide cases reported in the country, the state-wise break-up stood as: West Bengal (11.9 per cent), Andhra Pradesh (11.8 per cent), Tamil Nadu (12.3 per cent), Maharashtra (11.8 per cent) and Karnataka (9.4 per cent).
West Bengal, which stands at number 2 in the present report, had reported the highest number of suicides in 2008 and 2009. Southern states Andhra Pradesh, Karnataka, Kerala and Tamil Nadu and Maharashtra have accounted for 51.7 per cent of total suicides reported in the country.
Sikkim and Puducherry reported 45.9 and 45.5, respectively, suicide deaths per one lakh of population as against the national average of 11.4.
More than 55.9 per cent child victims belonged to Madhya Pradesh, Andhra Pradesh, West Bengal, Karnataka and Tamil Nadu.
Sikkim reported the highest rate of suicide (45.9) followed by Puducherry (45.5), Andaman and Nicober Islands (36.1), Kerala (24.6) and Chhattisgarh (26.6).
Tamil Nadu reported a significant increase in number of suicides (16,561) in 2010 over 2009 (14,424) (an increase of 14.8 per cent) followed by Maharashtra (from 14,300 in 2009 to 15,916 in 2010), the report said.
Around 33.1 per cent of the suicide victims consumed poison, 31.4 per cent died by hanging, 8.8 per cent by fire/self-immolation and 6.2 per cent by drowning. — PTI