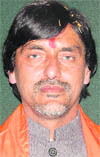 Dhanda again in race for PPSC chief's post
Chandigarh, November 4
Less than three months after the Punjab and Haryana High Court passed strictures before setting aside Harish Rai Dhanda's appointment as Punjab Public Service Commission Chairman, he has once again applied for the post. Available information suggests his application for the coveted post is accompanied by 20 recommendations. This has raised many an eyebrow. The recommendations are believed to have been made by academicians and some prominent persons.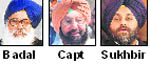 Won't react to Capt's outbursts: Sukhbir
Jalandhar, November 4
Deputy CM Sukhbir Badal said today the SAD would not retaliate against PCC chief Amarinder Singh's outbursts, which only "betray his frustration".
Rift within BJP worries SAD
Chandigarh, November 4
In view of the intra-party conflict within the state unit of the BJP and the failure of the party bigwigs to provide leadership on the eve of the assembly elections, an alarmed SAD has started working on strategies to retain power in the state on its own.


Follow interdisciplinary model of education, says Prof Yash Pal
Banur, November 4
The second day of national conference on "Impacts of science and technology on societal development", started with a lecture of Dr Davinder Singh, Director, Planning, Punjabi University, Patiala, on the role of insects to detect crime at Shaheed Udham Singh Institute of Science and Technology here. As many as 2,000 students from 52 schools across Punjab participated in National Children Science Congress to display their talent in various activities like project exhibition, science quiz, poster presentation, essay writing etc.
Teachers seek immediate release of arrears
Patiala, November 4
The former president of the Punjab Government College Teachers Association (PGCTA), Prof Jaipal Singh, has demanded immediate disbursal of arrears of the revised pay scales to the teaching staff, working in the government colleges of the state. He said following the recommendations of the University Grants Commission (UGC), the Punjab Government had revised the pay scales of teaching staff of the government colleges in the state with effect from January 1, 2006, but till date, the state government has not released the arrears.
Top admn posts vacant in Fatehgarh Sahib
Fatehgarh Sahib, November 4
In the absence of top administrative officers such as ADC (G), Assistant Commissioner (G), Assistant Commissioner (Gr), District Transport Officer (DTO), and the Executive Magistrate, the district is being run by a Deputy Commissioner alone.
Now, Badal to open Khalsa Heritage Centre on Nov 25
Chandigarh, November 4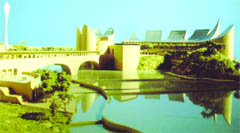 The Punjab Government is all set to inaugurate the world class Khalsa Heritage Centre (KHC) to showcase the rich legacy of Sikh ideology and religion on November 25. The memorial would be dedicated to the nation by Punjab Chief Minister Parkash Singh Badal, it was announced here today. A decision to this effect has been taken at a high-level meeting presided over by Punjab Finance Minister and Chairperson of Sri Anandpur Sahib Foundation Dr Upinderjit Kaur.
4 youths back from Sharjah
Amritsar, November 4
Four of the eight Indian youths, Rashpinder Singh, Charanjit Kumar, Sukhpal Singh and Rakesh Kumar, who had their death sentence waived on payment of blood money, finally landed at the Amritsar International Airport from Sharjah tonight.
Charanjit with his mother at Amritsar airport on Friday. Photo: Sameer Sehgal
Sports equipment out, Badal's hoardings in
Bathinda, November 4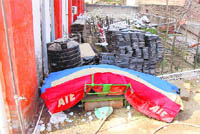 After the opening ceremony of the second Kabaddi World Cup, costly sports equipment worth lakhs was removed from the stadium and dumped in the open to make space for the 11 life-size hoardings as well as banners carrying pictures of the Chief Minister and the Deputy CM.


Equipment dumped outside stadium. Tribune photo: Pawan Sharma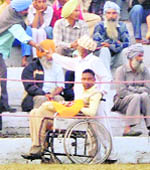 Ludhiana kabaddi player seeks alms
Ludhiana, November 4
While Deputy Chief Minister Sukhbir Badal has given away Rs 1 lakh to Jaspreet Kaur, a kabbadi player from Faridkot who suffered a cervical injury during a national-level kabaddi match nearly 10 years ago, the fate of Kuldeep Singh Keepa, who suffered from a ruptured spinal chord while playing a match in February 2008, is uncertain since he is wheelchair-bound.

While hope floats for Jaspreet, injured Keepa (on wheelchair) bemoans his fate. Tribune photo: Himanshu Mahajan
Pak denies visa to 409 pilgrims
Amritsar, November 4
The Pakistan High Commission has denied visa to 409 pilgrims who were to be a part of SGPC jatha to celebrate Guru Nanak Dev's birth anniversary in the neighbouring nation on November 10.
Ramdev all praise for Deputy CM
Bathinda, November 4
Yoga guru Baba Ramdev today appreciated the initiative by Deputy Chief Minister Sukhbir Singh Badal in giving a fresh lease of life to the forgotten sport of kabaddi by organising world cup tournaments in Punjab. Hitting out at the Congress for criticising the move, he said Sukhbir had set an example for others by organising tournaments that would encourage the indigenous sport that had been pushed to the background over the years. "People in the country had started forgetting kabaddi, wrestling and hockey but Sukhbir has done a praiseworthy job," he said. Ramdev said he would "expose" the "misdeeds" of the UPA Government. — TNS


Khalra case: SC upholds life sentence to six policemen
New Delhi, November 4


The Supreme Court today upheld the life sentence awarded to six Punjab policemen for abducting and murdering human rights activist Jaswant Singh Khalra in September 1995 for exposing police misdeeds. The convicted policemen are DSP Jaspal Singh, ASI Amarjit Singh, Head Constable Prithipal Singh, Jhabal SHO Satnam Singh and SIs Surinderpal Singh and Jasbir Singh.
Next hearing fixed for Nov 11
Patiala, November 4
As the hearing in the infamous murder case of Harpreet Kaur, daughter of former SGPC president Bibi Jagir Kaur, resumed in the court of Special Judge (CBI Cases), Patiala, Balbir Singh, here today, Satnam Singh Kler, counsel for the main accused in the case (Bibi Jagir Kaur), moved an application in the court, urging that he wanted to put questions, pertaining to the case, before the five witnesses in the case.
One gets jail in cheque bounce case
Patiala, November 4
A local court today sentenced Bishan Nagar resident Surinder Singh to two years' imprisonment and imposed a fine of Rs 10,000 on him in a cheque-bounce case.


Egg loot on Mukerian highway!
Mukerian, November 4
A truck carrying 1.5 lakh eggs from Barwala (Panchkula) to Srinagar overturned on NH-1 near Mukerian (Hoshiarpur) this morning creating a mess. However, this did not deter passersby from taking away undamaged eggs. "By the time I reached the accident site, near 60,000 eggs were lost and several thousand stolen. I had to call some people to guard the remaining eggs," claimed businessman Ashok Sahni.
One killed in road accident in Lalru
Lalru, November 4
One person was killed and another seriously injured in the collision of two trucks on the national highway near Lalru on Wednesday night. The accident took place when a truck was taking a turn near Lalru and the other coming from the Chandigarh side collided with it.