Dark underbelly of IT hub: It's city with highest suicide rate
Shubhadeep Choudhury/TNS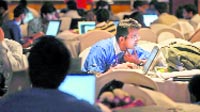 Bangalore, November 4
The IT hub, it seems, is fast becoming the suicide capital of the country. A techie today committed suicide by jumping from the fifth floor of his office building located in the Electronic City area of Bangalore. Tushar Bhatia (30) hailed from Bihar and the reason why he took such an extreme step is unclear.
Bhatia's suicide is yet another addition to the alarmingly rising suicide graph of the 'Garden City.' For the past two years, Bangalore has earned the dubious distinction of the city having the highest number of suicides — 1,778 cases were reported in 2010; the figure for 2009 was 2,167.
According to the statistics released by National Crime Records Bureau (NCRB) recently, Bangalore is followed by Chennai, which recorded 1,325 suicides, Delhi 1,242 and Mumbai 1,192.
Together, Bangalore, Chennai, Delhi and Mumbai accounted for almost 43 per cent of the total suicides in 35 cities measured. Bangalore topped the list for the previous five years before 2009, too.
Experts point to accelerated development, sudden social urbanisation and high migration as the prime factors responsible. Being the tech hub of India, the city attracts a huge number of techies and other professionals from across the country.
"Skyrocketing aspirations of individuals are almost impossible to be satisfied in the city and many are unable to cope up with stress", G Gururaj, professor and Head of the Fepartment of Epidemiology, NIMHANS, said.
Interestingly, the data from the NCRB also suggest that almost half the number of people who committed suicides in Bangalore were illiterate. This phenomenon is theorised by experts by saying that Bangalore is a city where educational standards required to find a job are high, thus widening the gap between rich and poor and the losers in the race sometimes end their lives.
However, bulk of the suicides committed in Bangalore reportedly has to do with financial difficulties. "At least 30 per cent to 40 per cent cases of suicides are due to financial problems. In some cases, parents who were in severe debt had killed their children and then took their own lives", an officer with the city's crime record bureau said.
Bangalore Bane
For the past two years, Bangalore has earned the dubious distinction of recording the highest number of suicides among cities in India
Experts point to accelerated development, sudden social urbanisation and high migration as the prime factors responsible.
Bangalore also topped the list for five years preceding 2009