Id: Goat prices up this year
Syed Ali Ahmed
Tribune News Service
New Delhi, November 4
Goat is comparatively costlier this year though markets in Jama Masjid, Okhla Village, Tughlakabad, Seelampur and other localities are full of animals.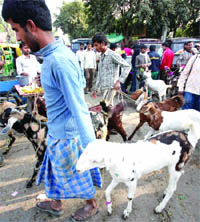 A goat of 15 kg to 20 kg is available at Rs 7,000 to Rs 8,000 though last year it was available at Rs 3,500 to Rs 4,000. The supply of animals is quite good this year. The majority of the goat suppliers are from Rajasthan, Mewat in Haryana, Muzaffarnagar and Eta in UP, said Nasir Ahmed who operates in the markets.
He said that the rates of animals for sacrifice depend on supply and demand. Though supply is good this year, the traders have kept the rates high from the beginning. They may come down in a couple of days.
This year not only the traders but some middle class people are also engaged in this trade. They purchase the animals from the wholesale markets in UP, Haryana and Rajasthan and bring them to Delhi. They sell these animals at a higher rate. On the other hand, the villagers who are in this trade throughout the year sell their animals at lower rates.
The rate of animals also depends on the type of the area. In posh areas like Jamia Nagar, goats are costly. In Seelampur, they are cheaper.
Idris, a trader who has come from Eta, said, "We have brought 100 goats in trucks. Transport is very costly that is why we are selling them at higher rates. Most of the traders from villages tried to come to Delhi as they earn more profit here."
Nasim Ahmed who went to purchase a goat in Jamia Nagar said that a healthy animal is available at Rs 15,000 to Rs 20,000 that is beyond their capacity. "The government should take steps to regulate the animals' prices," he said.
Kalam Mohammad, a resident of Seelampur, said that most of the traders in the area are from Ghaziabad, Meerut and other places of Uttar Pradesh. In the beginning, they demand a higher rate. As the time of Eidul Azha approaches, the rates of animals come down. These traders try to sell them on the eve of the festival of sacrifice and leave for their towns, he added.
Two sold for Rs 2.5 lakh
Two goats were sold today by an animal trader at Rs 2.5 lakh to a scrap dealer of Meena Bazaar, Mustaqeem. The rate of each goat is Rs 1.25 lakh and its weight is 178 kg.
The man who sold the goats is from Shahganj locality of the walled city.
He said that he had been taming the goats for the last two years. The animals had been served healthy food throughout the period.
The buyer resides at Kucha Chelan in the walled city and on the occasion of Eidul Azha every year, he purchases the costliest goat.