Board for scandal, lesson in nepotism
Mohali, October 31
The Establishment Committee of the Punjab School Education Board (PSEB) apparently ignored a better qualified candidate to facilitate the appointment of the daughter of Dr Dalbir Singh Dhillon, Chairman of the board, as Director (Computers).


Karat, Bardhan to address Morcha's Dhudike rally
Moga, October 31
The People's Party of Punjab today confirmed that CPI leader AB Bardhan and CPM leader Prakash Karat would be among the senior Left leaders who would be addressing the Sanjha Morcha rally at Dhudike in Moga district on November 6.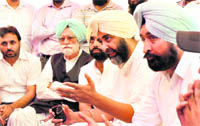 Poll to spring a surprise: PPP
Ludhiana, October 31
Claiming that major political parties (read the SAD-BJP coalition and the Congress) did not have any agenda for the people's welfare, PPP chief Manpreet Badal today said the results of the assembly poll would spring a surprise.

PPP chief Manpreet Badal addresses mediapersons in Ludhiana. A Tribune photograph

Cong works out strategy to ensure unity
Chandigarh, October 31
The state Congress unit has formed secret committees, besides taking direct charge of hosting of all public meetings during the month-long Punjab Bachao Yatra starting from tomorrow to ensure lack of unity does not mar the mass contact programme.
SAD to open three memorials commemorating holocaust
Chandigarh, October 31
The Shiromani Akali Dal (SAD) core committee today decided to inaugurate three memorials commemorating holocaust in the Sikh history next month.
Kabaddi, yatra to wrestle for political space
Chandigarh, October 31
The SAD-BJP and the Congress are all set for a face-off tomorrow with the former setting the tone for its election campaign with a feel-good factor in the form of Kabaddi World Cup laced with glamour and the Congress getting ready to put up a united front by holding public meetings to prove its strength.


Farmers seek easy process for getting permits
Patiala, October 31


Following complaints by farmers pertaining to the growing wild boar population in the state which destroys their crops, the Ministry of Wildlife is contemplating to make the process of hunting of wild boars easier. Though systematic culling was allowed in Punjab almost a couple of years ago, hunters have complained of a cumbersome procedure which discourages shooting this animal, thus causing loss to farmers.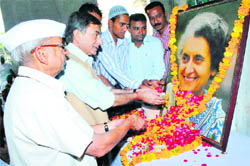 Congress workers pay homage to former Prime Minister, late Indira Gandhi on her 27th death anniversary in Patiala on Monday. Tribune photo: Rajesh Sachar
Khalistan Tiger Force claims responsibility for Ambala RDX recovery
Patiala, October 31
A little over a fortnight after a car packed with RDX was found abandoned at the Ambala railway station and the security agencies termed it to be a suspected handiwork of Babbar Khalsa International (BKI), a banned terror outfit, the Khalistan Tiger Force (KTF), has claimed the responsibility of the recovered explosives.
Machinery worth Rs 2.5 cr lying defunct in Rajindra Hospital
Patiala, October 31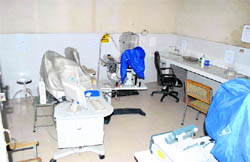 Even as auhorities of the Government Rajindra Hospital here blame lack of funds for any lapses in the hospital, equipment worth crores meant for the Eye Department continues to lie on-functional in a locked room in the hospital. The authorities have not even bothered to take any action in this regard despite repeated complaints by the patients as well as the doctors.
Machines lying unused in the Eye Department of the Government Rajindra Hospital in Patiala. Tribune photo: Rajesh Sachar
Admission process to go online at Punjabi University
Patiala, October 31
With a view to facilitating college administration and students, Punjabi University, Patiala, has decided to computerise the Dean Colleges branch. This will not only provide all information online but will also make the entire functioning of university quicker.
Cabinet meet to decide fate of employees
Chandigarh, October 31
The Cabinet-Sub-Committee formed to look into the demands of the employees has submitted its report. The report would be debated in the next cabinet meeting scheduled for November 2 to give it a final shape. A senior government officials said Punjab Chief Minister Parkash Singh Badal has assured employees that their genuine demands would be met.
Two IAS officers transferred
Chandigarh, October 31
The state government today issued the posting and transfer orders of two IAS and one PCS officer. Satish Chandra, secretary, will now be secretary, planning and special economic package, and in addition ex-officio member secretary, social development. He will also look after the Governance Reforms Commission and in addition, assist the chief secretary in the implementation of the Right to Service Act.
Anti-doping team reaches Bathinda
Bathinda, October 31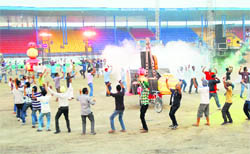 A team of the National Anti-Doping Agency (NADA) reached Bathinda today for conducting dope tests on players participating in the Kabaddi World Cup. Dr Munish Chander, director, Anti-Doping Committee, Kabaddi World Cup, said a six-member team each had been assigned for pool A at Bathinda and pool B at Jalandhar.
Performers rehearse for Tuesday's inaugural ceremony in Bathinda. Tribune photo: Pawan Sharma
Despite govt's claims, game fails to keep youth off drugs
Gurdaspur, October 31
With the hype surrounding the Kabaddi World Cup reaching a crescendo, Deputy Chief Minister Sukhbir Badal's repeated assertions that the event's primarily target was to wean youth off the scourge of drugs was not cutting much ice with the locals, at least in this border district.

Pargat Singh justifies high expenditure
Bathinda, October 31
Punjab Sports Director Pargat Singh today justified the expenditure by the state on the second Kabaddi World Cup. Admitting that it was a "bit in excess", Pargat Singh, a hockey veteran, pointed out that the Union Government, too, had spent crores on hosting the recent Commonwealth Games in Delhi. "Then why can't the Punjab Government show a similar enthusiasm for kabaddi," he asked.


HC: Courts can't dictate to states on recruitments
Chandigarh, October 31
Refusing to direct the State of Punjab to fill the vacancies of PCS (executive) and other officers, the Punjab and Haryana High Court has made it clear that the courts cannot ask the States to hire or carry out recruitment process at regular intervals.
HC stays demolition of ancient monument
Chandigarh, October 31
Issuing notice of motion for November 8, the Punjab and Haryana High Court today stayed the alleged demolition of a 300-year-old mound in the complex of Fatehgarh Sahib gurdwara.


Ex-serviceman was illegally detained
Moga, October 31
The death of a 50-year-old ex-serviceman allegedly due to torture in police custody at the Fatehgarh Panchtoor police station in the district on Friday has exposed a case of alleged high-handedness of the state police.