A PARTNERSHIP OF PROFIT
Global problems require global solutions, coordinated action and joint consultations. India and France can achieve great things together
Alain Juppe

I have come with a message of confidence. Confidence in my country, which is extensively reforming and working harder than ever for peace and international cooperation; Confidence in your country, India, as a major democratic power that gains in strength every day; and confidence in what our two great nations can achieve together if we join forces to work for security, freedom and prosperity in the world.
Today's international economy is deeply interdependent. The repercussions of the economic crises have swept across the globe. Following the 2008 financial crisis, we are now facing a new sovereign debt crisis in many countries. This is why France is taking action to enable the European Union to overcome the crisis.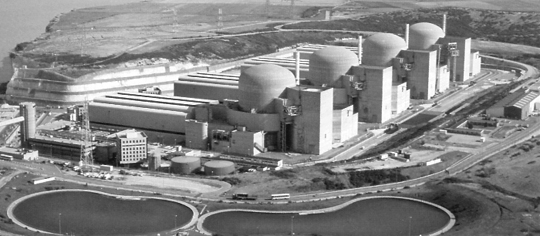 France has specialised in putting up Nuclear Reactors in clusters of four or five at the same site. A view of one of the French Nuclear installations
I know that here in India, there are those who are sceptical about old Europe. Yet is this the truth of the matter?
First of all, Europe is still the leading economic power in the world and the euro has established itself as one of the strongest currencies. Naturally, the public debt situation in the eurozone is worrying, but much less so than in the United States and Japan. Obviously, growth in Europe is lower than in the emerging countries. Yet this difference is natural, being due in good part to a gradual catching-up in the level of development.
Having said this, everyone has work to do at home. The United States needs to reduce its massive budget deficits. China needs to drive up its domestic demand. India needs to resolutely pursue its modernisation and international outreach. And in Europe, we need to solve over-indebtedness and under-competitiveness problems. President Sarkozy and German Chancellor Merkel have taken the initiative to get the eurozone back on the road to stability. In addition to movements on the markets, a core issue is the economic integration of the eurozone.
Sharing the same currency creates extremely strong interdependence, where one party's poor management can threaten prosperity for all. This calls for aligned tax, fiscal and economic policies:
First of all, between France and Germany. France and Germany are actively working on the convergence of their two economies. The President and the Chancellor have set a goal to introduce common corporation tax by 2013.
In addition to this bilateral work, France and Germany are working together to set up the proper economic governance the eurozone needs, with closer coordination and supervision of economic and fiscal policies and with a European Monetary Fund to address risks of systemic crises.
Looking ahead to Cannes
The deal worked out by European heads of State and government will send a message of determination and confidence in the strength of the eurozone and the European Union as a whole. That will also enable the Europeans to approach the next Cannes G20 summit, having made their fullest contribution to stabilising the global economy.
In Cannes, we want to respond to the markets' crisis of confidence and the slowdown in global growth. We must send a strong message of unity and economic cooperation. We must show that we support global growth and keep the volatility of the financial markets in check. We must demonstrate that fiscal consolidation and debt reduction will not be implemented at the expense of economic growth.
The meeting of G20 finance ministers on 14 and 15 October in Paris – in which India participated actively – set major milestones in the lead-up to the summit.
l On response to the crisis, with the preparation of an ambitious, detailed action plan for growth;
l On financial regulation, with an agreement on position limits regarding commodities derivatives;
l On reforming the international monetary system, with agreements on managing capital flows, an action plan on developing local-currency bond markets, and principles for cooperation between the International Monetary Fund and regional financial arrangements;
And finally on development, with a discussion on innovative financing, in particular the proposed tax on financial transactions, and a list of ten selected priority infrastructure projects. 
The G20 countries account for 85% of the world economy. If we can agree on further progress in economic and financial cooperation, the entire world stands to gain. The French presidency of the G20 has put ambitious proposals on the table. We are on the right track. I can tell you that Prime minister Manmohan Singh and Finance minister Pranab Mukherjee have expressed determination of India also in this respect. 
For France, working in the interests of peace means striving for a more balanced, fairer world, founded on dialogue between the major powers.
Everyone is well aware that given the political and military challenges that concern us all, consultation between all of the world's major powers is crucial.
Of course, there are still significant differences in approach between the West, Russia and emerging countries. But they do not prevent the development of strong, trust-based bilateral relations such as those that France and India maintain through their "strategic partnership".
Strategic partnership
The lazy way out would be to keep the old system, with the five permanent members of the Security Council and the G8 on the one hand, and the BRIC or IBSA meeting outside the G8 on the other. That would be a political and strategic error. When the world changes, institutions must change. A fair world is a world in which each country holds its rightful place.
Therefore France proposed establishing the G20, where the major emerging countries now play a leading role, commensurate with their growing economic might. In the same spirit, France supports the enlargement of the United Nations Security Council. In particular, we are in favour of giving a permanent seat to India. We therefore endorse the G4 initiative, which includes India.
As you realise, in this rapidly changing world, France and India must unite their efforts.
The strategic partnership between France and India is a rational choice for us. With the end of the colonial era and the founding of modern India, we saw a millennia-old civilisation embrace modernity, without ever renouncing its roots or its wisdom. We saw your people add humanism and democracy to a rich legacy of languages, religions and cultural traditions. Never has India strayed from that path, despite wars, and despite terrorism that strikes today.
France and India share the universal values of democracy, respect for human rights, and tolerance. Like India, France intends to remain true to itself, preserving its soul, rich identity and original culture. After my discussions with the Indian leaders, I believe we are ready to move on to a new stage in our relations.
Firstly, there are what we call the "three pillars" of our strategic partnership: combating terrorism, civil nuclear cooperation, and defence relations.
On terrorism, we are in profound agreement. The threat is still present. The recent attack in your capital is evidence of that. The fight against terrorism is not the fight of one civilisation against another. It is the fight of civilisation against barbarity. We will therefore strengthen our cooperation. We urge Pakistan to do everything in its power to prevent terrorists from launching strikes from its territory.
In the area of civil nuclear power, France and India are determined to continue working together, because nuclear energy will remain a key component in energy supply for a long time to come. The Fukushima disaster in Japan, does not call that strategic choice into question. It confirms our belief that nuclear safety is an absolute imperative. We did not wait for Fukushima to develop the safest latest-generation reactors in the world, which we are offering India.
France is also proud to have been among the first countries to support the reform of international rules to allow India access to nuclear technology.
Lastly, on defence cooperation, we are making good progress. Our navies and air forces are training together and consult each other on a regular basis. For the first time, we recently conducted joint land exercises. In terms of military hardware, we have several potential major projects, in aeronautics, helicopters, missiles, land and naval weaponry. Of course, there is legitimate competition. In that competition, France is offering India two elements which I think are vital. Firstly, a partnership rather than a commercial relationship. Secondly, the certainty of having in France a reliable, constant and long-term partner, that has chosen technological and political independence for itself.
Beyond those three pillars, I am convinced we will develop an even more dynamic cooperation and even closer ties.
I am thinking of the space sector. Our cooperation has just been illustrated by the launch of the Franco-Indian satellite, Megha-Tropiques. This is a magnificent success. I hope we will soon agree on other ambitious projects for the decades ahead.
I also have university exchanges in mind. To the young people gathered here today, I would like to say that France is waiting for you. At the same time, we will encourage more young French people to come and study in India.
On economic and industrial relations, we are moving towards the target of €12 billion in 2012, but we can do much better than that. Signing a balanced, mutually profitable free trade agreement between the European Union and India would be a major advantage. We must put the close, strong bilateral relationship between India and France at the service of the whole international community. We will have an opportunity to do so in November, with the Climate Change Conference in Durban and the G20 Summit on the global economy. There will also be the Security Council, and we will strengthen our consultation in advance on all the issues that will be discussed there.
"India has a responsibility in the world's destiny". Today, in the age of globalisation, the Arab awakening and the global challenge of sustainable development, the words of André Malraux have a special resonance. I believe we can achieve great things together.
Excerpts from the speech delivered in New Delhi on October 21 by the French Minister for Foreign and European Affairs