What makes the chatty, impatient, distracted and often stamped as 'unruly' young brigade sit in pin-drop silence for a couple of hours, without stealing a look at their cell phone screens? Especially, when what is unrolled before their eyes is not a multi- starrer Bollywood flick, but a film made in Kurdish by an Iranian director on as boring a subject as Blackboards! Perhaps, the meeting point between the two - the short attention spans and the long narratives - is found in the commonality - a kind of universality of concerns that the alternative cinema deals with. Or, why else would about 350 students from Haryana, Punjab, HP, Uttarakhand and UP sit glued to the screen, grappling with the English sub-titles - a language they are not very comfortable with. And, after the screening of the song-less and unglamorously realistic film is over, they keep the discussion on for hours.
This was happening at Yamunanagar, a small town in Haryana, hosting the fourth Haryana International Film Festival ( HIFF), at a local girls college. The event was not unusual, small town in India is undergoing a metamorphosis. Confined to margins for long by the metros that defined and underlined the acceptable cultural norms, the small town is now threatening to launch a cultural mutiny from their restricted environs. If you look at the pan-Indian scenario, in terms of viewing of alternative cinema, you would know, a kind of revolution is garnered at small towns.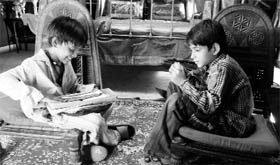 Films like I am kalam became popular on the festival circuit
While the small town youth may not have much to say in matters of setting trends in fashion, music and other art forms - largely controlled by the English speaking urban elite - the availability of cheap film technology has made it possible, for the first time, for the common men and women of hitherto neglected towns to tell their story and find an audience too. Surprisingly, they find their voice resonated in the voice of the world cinema, which is shorn of glamour and addresses issues - which can also be theirs, albeit set in a different cultural context. For example, after the screening of West is West, a film based on the cultural conflicts of a London based Pakistani family by Leslie Udwin, Jasbeer, a student from Doaba College, Jalandhar, observed, this could be the story of left-over brides he had seen in his village.
Multiplex cinema failed small towns
In the days of the luxury of surfing over a 100 channels, what makes these festivals relevant in the absence of red carpets and designer gowns is an unassuming viewer ship that is hungry for cultural direction. Sushma Arya, principal, DAV Girls College, Yamunanagar, and Ajit Rai, who conceptualised the HIFF at Yamunanagar had attended a film appreciation course at FTII, Pune, and wanted the students of the college to broaden their intellectual horizon through cinema. But, even they did not anticipate such success for a film festival that was designed to show alternative cinema and documentaries in a town that did not even claim to have an auditorium of its own. They raised funds through public donations to build an auditorium in the college, and, in the last four years, participants for the film appreciation course have grown three times over. " The young want to see something that reflects their crisis, and this cinema does just the same," says Rai, trying to explain the phenomenal success of HIFF.
Jan Sanskriti Manch( JSM), an autonomous cultural organisation catering to North India, decided to incorporate film festivals in its cultural calendar in 2006. The need was felt as cinema houses in the small towns were closed down and the mall culture did not find the moufossil attractive enough to open shop. In the last four years, they have organised film festivals at Bhilai, Gorakhpur, Baliya, Nainital, Allahabad, Patna, Indore and Lucknow. These cost-effective festivals do not offer cocktails nor do they propose to give air-fair to participating producers and directors. Yet, eminent names from the alternative cinema come to attend their festivals, financed by people's contribution, which makes them even more special. " The success of these festivals is such that we were offered sponsorship by the likes of Reliance and Oxfem, but we declined. We don't want to lose our autonomy, we don't want to be part of any agenda of the cultural politics, we are creating our own politics of culture," says Sanjay Joshi of JSM.
There is an insatiable hunger for cultural events in the small towns, which is ignored by the corporate sponsored mega- events. And the multiplex cinema too caters to a certain urban middle-class audience that can afford to buy a ticket worth Rs 250 along with Rs 200 worth of Pepsi and popcorn. These self- financed festivals not only provide thought provoking material through the films, they also turn into a group activity, with engaging discussions following the screening of films.
Writing their own script
" We are not an event management company, we are creating a movement, we provide the kind of audience a filmmaker could only dream of, " adds Joshi. Cinema of Resistance Festival, as the nomenclature goes, not only screens cinema, they have gone a step ahead by translating complete films. Since dubbing requires a number of legal clearances, the film scripts are translated and while the film is screened, a narrator runs the narrative parallel to the screening of the film in Hindi, which enhances viewers' engagement with the film. JSM has also published complete information on the films of the top ten directors from the world cinema in Hindi, titled Pehli Kitaab. If, it's a movement, all aspects are thought of. Distribution Rights
of about 45 documentaries are bought by JSM. They sell a documentary for as cheap as Rs 100 for public viewing.
For the first time, the film festival organisers have also started getting low-budget, socially relevant films produced for the festival circuit. Cinema for Resistance is producing its own films. HIFF also holds a documentary film competition for the first-timers. With pirated software easily available and video cameras getting cheaper by the day, making films has become easier than ever before. The biggest challenge for a film maker - finding an audience is already sorted out by them — they have a readymade audience in the ever growing number of film festivals across the land. Films like Bela Negi's Daayen ya Baayen or Neel Madhav Panda's I Am Kalam have become a rage in the festivals. Three Sisters, a never released film by celebrated director Ketan Mehta based on case studies of suicides by young girls due to dowry demand, screened at HIFF, became a debating issue in the land where khaps and female foeticide are the simmering issues, but fail to find a voice in the cultural discourse.
The purpose of these festivals is to reach out to as many people as possible through the language of alternative cinema and to create a kind of awakening. In the absence of proper auditoria, the films are screened in banquet halls ( shadi ghars as they are called), which accommodate as many as 450 people. " In the prestigious film festivals like Cannes, if 150 people watch a screening, it is considered good, our screenings are watched by over 450, and still more like to be accommodated," comments a festival organiser from Allahabad.
Not really lesser towns
Small town film festivals
n HIFF — Yamunanagar in Haryana
n Cinema of Resistance Festival — Gorakhpur, Bhilai, Allahabad, Nainital, Gonda, Patna, Patiala, Azamgarh, Jabalpur
n Jagran Film Festival — Kanpur, Benares, Agra, Meerut, Jalandhar, Jamshedpur, Ranchi, Dehradun, Patna, Allahabad etc
Celebrity speak

K Bikram Singh, producer, New Delhi Times and Andhi Gali, " NFDC (National Film Development Corporation) produced some great cinema, you can't have that golden period now. Great films like Jaane Bhi Do Yaaron was produced for just Rs 7 lakh, Aakrosh was made for Rs 2.50 lakh. But, when the entire concern of cinema is to make millions, when it is corporatised, you can't talk of social or human concerns. Cinema cannot exist in isolation, it reflects a social reality. If these festivals offer a different reality, something is happening at a deeper level.

Kundan Shah, director, Jaane Bhi Do Yaaron, Kabhi Haan Kabhi Naa etc " I developed taste for good films at FTII, Pune. I too am a product of film appreciation courses, but, when I see something like this happening in the heartland of Haryana, it fills my heart with pride. Courses like these help develop the mind, values and ethos and make one become aware of the world - a world you carry along, because you relate with the kind of characters you have seen in these films in the world around you.

Manoj Bajpayee, film actor, " Each cinema reflects reality of its times; today's cinema is bringing small towns to the screen. The posh, urban, NRI world of the 90s is replaced by characters from Agra, Jalandhar and Bhatinda. Directors like Anurag Kashyap, Saurabh Shukla and Vishal Bhardwaj are bringing small town sensibility to the screen. But, a lot has to change, the next ten years will show an entirely different face of cinema. The purpose of cinema will be to take people's voice back to the people, and not just entertain them.

Satish Kaushik, actor and director, " Organising film festivals requires terrible logistics, how these people do it in the absence of any funding is amazing. Small towns are now coming on a bigger map with these festivals. Art helps in opening of the mind, and it is so needed in places like Haryana. Apart from festivals, what we need is Film Vikas Nigams for different states and budget theatres in small towns to sustain this cultural revolution.
Dr Chandra Prakash Dwivedi, director, Pinjar and TV serial Chanakya, "Cinema has not yet become a part of social sciences. It should be a part of education. Why is it that we hardly see Hindi film posters in Kerela, and in Mumbai we dont find it easy to come across a Malyalam film. Films are the best tool to study social sciences, if Bollywood could teach Hindi to half the globe, imagine what good cinema could do! Not that good films are not made in Bollywood!