State govt fails to pay PSPCL for free power
Chandigarh, November 3
The Punjab government may have pulled out all the stops to host the Kabbaddi World Cup but it failed to pay the Rs 282-crore subsidy quotient on account of free power to the agriculture sector to the state electricity utility for October.
ADGP for strict implementation of traffic laws
Patiala, November 3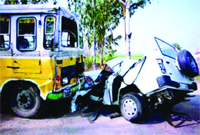 With over 2,000 deaths reported in the state following road accidents, the Punjab police top brass has asked its district chiefs to pull up their socks to ensure foolproof measures to avoid road mishaps. The ADGP (Traffic) has asked them to take effective steps as many such accidents are avoidable. In a communiqué sent to all SSPs and commissioners, RP Singh, ADGP (Traffic), has said the matter pertaining to accidents was recently discussed in the Vidhan Sabha. "There are ample steps that are required to be taken.
BJP to discuss readjustment of seats with SAD
Ludhiana, November 3
The Bhartiya Janata Party (BJP) intends taking up the issue of readjustment of some of the assembly seats for the forthcoming poll with its senior alliance partner, the Shiromani Akali Dal. The state working committee of the party, which is meeting here on November 5, will discuss the matter in detail. It will also give a thought to change some of the candidates, depending on their performance and winning potential.
Amarinder flays Badal for defending officers Izhar Alam, Sumedh Saini
Jalandhar, November 3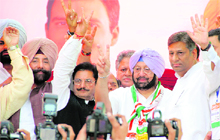 The verbal duel between the PCC chief Capt Amarinder Singh and the CM Parkash Singh Badal intensified today as Amarinder turned down Badal's suggestion that the former should not use "unparliamentary" language against him. He was addressing the "Punjab Bachao" rally of the Congress at Jalandhar and Nakodar here today.

(From left) Jagmeet Singh Brar, GS Charak and Amarinder Singh at a rally in Jalandhar on Thursday. A Tribune photograph

Crying to be heard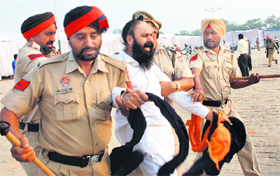 A protesting lineman being forcibly taken away by police personnel in Sultanpur Lodhi on Thursday. Photo: Sarabjit Singh
Laying stones for success
Chandigarh, November 3
The SAD-BJP government is in an overdrive inaugurating new projects, giving out doles and announcing developmental schemes in a bid to minimise the anti-incumbency impact.
Despite scams, govt shielding PSEB top brass, says MLA
Mohali, November 3
Balbir Singh Sidhu, Congress MLA from Kharar, today accused the Akali government of shielding the top brass of the Punjab School Education Board (PSEB) despite a number of scams and objectionable appointments rocking the board.
Baba Ramdev bats for organic food in cancer belt Malwa
Bathinda, November 3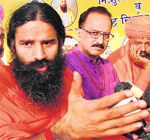 Adopting the first-ever village in Punjab, yoga guru Baba Ramdev today launched a drug de-addiction campaign at Laleana in Talwandi Sabo block of Bathinda. He also encouraged the villagers to take to organic food.





Baba Ramdev in Bathinda. Tribune photo: Pawan Sharma

Sharjah bootlegging-cum-murder case
Four Punjab boys to return home today
Chandigarh/Dubai,November 3
Four of the eight Indian boys along with two Pakistani boys, who had their death sentence waived by an appeal court of Sharjah early this year on the payment of blood money, would finally be flying home tomorrow after spending two years in a Sharjah prison.
Sahota is new IG Lok Pal
Chandigarh, November 3
The Punjab Government today appointed the Inspector General of Police (Headquarters) Iqbal Preet Singh Sahota as IG Lok Pal. An official release here said the posting had been made after completing due procedure, which included the selection of the officer by the Lok Pal and grant of permission for the same by the state Chief Minister.
Delhi-Ludhiana Shatabdi to chug off from today
Chandigarh, November 3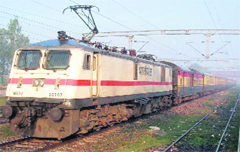 The Delhi-Ludhiana Shatabdi train, which will traverse via Rohtak and Sangrur, will be flagged off by Minister of State for Railways KH Muniyappa from Ludhiana tomorrow. The Shatabdi, which has come about following an initiative of Ludhiana MP Manish Tewari, is in fact the restarting of an earlier service which ran for only three months in 2008. Manish Tewari said the Shatabdi would be a boon for commuters of Ludhiana who wished to reach Delhi late in the evening to catch international flights.
Petitioner takes up timings of liquor vends in HC
Chandigarh, November 3
Liquor contractors in Punjab may soon find themselves answering why liquor vends in Punjab should be allowed to remain open from 7 am to midnight. The Punjab and Haryana High Court today permitted petitioner-cum-advocate HC Arora to implead some of the liquor contractors also as respondents on the issue of liquor vend timings.
PUDA scheme for own staff stayed by court
Chandigarh, November 3
The Punjab and Haryana High Court today stayed a PUDA scheme under which plots were to be alloted to its employees in the Mohali, Ludhiana, Patiala and Bathinda Urban Estates.