Hisar state's 'crime capital', Panchkula least crime-prone
Pradeep Sharma/TNS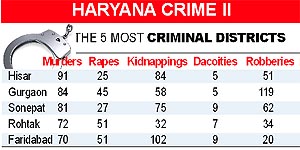 Chandigarh, November 3
Hisar, where the Congress, the HJC-BJP alliance and the INLD were locked in a tug-of-war during the recent Lok Sabha byelection, has emerged as the "crime capital" of Haryana with the highest number of heinous crime cases being reported from the district. Panchkula is the least crime-prone district in the state.
Data collected from the recently released "Crime in India — 2010" report of the National Crime Records Bureau (NCRB) of the Ministry of Home Affairs revealed that Hisar led crime in Haryana with 91 murders, 25 rapes, 85 kidnappings and abductions, five dacoities and 51 robberies during 2010.
Hisar was followed by Gurgaon in the National Capital Region (NCR) where 84 cases of murder, 45 cases of rape, 58 cases of kidnappings and abductions, five cases of dacoities and 119 cases of robberies were reported last year. Sonepat with 81 murders, 27 rapes, 75 kidnappings, nine dacoities and 62 robberies was placed at number three in the crime chart.
Rohtak, home district of Chief Minister Bhupinder Singh Hooda has not lagged behind on the crime front and accounted for 72 murders, 51 rapes, 32 kidnappings and abductions, seven dacoities and 34 robberies.
On the other hand, Panchkula reported the least number of heinous crime cases with just 20 murders, 10 rape cases, 16 kidnappings and abductions, four dacoities and seven robberies.
So far as another heinous crime — dowry death — was concerned, Sonepat reported the highest number of 26 dowry deaths with Faridabad reporting 23 such deaths. While Gurgaon and Bhiwani reported 22 dowry deaths each, Karnal reported 21 such cases.
However, Gurgaon had the dubious distinction of registering the highest number of 8,647 cases — both cognisable and other cases under the IPC. Gurgaon was followed by Faridabad where 6,237 cases were registered. As many as 4,532 cases were registered in Sonepat followed by 4,015 in Rohtak. Panchkula retained its "least criminal" character with 1,771 cases.
In all, Haryana reported 1,005 cases of murder, 720 cases of rape, 963 cases of kidnappings and abductions, 147 cases of dacoity and 734 cases of robbery. The maximum number of 16,266 cases of theft were reported in the state with the maximum cases (3,124) being reported from Gurgaon. Faridabad accounted for 1,672 cases of theft while Sonepat reported 984 cases. Among the burglary cases, Gurgaon also reported the highest number of 492 of 4,445 cases in the state. Hisar with 320 cases and Ambala with 288 cases were placed second and third.