SAD (A) activists rounded up
Amritsar, November 14
Even as veteran BJP leader LK Advani was addressing a rally as part of his Jan Chetna Yatra near the historic Town Hall here, activists of SAD (A) tried to disrupt the event.
Commuters harassed
Jalandhar, November 14
Commuters on the Ludhiana-Jalandhar-Amritsar national highway were a harassed lot as the traffic moved on at a snail's pace due to the passage of the Jan Chetna Yatra today.

Badal opposes bailout for Kingfisher
Lambi (Muktsar), November 14
Chief Minister Parkash Singh Badal today opposed any bailout of Kingfisher Airlines. "All the policies adopted by the Union Government are pro-rich and have nothing to do with the welfare of poor", he said.
Congress leader of Sangur murdered
Patiala, November 14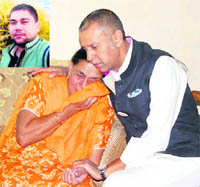 Two police officers, including a DSP, and a Shiromani Akali Dal worker from Sangrur have been booked for the murder of Congress organising secretary Riki Dullet late last night. Amarinder Singh, alias Riki Dullet (33), was shot dead at his ancestral property in Sangrur late last night following an altercation with Sukhwinder and Sultan Singh. Dullet, a Congress leader from Sangrur, was close to Capt Amarinder Singh's confidant Arvind Khanna.
Congress leader Arvind Khanna consoles the mother of the victim ( inset) Tribune photo: Rajesh Sachar


Khaira seeks apology from govt
Jalandhar, November 14
Bholath MLA Sukhpal Singh Khaira has sought an apology from the coalition government for "implicating him" in a hawala money scam. He alleged that the conspiracy to frame him was hatched at the behest of Deputy Chief Minister Sukhbir Singh Badal.
Leaders discard propriety
Chandigarh, November 14
In the run-up to the assembly elections, political leaders have started using insensitive language for their rivals, discarding propriety in public life.
EC issues guidelines on proxy voting
Chandigarh November 14
The Election Commission of India today issued detailed guidelines for proxy voting by armed forces personnel. Kusumjit Singh, chief electoral officer, Punjab, said special provisions had been made for facilitating the registration of armed forces personnel and casting of votes by them.
Student stabbed during clash with bus operators
Lambi (Muktsar), November 14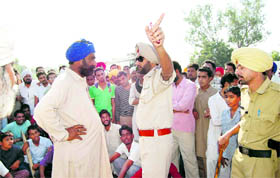 A student was allegedly stabbed with a sharp-edged weapon during a clash with employees of a private bus near Mahuana village in Lambi area of Muktsar today. The seriously injured student has been referred to Guru Gobind Singh Medical College Hospital, Faridkot. A large number of residents blocked the national highway on the Malout-Lambi road for over three hours

A protester in Lambi arguing with a policeman. A Tribune photograph
Bath appeals to NRIs to invest in state
Chandigarh, November 14
Punjab NRI Minister Capt Balbir Singh Bath has appealed to NRIs to invest in the state. He said path-breaking initiatives for providing world-class infrastructure and opportunities for human resource development were set to make the state a global destination.
Fireworks above the illuminated Sheesh Mahal on the concluding day of the crafts mela in Patiala on Monday. Tribune photo: Rajesh Sachar
Mittal to be appointed vice-president of SAD
Chandigarh, November 14
The SAD president and Deputy Chief Minister Sukhbir Singh Badal today gave the go-ahead to appointing Prem Mittal as vice-president of the party. Party spokesperson DS Cheema said until now, Mittal was political secretary to Sukhbir Badal.
30-year fight for 3 marks
New Delhi, November 14
An employee of the United Commercial Bank in Punjab today won his case for three additional marks for being promoted to the officer's grade after a legal battle for 30 years.
Punjabi University to conduct research on wetlands
Patiala, November 14
The Ministry of Environment and Forests, Government of India, has sanctioned a research project to Dr Onkar Singh Brraich, Assistant Professor, Department of Zoology and Environmental Sciences, Punjabi University, Patiala, entitled 'Ecological Studies on the Ranjit Sagar Wetland with special reference to fish community structure' and provided with a research grant of Rs 22.40 lakh to conduct research on Ranjit Sagar Wetland (National Wetland) for three years.
Jor Mela: DC issues guidelines
Fatehgarh Sahib, Nov 14
The annual Shaheedi Jor Mela starting from December 26 to December 28 to commemorate the sacrifice of younger Sahibzadas of Guru Gobind Singh Ji, who were bricked alive here would be conducted in a religious spirit, said Yashveer Mahajan Deputy Commissioner. He was presiding over the meeting of officials called to make the arrangements for the mela here today. More than 20 lakh devotees are expected to pay obeisance to the sahibzadas from all over the country and overseas.
Govt staff to step up agitation
Chandigarh, November 14
The Punjab Mulazim Sangharsh Committee, a representative group of government employees in the state, today announced that it would block the Kharar- Chandigarh road on November 17, in case the demands of the employees were not accepted immediately. The Sangharsh committee is on the agitation path since some time and its veteran leader Ranbir Singh Dhillon is on an indefinite fast, which entered the 11th day today.
Painting contest held
Chandigarh, November 14
The Bhakra Beas Management Board organised an on-the-spot state-level painting competition among schoolchildren of UT Chandigarh, Punjab and Haryana at the Indradhanush Auditorium, Sector-5, Panchkula today. Nearly three lakh participants competed for the school-level competition, out of which 150 children were selected for the state-level competition.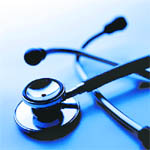 Docsfed against increase in retirement age
Patiala, November 14
With the Punjab Government contemplating to increase the retirement age of the Punjab Civil Medical Services (PCMS) doctors and the medical faculty in the state medical colleges by two year, representatives of the Doctors Federation of India (Docsfed), have announced that they would strongly oppose any such move.
HC directs monitoring of Budha Nullah
Chandigarh, November 14
For preventing health concerns from going down the drain, the Punjab and Haryana High Court today directed the high power committee, constituted under the State Chief Secretary's chairmanship to meet periodically and monitor actively the protection and preservation of not only Budha Nullah, but also Ludhiana city.
Approval for multiplex quashed
Chandigarh, November 14
The ambitious plans of a builder to raise a multiplex and a shopping mall in Jalandhar Cantt were razed to the ground, with the Punjab and Haryana High Court quashing the approval granted for its construction.
No PTU appointments without court's approval
Chandigarh, November 14
Issuing a notice of motion for November 29 on a petition challenging the notification of September 29 appointing Punjab Technical University's 5th Board of Governors, the Punjab and Haryana High Court today ruled no appointments shall be made without the Court's prior approval.
Rs 7 lakh snatched from bank employees
Malout (Muktsar), November 14
Three motorcycle-borne miscreants robbed Rs 7 lakh from a car belonging to the Punjab Agriculture Development Bank here this afternoon.