People reach out to police through SMSes
Shimla, November 14
The police SMS gateway offering assistance to the public not just in criminal offences but also in other services has proved to be a big hit with the elderly and women turning out to be the biggest beneficiaries. A total of 54 FIRs have been registered on the basis of messages flashed on the mobile.
Dalai Lama's envoy refuses appointment under new CTA
Dharamsala, November 14


Changes in the Tibetan charter and transfer of power from the Dalai Lama to the elected leadership of Tibetan exiles has started having its impact. A trusted aide of the Dalai Lama, Kasur Lodi G Gyari, has refused an appointment offered to him by the new Central Tibetan Administration (CTA) that has assumed powers from the Dalai Lama. He refused to work directly under the new elected leadership of Tibet and has rather confined himself to representing the Dalai Lama.
Kasur Lodi G Gyari
Computer operators seek increase in salary
Chamba, November 14
The Himachal Pradesh Computer Operators Association of the state Rural Development Department has expressed resentment over the inordinate delay in the enhancement of their salary of merely Rs 8,000.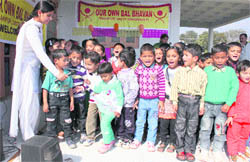 Children's Day celebrated
Kangra, November 14
Students of the Our Own Bal Bhawan at Shahpur today celebrated Children's Day on the campus coinciding with the 122nd birth anniversary of former Prime Minister Jawahar Lal Nehru today.


Students of Our Own Bal Bhawan celebrate Children's Day at Shahpur on Monday. Photo: Ashok Raina
CM exhorts people to walk to health
Shimla, November 14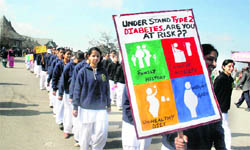 Chief Minister Prem Kumar Dhumal led the "symbolic walk" from his official residence Oakover to the Ridge Maidan, accompanied by hundreds of youth and prominent people of the town, to mark the World Diabetes Day here today.


Nursing college students hold a rally on World Diabetes Day at the Ridge in Shimla on Monday. Photo: Amit Kanwar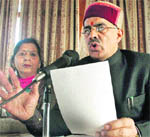 BJP seeks action against dissidents
Shimla, November 14
Unhappy with the formation of an anti-corruption front by some of its senior leaders, the state BJP has sought action against all such leaders as it has written to the party high command to rein in the party men who are trying to harm the party.

BJP spokesperson Ganesh Dutt addresses mediapersons in Shimla on Monday. Photo: Amit Kanwar
CPM district panel formed in Mandi
Mandi, November 14
The CPM today asserted that they would take up local issues like wildlife menace, hike in the prices of seeds and fertilisers and crimes against women and problems being faced in the MNREGA works to their logical end as a part of the party's strategy to increase its mass base in the district.
MLA's daughter seeks probe into his death
Solan, November 14
Rekha Kumari, daughter of Dr Prem Singh, the late MLA from Renuka Ji, today sought a probe into the death of her father, who reportedly died of a heart attack on September 23 at his native village, Maina-Bag. This follows allegations by Transport Minister Mahinder Singh that he had a letter written by the late MLA which had the details of the circumstances leading to his death.
One killed, 28 injured as jeep goes off road
Mandi, November 14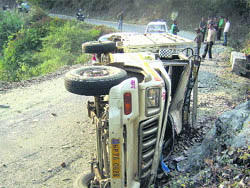 One person was killed and 28 others were injured, 12 of them seriously, when an overloaded a private temp trax jeep went off the Jogindernagar-Mandi national highway near Bhalana village in Paddar subdivision today. The victim has been identified as Tolu Ram of Chalgain village. Twelve patients who sustained some injuries were referred to the Mandi Zonal Hospital in the evening.


The overturned jeep in the Paddar area of Mandi on Monday. Photo: Jai Kumar
Four die in mishaps
Bilaspur, November 14
At least four persons lost their lives in various incidents in the district during the past 24 hours.
Dr Mallika Nadda honoured
Shimla, November 14
Dr Mallika Nadda, founder president of an NGO, Chetna, was today presented with the Rajiv Gandhi Manav Sewa Award - 2010 by Union Minister of Women and Child Development Krishna Tirth at a function in New Delhi for services rendered by her to differently-abled children in Bilaspur district of Himachal Pradesh.
Court orders regular appointment
Shimla, November 14
"The rules which are in existence when the selection process starts like the issuance of the advertisement are applicable and the appointments have to be governed by these rules".