Sekhwan launches RTE Act
Patiala, November 11
Punjab Education Minister Sewa Singh Sekhwan launched the Right to Education (RTE) Act during a state-level function at Government Senior Secondary School, Tripri, here today. He also announced that students would take oath related to moral values in the morning assembly from tomorrow in every school. This is compulsory not only for government schools but for aided and affiliated school also.
Capt has Rs 400 cr stashed in Swiss bank, says Sukhbir
Amritsar, November 11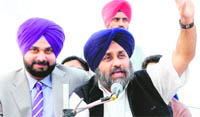 Deputy Chief Minister Sukhbir Badal today fired a fresh salvo at PPCC chief Capt Amarinder Singh and alleged that the former CM and his son Raninder Singh had stashed away Rs 400 crore in a Swiss bank account.


Deputy Chief Minister Sukhbir Badal (R) and MP Navjot Singh Sidhu in Amritsar on Friday. Photo: Sameer Sehgal

Name the bank and take a blank cheque from me, Capt to Dy CM
Patiala, November 11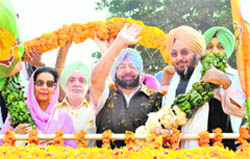 Terming Punjab CM Parkash Singh Badal and Deputy CM Sukhbir Badal as "opportunists" and "power hungry", the top brass of the Punjab Congress minced no words while accusing the SAD-BJP Government of misgovernance.




PPCC chief Capt Amarinder Singh along with Union MoS for External Affairs Preneet Kaur and former Minister Laal Singh (R) at a rally in Patiala on Friday. Tribune photo: Rajesh Sachar

Morcha to hold another major rally soon: Dayal
Chandigarh, November 11
A senior leader of Sanjha Morcha, Joginder Dayal, today said the SAD-BJP combine and the Congress would be wiped out in the coming assembly elections. He claimed the Morcha had proved its popularity by holding the one of the largest public rally at Dhudike a few days ago. About CM Parkash Singh Badal, Dayal said, "The Sanjha Morcha is a coalition of parties having commitment to the people of the state and not an opportunistic political alliance like the SAD-BJP."
Tight security for Advani's rath yatra
Bathinda, November 11
To thwart any attempt to disturb the rallies of BJP leader LK Advani as his rath yatra enters the state on November 13, the state government has ordered Z Plus security for him. It is learnt that a security ring would be thrown around Advani when he enters Bathinda district from Dabwali in Haryana. His first rally will be in Pathrala village.
Bangalore Singh Sabha seeks quota for Sikhs
Bangalore, November 11
Guru Singh Sabha, a representative body of the Sikh community here, has urged the Karnataka Government to declare a holiday on the birth anniversary of Sri Guru Nanak Dev.


Free legal aid clinic for physically challenged
Mohali, November 11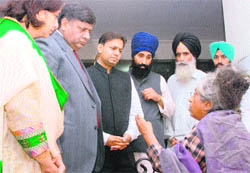 A free legal aid clinic for mentally and physically challenged persons was today inaugurated by the Executive Chairman of the Punjab Legal Services Authority, Justice MM Kumar, a sitting judge of the Punjab and Haryana High Court, at Prabh Asra, a home for destitutes at Padiala village, Kharar.


Justice MM Kumar (2nd from left) listens to an inmate at Prabh Asra, a home for destitutes in Padiala village, on Friday. Tribune photo: Vicky Gharu

Two distilleries found violating pollution norms
Patiala, November 11
The Punjab Pollution Control Board (PPCB) teams on Wednesday swooped down on distilleries in various parts of the state and found glaring violation of pollution norms by two distilleries. Confirming the same, PPCB Member Secretary Dr Babu Ram said the Board had conducted surprise raids randomly at one distillery each in Majha, Doaba and Malwa region.
Stung by criticism, cops take to civvies to counter linemen
Gidderbaha (Muktsar), November 11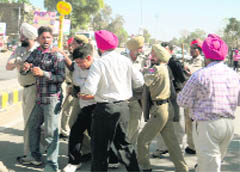 Three days after the men the in khaki allegedly used force to quell a protest in Faridkot during Chief Minister Parkash Singh Badal's Sangat Darshan, the protesting linemen again faced the wrath of police today in Muktsar. A large number of them were put behind bars.


Policemen in civil dress stop protesting linemen from marching towards the CM's Sangat Darshan programme in Gidderbaha (Muktsar) on Friday. A Tribune photograph

16 new names may be added to NRI 'black list'
Patiala, November 11
In a bid to tighten the noose around hardcore criminals of Punjabi-origin who have been evading arrest for long, the Punjab Police has initiated the process of adding a few more names to the controversial 'black list' of NRIs.
SSA teachers demand pay on par with regular staff
Patiala, November 11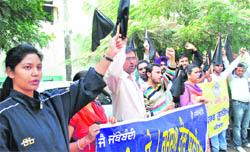 Infuriated with the Punjab Government for delaying their long-pending demands, Sarv Shiksha Abhiyan, Rashtriya Madhyamik Shiksha Abhiyan and CSS teachers started a Pol Khol campaign in Patiala yesterday. They distributed thousands of pamphlets in Patiala and nearby villages questioning the Punjab Government as to why they were delaying their long-pending demands.
Teachers show black flags to Punjab Education Minister Sewa Singh Sekhwan during their protest in Patiala on Friday. Tribune photo: Rajesh Sachar

Yet another edict against Taslima
Ludhiana, November 11 Shahi Imam Maulana Habib-ur-Rahman Sa-ani, joining the hate campaign against exiled Bangladeshi writer Taslima Nasreen, has issued an edict (fatwa) expelling her from the community for her controversial remarks on twitter after discussing the matter with several Islamic scholars.
Habib-ur-Rahman
Pak prisoner Sarbjit's kin start campaign
New Delhi, November 11
The family of Sarbjit Singh, who has been languishing in a Pakistan jail, has launched a protest campaign at Jantar Mantar under the banner of All-India Youth Foundation.


Harpreet case: Defence counsel questions witness Chauhan
Patiala, November 11
As the hearing in the murder case of Harpreet Kaur, daughter of former Shiroman Gurdwara Parbandhak Committee president Bibi Jagir Kaur, resumed in the Court of Special Judge (CBI Cases), Patiala, Balbir Singh, the defence counsel SS Kler asked a few questions from one of the witnesses KS Chauhan, who was the then in charge of the SGPC sub-office, Chandigarh.
HC tells state to notify amended building bylaws within 3 months
Chandigarh, November 11
The Punjab and Haryana High Court today directed Punjab's Urban Local Bodies Department to notify the amended building bylaws within three months.
HC rejects Virk's plea; FIR remains


Chandigarh, November 11
Dismissing former Director-General of Police (DGP) SS Virk's plea for quashing an FIR against him, the Punjab and Haryana High Court today ruled he "definitely has the right to defend himself". The former top cop had sought quashing of the FIR registered against him on September 8, 2007, in a corruption case. He has been accused of possessing assets disproportionate to his known sources of income.