Woman's kidney goes missing 'post-surgery'
Jalandhar, November 9


Mystery surrounds the disappearance of a kidney of a Phagwara based woman, who was operated upon for a gall bladder condition in July allegedly in a hospital on Hoshiarpur Road in Phagwara. She could only discover that her kidney was missing after undergoing an abdominal scan recently.

Sanjogita Victim'
Akali Dal accuses Cong of stalling development works
Malout (Muktsar), Nov 9
Chief Minister Parkash Singh Badal today said the Congress' move behind "stalling" the visit of Prime Minister Manmohan Singh for inaugurating the Virasat-e-Khalsa reflected the party's alleged tendency to oppose the overall development of the state.
Bajwa backs Capt's claim to CM's post
Chandigarh, November 9
Barely 10 days after the Punjab Bachao rallies, Punjab Pradesh Congress president Capt Amarinder Singh has received a boost with the entire party rank and file supporting his projection as the chief ministerial candidate in case it returns to power in the forthcoming assembly elections.
Govt withdraws grants to villages supporting PPP
Faridkot, November 9
Chief Minister Parkash Singh Badal has been time and again lashing out at the Congress for "stalling" developmental works in the state. But the SAD leadership itself faces the charge in several villages of the district. These panchayats have accused the SAD leadership of getting the grants announced to them earlier cancelled. Their fault: they were the "supporters" of People's Party of Punjab chief Manpreet Badal.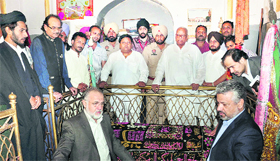 Iran Deputy Vice-President Mohd Ali Abadi at Panj Peer Dargah, Samana, on Tuesday. A Tribune photograph
BJP manifesto next month
Bathinda, November 9
The Punjab unit of the Bharatiya Janta Party will release its manifesto for the ensuing assembly elections in December, state president Ashwani Sharma said here today.
Boycott Advani's yatra, Sikhs urged
Amritsar, November 9
A delegation of SAD (Delhi) led by Jaswinder Singh Baliyewal today submitted a memorandum to Akal Takht Jathedar Giani Gurbachan Singh, urging him to issue an edict to Sikhs to boycott former Deputy Prime Minister LK Advani's "rath yatra" in Punjab.
'Badals spreading disinformation about PM's visit'
Chandigarh, November 9
PPCC president Capt Amarinder Singh today lashed out at Chief Minister Parkash Singh Badal and Deputy CM Sukhbir Badal for spreading disinformation that he stalled Prime Minister Manmohan Singh's visit to Punjab.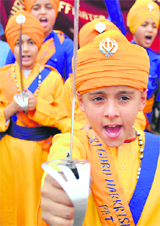 THE FAITHFUL: A Nagar Kirtan procession in Patiala on the eve of Gurpurb. Tribune photo: Rajesh Sachar
Government okays proposal for 'Greening Authority'
Chandigarh, November 9
Chief Minister Parkash Singh Badal has approved the proposal for "Greening Authority" to increase the green cover in the state. "We have finalised the structure of the authority.The process is on to notify it. The chairman will be Chief Minister and vice-chairman Minister for Forests", said Rajinder Bhandari, Vice-Chairman of the State Planning Board, here today. The authority will have its offices at all district headquarters.
Spectacular air show marks silver jubilee celebrations of Army Aviation Corps
Patiala, November 9
A spectacular air show was conducted as a part of the ongoing silver jubilee celebrations of the Army Aviation Corps, in the Western Command, in Patiala today. Attended by over a thousand spectators, including Army Aviation Corps Officers, other ranks, their families and school students, the display showcased the heritage and capabilities of this air arm of the Indian Army. Notably, on November 1, 1986, the Air Operations (OP) units of Army Aviation Corps came into existence.
Junior doctors observe three-hour strike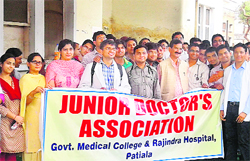 Patiala, November 9
Junior doctors working in various government medical colleges of Punjab observed a mass strike for three hours from 10 am to 1 pm today in the wake of delay in acceptance of their demands.



Members of Junior Doctor's Association holding a protest in support of their demands at Government Rajindra hospital in Patiala on Wednesday. Tribune photo: Rajesh Sachar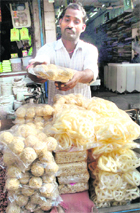 PPCB teams sieze plastic carry bags from traders
Patiala, November 9
Continuing its tirade against the illegal usage of the plastic carry bags in violation of the standards prescribed in Plastic Waste (Management and Handling) Rules-2011, the Punjab Pollution Control Board (PPCB) has seized about 8,200 kg illegal plastic carry bags from 465 traders, manufacturers and other users, in Punjab, during October. Giving this information, the Board Chairman K.S Pannu said that the PPCB officers posted at the regional offices of the Board conducted raids during odd hours and holidays to check the use of illegal carry bags, which were not meeting the various provisions of the plastic rules.

A street vendor in Patiala selling eatables in polythene bags in violation of norms. Tribune photo: Rajesh Sachar

National Legal Services Day celebrated
Fatehgarh Sahib, November 9
The District Legal Services Authority celebrated the National Legal Services day by organising a seminar at Government Girls Senior Secondary School Sirhind today. Varinder Sandhu, Asistant Distt Attorney (legal services) presided over the seminar, while the principal Jaswant Kaur was the guest of honour. A large number of people from different walk of life attended the seminar.
Punjab Technical varsity degrees now a click away
Jalandhar, November 9
Come next month and the students of Punjab Technical University will no longer have to make repeated rounds of the campus to get various documents, including provisional degrees, detailed marks certificates and migration certificates.
10-year RI for 'ashram' head, brother for raping inmate
Ludhiana, November 9
Baba Jaswant Singh, president of Apahaj Rogian Da Ashram, Laddowal, and his brother Balwant Singh have been sentenced to 10-year rigorous imprisonment for raping a mentally retarded minor girl in the ashram. A fine of Rs 5,000 each was also slapped on the accused.
Action against cops initiated, HC told
Chandigarh, November 9
The Punjab and Haryana High Court today heard that the Punjab Police has initiated action against Punjab Police officers, who took a U-turn in the fake currency case involving retired Senior Superintendent of Police Gurcharan Singh Pherurai.
Paddy scam: Clean chit to district controller, 7 others
Ferozepur, November 9
The crime branch of the Punjab Police has filed an application before a local court to discharge District Food and Supply Controller (DFSC) Sukhdev Singh and seven other officials of the Food and Civil Supplies Department in the Rs 8 crore paddy scam that was unearthed in this border district in December 2009.
Speaker earns HC's ire
Chandigarh, November 9
The judiciary and the legislature are on a collision course, so it seems. Punjab Vidhan Sabha Speaker has allegedly defied an order of the Punjab and Haryana High Court directing the maintenance of status quo in an under-secretary's service matter.