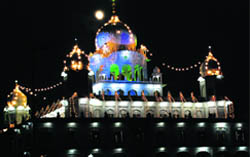 Gurdwara Nada Sahib all decked up on the eve of Gurpurb at Panchkula on Wednesday night. Tribune photo: Nitin Mittal
PU students to get smarter with cards
Chandigarh, November 9
If all goes well, Panjab University students may soon carry around their admission, fee, hostel, library, examination, placement details in their pockets.
3 RLA officials among 10 booked for fraud
Chandigarh, November 9
The UT police has registered an FIR in connection with the misappropriation of funds and cheating against 10 persons, including three officials of the Registration and Licensing Authority (RLA), to the tune of about Rs 5.6 lakh.
PEC alumni keeps 18-yr promise
Chandigarh, November 9
It will be a date with a difference. A promise made 18 years ago is all set to come true with over 45 students of the 1993 batch of mechanical engineering students of PEC University expected to assemble outside house number 11 in Sector 11 at 11.11 am on 11.11.11.


What will happen to this ward?
Ward No. 9 which comprises Sectors 39 and 40 is a classic example of how the ruling party has neglected the areas falling under the ward of opposition councillor and created hurdles in the completion of development projects related to the civic amenities. In the last one year after the present councillor left the Congress and joined the SAD party, a majority of the ongoing works in his ward were held up by the authorities for one or other reason and no fresh work was started due to which the residents had been facing a number of problems.



A broken pipeline near mini-market, Sector 39, Chandigarh. and right Wild growth dots an internal park at Sector 40, Chandigarh. Tribune photos: S Chandan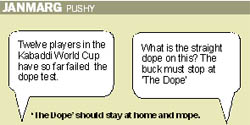 UT Master Plan may take longer
Chandigarh, November 9
The Master Plan of Chandigarh may not see the light of a day in the coming days as the disputed patch of 26 sq km in the Sukhna reserve forest continues to be a big hurdle in preparing the plan.
Floodgates repaired, Admn tells HC
Chandigarh, November 9
For preventing the watering down of the Sukhna lake's beauty, the Chandigarh Administration has repaired all three floodgates at the regulator end.
GMADA to offer 700 convenience booths
Mohali, November 9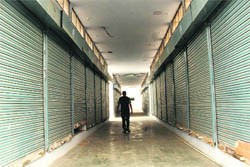 On the pattern of booth markets in sectors of Chandigarh, the Greater Mohali Area Development Authority (GMADA) is offering 700 double-storeyed convenience booths in one go at Mohali.






Booths at Janta Market in Phase 3B1 of Mohali. Tribune photo: Vicky Gharus
Health Ministry, PGI Director, DoPT fail to file their replies
New Delhi, November 9
The petition challenging the appointment of Dr Yogesh Chawla, former head of hepatology, PGI, as Director of the institute came up for hearing before the Central Administrative Tribunal (CAT) earlier this week and was adjourned until November 29.
Sector 9 Ails as Authorities still in slumber
Panchkula, November 9
Heaps of garbage, encroachments on roads by ragpickers, potholed roads and broken streetlights continue to ail Sector 9 here.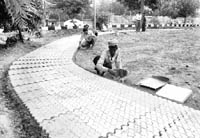 Work in final stages
Mohali, November 9
The plan to beautify entry points to Mohali from the Chandigarh side has finally started taking shape with the work on most of the entry points is in the final stages.



Work under way in Mohali. A Tribune photograph
Objections on polling stations registered
Chandigarh, November 9
On the last day of inviting objections on draft list of polling stations for the coming municipal corporation (MC) elections, all the returning officers (ROs) of the respective wards separately registered objections raised by the public and political parties in the meetings convened by them today.
Sensitising people on road safety
Chandigarh, November 9
The MCMDAV College today organised a debate to mark the Road Safety Awareness Day, which was a part of the Chandigarh Police Week.
'Research led to IT revolution after 1990s'
Chandigarh, November 9
The Department of Computer Applications of Postgraduate Government College for Girls, Sector-11, organised a UGC-sponsored one-day national seminar on the theme "Web Information Systems and Technologies".
Screening of forms begins
Mohali, November 9
With 20 days left for the draw of lots for Mullanpur Eco city, the process of screening 1.60 lakh application forms received from different banks, has been started by the Greater Mohali Area Development Authority (GMADA).
Road show marks PEC fest, beginning November 11
Chandigarh, November 9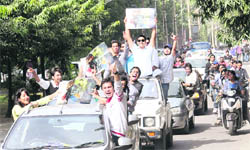 Students of PEC University of Technology are all set to host a three-day annual fest beginning from November 11. To mark the event, the students today held a road show in different parts of the city. The annual fest would also witness events like 'massacre ball' (a masked dance party), kite flying and 'netagiri' (mock election).
PEC students take out a road show to mark the three-day annual fest, beginning November 11 in Chandigarh on Wednesday. tribune photo: manoj mahajan