Advani's yatra greeted with black flags at several places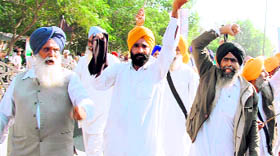 Doomwali (Bathinda), November 13
The route of BJP leader LK Advani's Jan Chetna Yatra had to be changed as his cavalcade reached Bathinda town this afternoon with activists of the Simranjit Singh Mann-led SAD (A) gathering near the DC's office to disrupt the yatra.



Traffic jams keep cops on their toes

SAD (A) activists raise slogans against BJP leader LK Advani in Bathinda. Tribune photo: Pawan Sharma

SAD MPs plan to meet PM, says Sukhbir
Ferozepur, November 13
Deputy Chief Minister Sukhbir Singh Badal has said all SAD MPs have asked for an appointment from Prime Minister Manmohan Singh and Finance Minister Pranab Mukerjee to urge them to make public the names of those Congress leaders from Punjab who have stashed huge money in Swiss Bank accounts.
12 pc pregnant women diabetics in state
Ludhiana, November 13
Diabetes is spreading its tentacles fast and pregnant women are becoming an easy prey to it. Recent research has shown than about 12 per cent pregnant women now suffer from this disease as compared to 2-3 per cent few years ago.


Cong MLA Jain in a spot
Moga, November 13
Sitting Congress MLA from Moga Joginder Pal Jain seems to be in trouble. Severaly local leaders of the party have opened a front against him in the run-up to the assembly elections.
Amarinder scuttled PM's visit, alleges CM
Amritsar, November 13
Chief Minister Parkash Singh Badal today alleged that Prime Minister Manmohan Singh's scheduled visit to Anandpur Sahib was scuttled by the state Congress leadership after the intervention of Congress president Sonia Gandhi.


On pilgrimage to Bangladesh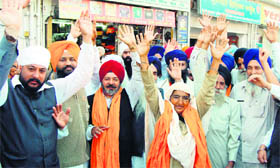 HOLY MISSION: A Sikh jatha before leaving for a pilgrimage to Bangladesh at the Golden Temple in Amritsar on Sunday. Photo: Vishal Kumar
PSPCL engineers to resort to work-to-rule
Patiala, November 13
With engineers working with the Power Corporation announcing to resort to "work-to-rule" from tomorrow, a decrease in thermal power generation appears inevitable.
Issue white paper on black money: Advani
Ludhiana, November 13
Senior leader of the BJP LK Advani today asked the Congress-led UPA Government to issue a white paper on black money stashed in foreign banks.


Convict flees, but cops too busy with yatra
Get ready for chilly days: Met Dept
Jalandhar, November 13
Get ready for chilly days beginning mid-November. Officials of the Met Department at the Adampur Air Force station say though the winter has set in, extreme cold conditions will begin only from December 15.
Patiala Dy Mayor quits
Patiala, November 13
In a shocker to the SAD-BJP, Patiala Deputy Mayor Sonia Devi of the BJP has resigned accusing Mayor Ajit Pal Singh Kohli and Senior Deputy Mayor Anil Bajaj of indulging in financial irregularities in the Patiala Municipal Corporation.
Punjab unaided colleges irked over govt policies
Chandigarh, November 13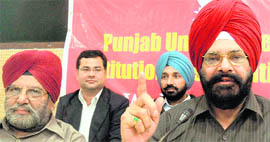 Irked over the state government and perceived step-motherly treatment as part of the state government's policies towards the unaided technical institutions of Punjab, over 400 un-aided colleges of Punjab are going to hold a conference at Mohali on November 18

Dr JS Dhaliwal, president, Punjab Unaided Technical Institutions Association, in Chandigarh on Sunday. Tribune photo: Pradeep Tewari

VAT on fuel: Cabinet likely to take up matter on Nov 18
Chandigarh, November 13
Chief Minister Parkash Singh Badal's announcement on the government's decision to slash VAT on petrol/ diesel may turn out to be a mere rhetoric on the eve of elections. Analysts say that it is only by withdrawing the surcharge on VAT and removing cess and octroi that the government can actually lessen the price hike burden on the common man.
Pathankot Improvement Trust caught on the wrong foot
Pathankot, November 13
The Pathankot Improvement Trust has been caught on the wrong foot with an RTI activist alleging use of funds beyond its jurisdiction.
Punjab to issue licences to 5,651 wood-based units
Chandigarh, November 13
The Punjab Government today got approval from the Central Empowered Committee (CEC) to issue licences to 5,651 wood-based industrial units (WBIs) in the state.
Doctors end strike
Patiala, November 13
Representatives of the Junior Doctors Association of Patiala and Amritsar met Chief Minister Parkash Singh Badal today at the Government Medical College, Amritsar, in the presence of Navjot Singh Sidhu, Member Parliament Amritsar, Arunesh Shakir, Secretary Medical Education and Research Anjali Bhawra, and DRME Dr Jai Kishan.


Addl Secy dies in mishap
Jalandhar, November 13
Amrit Sagar Prabhakar, retired PCS officer re-employed as Additional Secretary, Social Welfare Department, Chandigarh, was killed in a bizarre accident near the Bidhipur railway crossing, near here, this morning.
Minor girl gangraped in Moga village
Moga, November 13
A student of class IX was allegedly abducted and gangraped in a nearby village by four youths a couple of days ago. The incident occurred when the victim was on her way to the school.