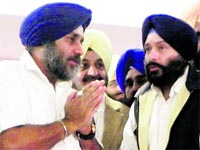 Sukhbir Badal backs ex-DGP Gill
Moga, November 16
President of the SAD and Deputy CM Sukhbir Singh Badal today put his weight behind former DGP Paramdip Singh Gill, holding a Sangat Darshan programme at his behest in Droli Bhai and Charik villages of the Moga assembly constituency.

Deputy CM Sukhbir Badal with Akali leader Barjinder Singh Brar and former DGP PS Gill (centre) in Moga.

Clark for better educational ties with state
Amritsar, November 16
British Columbia Premier Christy Clark has said her state was keen to boost bilateral relations in education and economy with India in general and Punjab in particular.
Relishes makki di roti, sarson da saag
Jalandhar, November 16
British Columbia Premier Christy Clark and her team savoured mouth-watering traditional Punjabi food and deserts - 'sarson da saag', 'makki di roti', 'jalebi', 'kesar-rice kheer' and 'dal makhni' - during her two-hour-long halt at Haveli and Rangla Punjab resorts on the outskirts of the city here this afternoon.

Bir Devinder willing to return to Congress fold
Chandigarh, November 16
Willing to return to the Congress fold to contest the assembly elections, former Deputy Speaker of Vidhan Sabha Bir Devinder Singh has started his election campaign in Fatehgarh Sahib constituency.


PPP president warns against divisive forces


Congress to hold fresh survey of 40 seats


No plan to replace sitting MLAs: Jagmeet
Cong trying to defame me: Brahmpura
Chandigarh November 16
Rural Development and Panchayats Minister Ranjit Singh Brahmpura, against whom an inquiry has been initiated by the Punjab Lokpal on allegations of land grab, today said that the complaint to the Lokpal was the handiwork of the "dirty tricks department" of the Congress.
Misuse of Grants
Montek calls SC body for dialogue
Jalandhar, November 16
Taking note of the misuse of funds meant for the Scheduled Castes by the government, the Vice-Chairman of the Union Planning Commission, Montek Singh Ahluwalia, has invited the Chamar Mahan Sabha to discuss the issue at length.
A bridge that will connect border dists
Ferozepur, November 16
Due to lack of direct rail or road connectivity between Ferozepur and Amritsar, the two important border districts, the residents of both these places have to take a detour. This makes the distance between these two districts around 120 km. After the construction of the new bridge over the Sutlej, between Kot Pattan Budda and Muthianwala, the distance will be just 90 km. Officials in the PWD Department said that following the construction of this bridge, lakhs of people from Ferozepur and the border areas, besides Tarn Taran and Amritsar districts will benefit immensely. People from Ferozepur are at present using the Zira-Makhu-Harike-Tarn Taran route to reach Amritsar.
All the world's a stage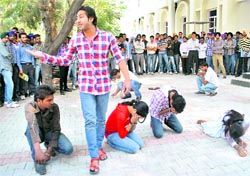 Students enact a street play at Government Mohindra College in Patiala on Wednesday. Tribune photo: Rajesh Sachar

600 jail inmates on hunger strike for clean food
Faridkot, November 16
Just a week after Punjab Chief Minister inaugurated the first "ultra-modern Spanish model jail" with medical and other facilities for the inmates, at the cost of over Rs 112.44 crore in Faridkot, over 600 prisoners and inmates are on hunger strike for the last 24 hours. They are protesting against the "poor quality" of food and other allied problems.
Horse endurance meet on Nov 19
Chandigarh, November 16
The Punjab Horse Sports and Breeders Society is set to organise the second All-India Horse Endurance meet on November 19 at Kaler Bhaini village, near Dakala in Patiala district.
Vision paper for promoting Punjabi
Patiala, November 16
Punjabi University, Patiala, will organise a workshop next month to prepare a vision paper with the objective of chalking out a detailed plan for the promotion of the Punjabi language, art and culture in India and abroad.
It was bloodshed at donation camp!
Fatehgarh Sahib, November 16
Simmering conflict between two warring factions of the SAD came to the fore during a blood donation camp organised by Saheed Bhagat Singh Welfare Club at Kharora village here today.
Mapping of Punjab's tourist places begins
Ludhiana, November 16
To promote tourism and facilitate the visitors by providing online information about different tourist places, the Punjab Heritage and Tourism Development Corporation has asked the Punjab Remote Sensing Centre (PRSC), Ludhiana, to do mapping of these places.
HC: Ailing cops entitled to actual cost of injections
Chandigarh, November 16
Acting on a petition filed by 21 Punjab Police personnel suffering from Hepatitis B, C and HIV, the Punjab and Haryana High Court has ruled that the petitioner-employees are entitled to reimbursement of the actual cost of injections.
2 held with rare snakes
Patiala, November 16
The Patiala Wildlife Department today busted a gang involved in the trade of rare species of the Indian sand boa with the arrest of two persons. The two were allegedly trying to smuggle a pair of snakes of this rare species to Ludhiana for a whopping Rs 19 lakh.
Rs 1.2-cr gold recovered
Patiala, November 16
The Rajpura police has recovered gold worth over Rs 1.20 crore from two persons travelling in a roadways bus here this afternoon.