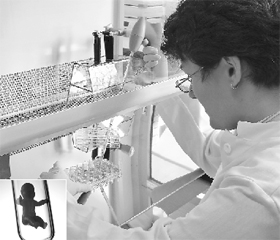 Sperm banking, as the name suggests, is a facility to collect and store the human sperms. Men donating sperms for banking are termed as sperm donors. Usually this practice is done when a couple wants to get its own biological child through a third-party reproduction. This is done by the artificial insemination in which sperms are injected in the uterus through injection. Sperm banks in some countries are also called semen banks or cyro banks. However, sperm banking is not allowed in all parts of the world.
Sperm banks are a boon for couples, which are unable to give birth to a child due to male-factor infertility. However, the development of sperm banks is somewhat controversial with regard to ethics and values, but it provides a wonderful control over reproduction.
The sperms, donated by donors, are checked and examined comprehensively before storing them in the bank. With these stored sperms, thousands of couples get children, which, otherwise, might not be possible. Along with married couples, these sperm banks are a boon for lesbian couples and single parents who, otherwise, cannot have their own biological children. People now have more and more choices to choose their sperm donor to get a child. They can choose the sperm donor, either from their family, or can also go for an anonymous sperm donor.
Most of the sperm banks offer pictures of the sperm donor, along with audio and videotaped interviews, about why they have become sperm donors.
Tests for VDRL, HIV and Hepatitis-B are performed after every three months in order to ensure that the sperm samples are absolutely free from any kind of disease and infections.
A historical perspective
When the California Cryobank opened its doors in 1977, the technology for preserving or "banking" human sperm by cryogenic methods, while nearly a quarter century old, was still in its infancy.
The prefix "cryo" comes from the Greek word "kryos," meaning cold or frost. The science of cryogenics deals with the effects of extremely cold temperatures on matter. Applying this technology to the preservation of sperm was a natural outgrowth of the development of artificial insemination.
Legality and authority
Sperm donors are not responsible for the children produced by their sperms. They have the security of knowing that their sperm is being used to help a woman, who cannot conceive otherwise. The sperm donor would not be considered as the father of the child, though he is the biological father of the child. Once the donor donates his sperm, the sperm bank has the authority to use it for any patient and as many times as it wants.
Sperm banks usually are controlled by local legislation and are intended to protect the unborn child and to help the couple, which otherwise, cannot have a child. There are a few countries in the world where sperm banking is not allowed to be operated. In fact, sperm banking is treated as a threat to humanity and culture, especially if the sperm is donated to an unmarried woman.
Sperm bank working
The donor has to take a prior appointment before going to the sperm bank. He then is taken into a private room where he provides a sample of his semen, which is kept in a clean and sterilised container. Some special containers are made for this purpose. In some places, the sperm bank allows the sperm donor to bring the semen sample from their own place. For this, the bank provides an overnight collection kit to the donor.
There is usually an upper limit on how long the frozen sperm can be stored. The sperms must be prepared well before storage so that they can be used for IVF, ICI or ART treatments in future. Studies show that in the UK, sperms are stored for an average of 21 years and many babies are born using those sperms.
When the sample is collected, it is then screened and examined comprehensively by lab technicians of the sperm bank. These thorough examination of the semen sample includes tests for any sort of infection, hereditary diseases or sexually transmitted diseases. This incorporates the deadly diseases such as HIV AIDS and Tay Sachs disease.
After testing, if the sperms are free from any kind of infections and diseases, it is quarantined for six months in the store. These are stored in a deep freezer. This process of freezing the sperms is medically termed as Cryopreservation. The samples of sperms are handled quite carefully in a medicated solution to avoid any kind of infections during thawing and freezing. The sperms are then sealed immediately in vials and frozen in liquid nitrogen vapor at a temperature of -320 °F. After six months, the sperms are dispensed off to the recipient's uterus.
The conception could be carried either using a cervical cap conception device or a needle-less syringe. The cervical conception device holds the donor's semen near the cervix for 6-8 hours, which increases the chance of fertilisation, and thus conception.
In some cases, the donor sperms are supplied directly to a registered medical practitioner, who then performs an apt method of insemination, using the sperm to make the woman pregnant. A pregnancy, achieved by using the sperms from a sperm back, is medically the same as the pregnancy achieved by sexual intercourse. It may be different ethically though.
Donor selection
Usually, the sperm banks provide all details and information about the sperm donors so that the recipient could select their donor. The details of the donor include the height, weight, race, blood group, physical health, and eye color of the donor. The sperm banks provide these details via online catalogs on the official website of the sperm banks.
Most of the couples prefer using the sperms of the donors whose features and characteristics are somewhat similar to their partner. Some parents also enquire about the blood group of the donor before accepting the sperm for pregnancy. The parents can also ask whether the sperm they are using has already been used for any birth or not.
If a woman wants to conceive another child from the same donor, the parents can approach the sperm bank again, which can then check whether there is a sufficient amount of sperm left from the same donor or not.
A BOON FOR Cancer PATIENTS
If a man has been diagnosed with cancer and is starting with the treatment of cancer, he can consider the option of freezing his own sperm in a sperm bank, as the treatment for cancer may affect his fertility drastically. Banking his sperm is the only way to get his own biological child in future, even if he loses his fertility after completing the cancer treatment. Only a few sperms are required to create pregnancy. So, if one has a good sperm quality and can provide several semen samples to be stored in the sperm bank, one can get one's own biological child.
Misconceptions
Sperm banks are a major source of sperms for artificial conception for couples or women, who are unable to conceive. However, there are some misconceptions and myths about sperm banks and how they work. These are some of the myths
l It is a new and unidentified technology: This is an absolute myth as sperm banking has been into practice for more than half a century now. Sperm banks were first opened in Japan in 1965.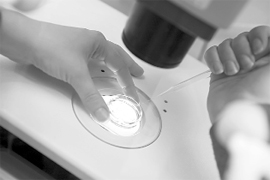 l It is not a widely used method: People believe that sperm banking is not used widely, and a very few people all over the world use this method to get their own biological child. Whereas the truth is that around one in every eight couples use the donor sperm to conceive. The sperms stored are placed into woman's vagina through artificial insemination.
l Few children are born using stored sperms: Studies report that almost 4,000-5,000 children are born every year by using donor sperms.
l Sperm count remains same: It is believed that the sperm count, whenever examined, is always the same in number but actually the sperm count may vary and the sperm motility may also get affected by time, ailments, medications etc.
l Age doesn't matter: It is a wrong belief that the age does not affect the male fertility. In reality, many couples, in their thirties and above, have to struggle while conceiving their second child.
l Chances of conception are very low: This is absolutely false. The results of artificial insemination are quite good and chances of conception are pretty more. Usually 60 to 70 per cent women get pregnant after six to nine months of insemination treatments.
The writer is an infertility expert and gynaecologist associated with Lilavati Hospital, Mumbai and Fortis La Femme, New Delhi