Closure of rehab centre leaves needy in the lurch
Anirudh Gupta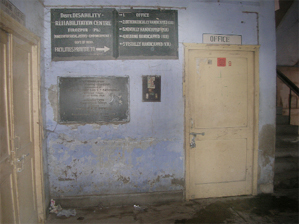 The closed office complex of the District Disability and Rehabilitation Centre in Ferozepur. Tribune photograph

Ferozepur, November 17
The closure of the District Disability and Rehabilitation Centre (DDRC), which was functioning here for the last several years, has left the poor and the needy in lurch.
The centre was set up here in 2000 with the assistance of the Artificial Limb Manufacturing Corporation of India (ALIMCO), Kanpur, under a centrally-sponsored scheme.
Now, in the absence of the artificial limb facility which was available here at the district headquarters earlier, the poor handicapped persons are in doldrums as they are now dependent on the external resources outside the district for getting limb implant or else, they have to wait for financial help from donors to get the limbs at their own expense from private establishments.
Ashok Behl, secretary, district Red Cross Society, under whose aegis the DDRC was functioning, said the centre remained operational till October 2009. It was closed due to lack of financial resources.
Behl said that initially, the central government through ALIMCO, used to fund the centre till 2004. However, later on, the entire monetary burden was put on the local Red Cross Society with an assurance of providing direct grant for its operation and maintenance. However, no grant was received by the Red Cross, he added, due to which the centre had to be closed as the society was unable to meet the recurring expenses, which included salaries of the technicians, besides maintenance of the centre and its facilities.
Now, the building of DRDC has also been demolished after the land on which it was situated was handed over to the PUDA for commercial use under the Optimum Utilisation of Vacant Government Land (OUVGL) scheme to mobilise funds for other developmental activities.
"Earlier, the DDRC was providing free limbs, tri-cycles, clutches, wheel chairs besides visual and hearing aids to the needy. However, following its closure these people have no idea where to go for their requirement," said Pyare Lal, a retired statistical assistant with the health department.
During the time that the DDRC was operational, thousands of handicapped persons were benefitted as besides the limbs and medical aids which were provided free of cost here, the technical and medical guidance was also available under a single roof.
Last year, the National Institute of Visually Handicapped, Dehradun, had provided grant of Rs 5 lakh to the Red Cross to provide aid to the handicapped, but no funds were received from any quarters to meet the recurring expenses of this centre, hence it was discontinued, said Behl.
Dr Jajbir Singh Sandhu, SMO, Civil Hospital, who was earlier posted at the DDRC, said that it was a wonderful facility for the deprived lot as the department could help thousands of with free medical aids. He went on to add that its closure has certainly affected the poor handicapped persons in the area.