Teachers told to celebrate Literacy Day on holiday
Megha Mann/TNS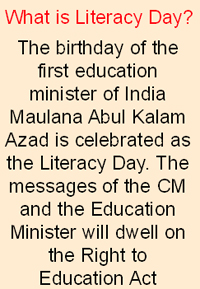 Bathinda, November 9
The Education Department has popped a surprise for the government school teachers, leaving them irate.
Many government schools in the district had announced a local holiday on November 11 but the department today played a spoilsport by issuing directions to celebrate the day as Literacy Day.
Since Gurupurb was on November 10 and November 12 was a holiday on account of being a second Saturday, the principals of the government schools had declared a local holiday.
"Government school principals are empowered to announce two local holidays in a year depending on the school's needs. While some principals had declared it during the early months of the year, the others declared it on October 25 to make a package of holidays on Diwali," said a government school principal.
However, schools in villages like Multania, Jhumba and Jodhpur Romana missed the local holiday on October 25 due to the function held for the distribution of bicycles on the school premises.
Another government school teacher said that these two local holidays are used to provide a respite to the teachers who are caught up in a lot of non-academic work also.
On the occasion of Gurpurab, many of them also go to pay obeisance at the Darbar Sahib in Amritsar. "With an additional holiday and Sunday, starting from November 10, teachers could have availed of four holidays had the department suddenly not issued the notification of celebrating November 11 as the Literacy Day," rued another government school teacher.
The schools have been directed to read out the messages of Prime Minister Dr Manmohan Singh, Union HRD Minister Kapil Sibal, Chief Minister Parkash Singh Badal and Education Minister Sewa Singh Sekhwan during the morning assembly on November 11.
The principals have been directed to ensure that not only the students, but their parents too are a part of the function. Apart from the schools under the state government, the day would also be observed at the Kendriya Vidyalayas and Navodaya Vidyalayas, which are directly under the HRD Ministry.
While today was a half-day in view of the Gurpurab celebrations, schools were informed about the function in the afternoon. The Education Department officials posted the information about the function on the department's website, which could not be accessed in some schools due to internet failure.
"Now, I have no time to inform the parents. The department does not pre-plan its work. At the eleventh hour, we have been told to make arrangement which is very difficult," said one of the teachers.