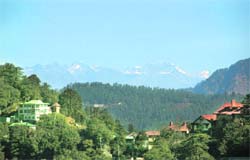 A view of snow-covered mountains seen from Shimla on Thursday. Photo: Amit Kanwar
State farmers to attend Agri Expo in China
Mandi, November 17
Buoyed by rapid strides made by China in apple production and its aggressive marketing, a 12-member team of fruit farmers and scientists of the Himalayan Eco-horticulture Society (Ecohorts), Nandpur, will participate in the Modern Agriculture Expo-2011 beginning at Zhan Zhou, near Shanghai, in China from November 18-21 and bring back the best technology suited for farmers of the state.
Vulture menace at Kangra airport
Kangra, November 17
The Kangra airport had become vulnerable to vultures, resulting in five bird-hit incidents so far this year.
Move to enhance retirement age of docs opposed
Shimla, November 17
The Himachal Pradesh Medical Officers Association (HMOA) has opposed the proposal of the government to enhance the retirement age of doctors who are teaching in the two medical colleges.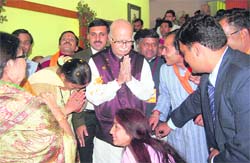 Advani's yatra reaches Sirmaur
Kala Amb, November 17
Former Deputy Prime Minister LK Advani's Jan Chetan Yatra reached Kala Amb this afternoon on the 33rd day of his yatra spread across 27 states.


Former Deputy Prime Minister LK Advani receives greetings from people at the Jan Chetna Yatra in Kala Amb on Thursday. Photo by writer
Keen contest on the cards in Renuka
Renuka, November 17
With both the Congress and the BJP filing new candidates for the Renuka byelection, an interesting contest will be witnessed in this reserved constituency which has been the forte of the Congress all these years.
Lambardars urged to fight social evils
Bilaspur, November 17
The Himachal Pradesh State Lambardar Public Welfare Mahasangha presented its long-pending demands at a state general house meeting which was specially attended by former MP and now BJP National Kisan Morcha vice-president Suresh Chandel at the Dholera Temple complex here recently.
Principals seek new policy for recruitment of dy directors
Nurpur, November 17
The Himachal Pradesh Government School Cadre Principals' Association has underlined the need to formulate a new policy by amending recruitment and promotion rules for the direct recruitment of deputy directors in the Education Department so that the administrative set up in school education could be made more effective to meet burgeoning challenges.
Woman accuses ASI of thrashing her
Mandi, November 17
HS Thakur, Additional Superintendent of Police (ASP), Mandi, today ordered a probe into allegations levelled against Lachhi Ram, Assistant Sub Inspector (ASI), Rewalsar police post, by a woman complainant of Rewalsar.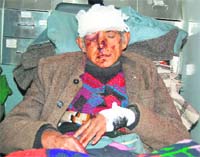 Bear mauls farmer in Mandi forest
Mandi, November 17
Farmer Manchand of Takaryar village in Paddar subdivision, who was grazing his herd in the Katola jungle today, was mauled by a bear. The beast inflicted grevious injuries in his eyes,face and body.




Farmer Manchand who was injured by a bear in the Katola jungle of Mandi on Thursday. Photo: Jai Kumar
10.5 kg of cannabis seized, 2 held
Paonta Sahib, November 17
The Paonta Sahib police seized 10.5 kg of cannabis from a couple travelling in an Uttarakhand State Transport Corporation Volvo bus around 4.45 am this morning during a routine checking in view of BJP leader Lal Krishan Advani's Jan Chetna Yatra here today.
Battery unit gutted
Solan, November 17
Loss worth several crores was suffered by a battery manufacturing unit located near Bagvania on the Sirsa khud in the Baddi-Barotiwala-Nalagarh industrial area last night when a massive fire gutted a large part of the unit.
Community centres inaugurated
Hamirpur, November 17
Hamipur MP Anurag Thakur today inaugurated community centre buildings at Katyod and Kot Langsa, besides inaugurating a panchayat building at Joh.