Youngest skydiver has Bathinda link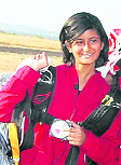 Bathinda, November 19
Anusha Tyagi, whose father Squadron leader Dinesh Tyagi is posted at Bhisiana Air Force station near here, today became the youngest skydiver in the country. Her feat has been recognised by the Limca Book of Records.





record jump: The feat of Anusha Tyagi, who has studied in Bathinda, has been recognised by the Limca Book of Records


Capt backs Badal's demand of bringing back black money
Ludhiana, November 19
PCC chief Capt Amarinder Singh today welcomed the demand of Chief Minister Parkash Singh Badal to bring back black money stashed in foreign countries and use it for the welfare of the general public. He also asked, "Why not expose the black money that is hidden within the country?"


President to visit Patiala on Nov 27
Patiala, November 19
A high-profile defence ceremony would be held here on November 27 where the President of India, Pratibha Devisingh Patil, would present "colours" to five armoured regiments, 6 Lancers, 70 Armoured Regiment, 73 Armoured Regiment, 5 Armoured Regiment, and 74 Armoured Regiment.
Govt employees with 25 yrs' service to get full pension benefits
Chandigarh, November 19
In a significant decision, the Punjab Cabinet today approved full pension benefits to employees completing 25 years of service, besides approving the recommendations of the Cabinet subcommittee on the issue of grade revision.
It's Punjabis vs Punjabis in Philippines
Jalandhar, November 19
The over one-lakh strong Punjabi community in Philippines is in a state of shock after the recent spurt in brutal murders of Punjabis youths, most of whom are into the lucrative money-lending business in that country. This has led to a rise in kidnappings for ransom and prosperity-triggered rivalry within the community.
Uppal: Most fraudulent visa cases from Punjab
Amritsar, November 19
Tim Uppal, the first-ever turbaned Sikh Minister in the Canadian Cabinet, has said the maximum visa fraud cases in his country were from Punjab, a fact that was "very upsetting". Also, Uppal said the government of Alberta, a province of Canada, was all set to sign an MoU on education with Punjab.
Neonatal mortality rate still high in India: Experts
Ludhiana, November 19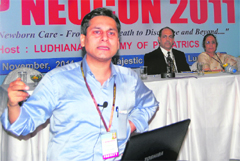 The neonatal mortality rate is still high in India, i.e. 30 per 1000 live births and it is same as in other developing countries. However, if we compare it with developed nations, like Japan, it is ten times more in India. In Japan it is 3 per 1000 live births.


Dr Amit Upadhay, Head of the Neonatology Department of Medical College, Meerut, delivering his speech at the National Conference of Neonatology at Ludhiana. A Tribune photograph

Work on six-laning of GT Road halted
Fatehgarh Sahib, November 19
The work on the six-laning project on the GT Road, between Panipat and Jalandhar, being undertaken by SOMA Enterprises has come to a standstill, following a strike by the sub-contractors of the company alleging non-payment of material and cartage for the last six months. The contractors parked their vehicles at the entry gate of the of the head office of the company at Basant Pura village on GT Road. The contractors sat on dharna in front of the office and the drivers and laborers joined them.
Inclusive growth ensures human rights
Patiala, November 19
At a largely attended UGC-sponsored seminar on human rights and human development, organised by the Department of English, Government Mohindra College, Patiala, 14 scholars drawn from different universities of Punjab and Delhi discussed issues of human rights, their relationship with human development, economic development and green rights and reasons for human rights violations.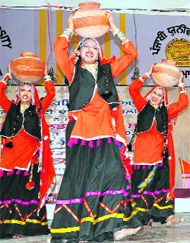 Golden jubilee celebrations of Punjabi varsity begin
Patiala, November 19
The five-day academic activity and cultural fiesta to mark the first phase of golden jubilee celebrations of Punjabi University got off to a colourful start at Guru Tegh Bahadur Hall in the university here today. Inaugurating the function, the Vice Chancellor, Dr Jaspal Singh, said the academic part of the celebrations, being designed and organised by various faculties and departments, would "enable us to introspect and evaluate our achievements in the past and prepare a blueprint for the future course of action."

Girls perform a folk dance during the Golden Jubilee celebrations of Punjabi University, Patiala. Tribune photo: Rajesh Sachar

HC: No place in judiciary for officials with doubtful integrity
Chandigarh, November 19
Showing zero tolerance towards inadequacy and lack of uprightness in judiciary, the Punjab and Haryana High Court has made it clear that officers with doubtful integrity, or having lost utility, have no place in judicial service.

Former cop robbed of Rs 10 lakh
Faridkot, November 19
Three persons, having their faces partially covered, today looted Rs 10 lakh from a retired police inspector in Faridkot. Ajaib Singh, the retired inspector, a resident of Green Avenue, said after withdrawing Rs 10 lakh from a bank, he was returning home on a rickshaw when he was intercepted by three youths on a motorcycle.