SAD may now field former DGP from Baghapurana
Moga, November 18
Yielding to pressure by a majority of municipal councillors and a few 'taksali' Akalis of Moga, president of the SAD and Deputy CM Sukhbir Singh Badal may not field former DGP Paramdeep Singh Gill from the Moga constituency for the coming assembly elections.
More students to get visa: Uppal
Amritsar, November 18
The Canadian Government has introduced a "super visa" for parents and grandparents to help them reunite with their children living in Canada.

SAD taking to bullying tactics, says Amarinder
Kotkapura (Faridkot), November 18
PPCC chief Capt Amarinder Singh today accused the Akali leadership of indulging in bullying tactics and making use of police, money and muscle power to retain power in the state.
Sukhbir lashes out at cousin Manpreet
Gidderbaha, November 18
Deputy Chief Minister Sukhbir Singh Badal today said his cousin and PPP leader Manpreet Singh Badal had entered into a secret pact with Union Finance Minister Pranab Mukherjee to topple the SAD-led coalition government in Punjab, but had failed to do so as he was unable to muster the support of the party MLAs.
PPP can play spoiler, says Cong survey
Chandigarh, November 18
A survey commissioned by the PCC gives Manpreet Badal's Punjab People's Party a 7 per cent vote share, enough to act a spoiler, and the Bahujan Samaj Party (BSP) 6 per cent vote share.

SAD leaders spar at public function
Fatehgarh Sahib, November 18
After the simmering conflict between the two warring SAD factions at Kharora village during the blood donation camp, there was a clash between Didar Singh Bhatti, SAD MLA and Satnam Singh Brass, senior SAD leader-cum-chairman block samiti of Khera village. The occasion was the bicycle distribution function at the Government Senior Secondary School. Sharing of the dais was the trigger.
Unaided technical institutes slam govt policies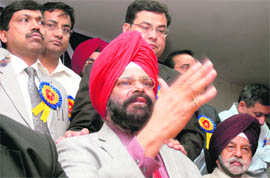 Mohali, November 18
Representatives of around 400 unaided technical institutions of Punjab today lodged a strong protest against the unfavourable policies of the Punjab Government, All-India Council for Technical Education (AICTE) and Punjab Technical University (PTU).


Dr JS Dhaliwal, president of the Punjab Unaided Technical Institutions Association, addresses a Press conference in Mohali on Friday. Tribune photo: Vicky Gharu

Facility for kids in distress
Patiala, November 18
Following directions from the Union Government, Childline service, a facility for children living in distress and difficult circumstances, has been initiated in four districts of Punjab.
Kangaroo Mother Care decreases infant mortality rate, say experts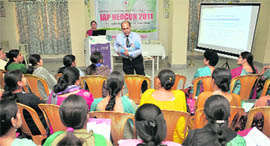 Ludhiana, November 18
To decrease the neo-natal mortality rate, the concept of "Kangaroo Mother Care" (KMC) is emerging as one of the best natural ways. This concept means taking care of the child by the mother like a Kangaroo does by keeping its baby in the pouch after birth.



Dr Rajinder Gulati, convenor of the 4th National Conference of IAP Neonatology Chapter, addresses delegates in Ludhiana. Tribune photo: Himanshu Mahajan


Candidates allege bungling in PSSSB examination


Mohali, November 18
Candidates seeking employment as excise inspectors in the Punjab Excise and Taxation Department today alleged wrongdoings by the Punjab Subordinate Services Selection Board (PSSSB) in conducting the written test for the 100 posts of excise inspectors.

Challenges posed by cyber crime


Fatehgarh Sahib, November 18
"India is among the 12 nations of the world, which have introduced the laws related to cyber crime," said District and Sessions Judge Gurvinder Singh Gill, while addressing a seminar on "Cyber crime during Techno Era 2011," organised by the Department of Computer Sciences and Management of Mata Gujri College, Fatehgarh Sahib here today.



PIL: Govt ad money going to CM's cos
Chandigarh, November 18
When Punjab Advocate-General Ashok Aggarwal suggested that the details of companies owned by the Badals were available on the registrar of companies website, little did he realise he was opening a Pandora's box.

Govt fined Rs 20,000
Chandigarh, November 18
Punjab DGP's failure to file an affidavit in connection with a petition filed by an Amritsar-based cable operator has cost the state government dear.