From heir apparent to frightened fugitive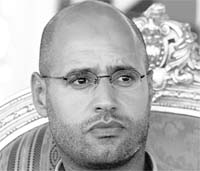 Tripoli, November 19
Saif al-Islam Gaddafi, who was captured in the rugged desert, transformed himself during this year's uprising from a relaxed reformer to a belligerent and loyal lieutenant of his father who is now wanted by the ICC accused of crimes against humanity.
In his final days on the run, witnesses said Saif al-Islam, 39, was nervous, confused and frightened, at first calling his father by satellite phone, swearing aides to secrecy about his whereabouts, and after his father was killed seeking to avoid a similarly gruesome fate.
The Arab uprisings, which swept the region, left Saif as the last major holdout of a regime brought to its knees and eliminated by a NATO-backed revolt.
Born in 1972, Seif al-Islam, whose name means sword of Islam, is the second of Gaddafi's eight children, the eldest son of his second wife Safiya.
Saif, who received a doctorate from the London School of Economics, held no official post but carved out influence as a loyal emissary of Gaddafi's regime and architect of reform, anxious to normalise ties with the West.
He shot to prominence in 2000 when the Gaddafi Foundation that he headed negotiated the release of Western hostages held by Muslim rebels in the Philippines.
In 2007, he served as a mediator over the release of Bulgarian nurses who were jailed over a hospital AIDS outbreak. He also negotiated compensation agreements for the families of those killed in the 1988 Lockerbie plane bombing and of UTA Flight 772 in 1989, both of which were blamed on Libya.
He long served as the face of Gaddafi's regime in the West, appearing in suit and tie, and speaking fluent English.
But reformist image vanished when an uprising against his father was launched from the eastern city of Benghazi in February, often going on television or giving press conferences to warn that opposition forces would be crushed.
As National Transitional Council forces closed in on Tripoli late August, he went underground, only to reappear in the capital on August 23, just two days after reports the rebels had captured him. But he had not been heard from since, until a senior official of the ruling National Transitional Council announced that Saif had been arrested in the south of Libya. — Agencies