The enemy within
Alcoholism and its ill-effects are well-known. However, what is being overlooked is the adverse impact of an alcoholic parent on the psyche of children, which is now also manifesting itself in the form of a self-harm syndrome among the younger generation
Harshindar Kaur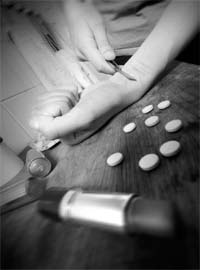 Much has been said about alcoholism and its ill effects. Other than the well-documented harmful effects on the heart, brain, liver and the nervous system, one of its oft-neglected effects is on the sperm production. WHO has revealed that the widespread abuse of alcohol, opium and other intoxicants has led to a fall in the sperm count of Punjabi males. The average sperm count has fallen from 60 million to 15 million, which has also led to increased prevalence of male infertility and mushrooming of artificial fertility centres all over Punjab. The deleterious effects of alcohol and other addictions on the psyche of children, who are affected as collateral damage, have been sadly overlooked.
At present, around 67 per cent of households of Punjab have, at least, one alcoholic member among them. It is a known fact that adolescents are aggressive due to their immense energy, which they are unable to utilise. Hence, they get easily frustrated and take extreme steps and even end their lives over small failures.
Self-injury
Deliberate self-harm (DSH) syndrome, described first by Pattison and Kahn in 1983, occurs in late adolescence. Though the harm caused to the person by himself may be repetitive, usually it has a non-fatal outcome. There is an apparent intent to harm oneself under stressful conditions. This stress is generally defined as acute exacerbation of the underlying chronic stress. This intention may shift to self-harm behaviour in late adolescence and may lead to altered behavioural pattern in adulthood. There is a difference between self-injurious behaviour and suicidal behaviour. At one time the DSH syndrome was labelled as parasuicidal behaviour. Such individuals have an increased risk of attempting suicide, around nine times more than matched cohorts. This risk extends to adult life when overwhelming negative feelings pushes them into suicidal behavior.
Self-injury is commonly associated with intentional carving or superficial cutting of skin, self-bruising, pulling skin or hair, burning sub-epidermal tissue scratching, swallowing toxic but not life-threatening substances and even breaking bones, leading to lasting disfigurement. Tattoos and piercing of ears or other body parts is not considered as DSH. Mostly the self-injury is caused on hands, wrists, stomach and thighs. Such injuries are usually multiple though they can be single.
Warning signals
Childhood sexual abuse by family members, which may lead to post- traumatic stress disorder, depression or personality disorders, may also lead to DSH. It is important that parents recognise the warning signs of DSH before it assumes catastrophic proportions. They must pay due attention to unexplained cuts, scars, cigarette burns on body, refusal to participate in school or home activities, insomnia, weight loss, odd dress of child and general symptoms of depression.
The media too plays a contributory role in propagating the DSH behaviour. Many children with DSH have confessed that they got the idea from newspaper clippings, images and cartoons. A recent study from Norway and England has failed to see any appreciable correlation of the DSH with cannabis usage. Although a rare genetic disorder named Lesch Nyhan syndrome is characterised by self-harm and includes biting and head banging, the role of genetics contributing to DSH is still under evaluation. It is estimated that 30 per cent of individuals with autism pattern also engage in self-harm behaviour, like hand biting, skin picking and head banging and even eye-piercing.
Recently, a new trend is emerging wherein deliberate self-harm is becoming a growing problem among children. This problem has started to appear in preteens even. Surprisingly, the risk factors are comparable to those precipitating such behavior in the adolescents. The stressors found by the researchers from Medical College, Calicut, Kerala, are related to parents, family, school, peers and teachers. Among the 30 children included in the study, 21 were boys and nine were girls. The children's age-group ranged from 11 to 13 years but the youngest was six years old. An overwhelming 76 per cent of the children gave a history of an acute stressful event while there was a history of chronic ongoing stress in 62 per cent of the cases.
Contributing stressors
Among 62 per cent of children under the effect of stress from within the family, various reasons included death of a parent, conflict of thoughts with parents or siblings, prolonged illness or mental ailment of a family member, alcoholism of parents or estranged relations of parents. The school-related stressors were corporal punishment or negative comments by teachers, learning problems, failure in examinations and conflict with classmates. The study, aimed at raising awareness about this new syndrome, found that it has started to manifest in much younger generations. It is alarming since these children could have varied psychiatric disorders later in life.
A similar study from Delhi reported a prevalence of 18 per cent of cases of deliberate self-harm. Some of them needed professional help. Dr Anjali Verma, Assistant Professor, University School of Medicine, USA, brought forward a new aspect of sexual abuse of girls in the family or outside, and this may account for underreporting of such cases.
Alcohol factor
Although alcoholism in parents was not a significant contributor to the self-harm syndrome in children in the Kerala study, a recent study in Government Medical College, Patiala, Department of Paediatrics, showed that alcohol played a major role in precipitation of the syndrome. Out of 13 cases included in the study, in the age group of 10-13 years, there were eight boys and five girls. All of these children had alcoholic fathers who indulged in wife beating and disharmony prevailed in all houses. Due to the violent behaviour of the father towards the mother and the children, the affected children retaliated in a form of self-harm behaviour. The self-harming behaviour included head banging, holding hot griddle in hand, superficial cuts on wrist with suicidal intent, ingestion of alcohol and other medications lying at home.
In Punjab, the overbearing number of alcoholics is leading to increasing debts. The silent spectators of the domestic violence perpetrated by these addicts are the children. These children have started to cause harm to themselves and have even attempted suicides.
Way forward
Deliberate self-harm is slowly becoming a public health problem in the developing world. There is an increasing need to educate not only pediatricians but also parents and school children about this self-destructive behavior. Early signs of depression and anxiety in young children can be identified and suitably remedied.
As routine biannual examination of children is not a norm in India, the responsibility lies mainly with parents and teachers. Early signs of underlying disorder in children are lack of interest, sad mood, sudden fits of anger and academic decline. Of all adolescents reporting history of self-injury, about one fourth practice it only once in their life time. Whitlock et al in 2006 in their study reported that even a single episode of self-injury can sometimes correlate with history of child abuse and tendency towards suicide and other psychiatric illnesses. Hence, they suggested that even a single episode of self-injury should be taken seriously. If there are recurrent episodes, or child is injuring him/herself regularly, then it must be reported to the doctor concerend or psychiatrist.
Early identification and management is the best preventive measure along with limited access of the media and proper guidance clinics. It is imperative that child helplines be established 24/7 and special clinics be set up to deal with young children facing these problems so that they do not grow into adults with psychiatric illnesses. These studies are showing the tip of the iceberg only. The number of children who are silent sufferers may be much more as this type of harmful behaviour is oft-neglected by the parents and perceived as stubborn behaviour only. More studies in this field need to be conducted as well. Raising awareness as well as establishing protocols for referral is the need of the hour.
The writer is deputy Medical Superintendent, Government Medical College and Rajindra Hospital, Patiala
Group pressure
Purington et al, in 2010 reported that in the middle and high school settings, some groups of youth injuring themselves together have been noticed. When interviewed the children in the group told that they got the idea from Internet. Some groups got the idea of self-injury through movies, books and news reports. Matthews in 1968, Rosen and Walsh in1989 and Taiminen in1998, also reported such behaviour in hospitals and detention centres
Facts and figures
As most cases of self-harm are not reported to physicians and are treated at home it is difficult to know the exact figure. Some estimates can be made from hospital admissions or psychiatric OPD cases, including drug overdoses.
In UK 10 per cent of admissions to medical wards are results of self-harm, majority of which are due to drug overdose.(33% young people reported in 2008).
In USA four per cent adults indulged in self-harm and one per cent of the population caused severe harm to selves. The average age was 14-24 years but youngest were between 5-7 years.
In India, in Delhi, self-harm was reported among 18 per cent school children.