New patrons of antique art
With most of the Indian miniatures residing abroad, Indian enthusiasts are forced to fly out for a glimpse of them. Yet, Indian collectors are shy of buying the miniatures, primarily because of the archaic Antiquity Act.
Vandana Shukla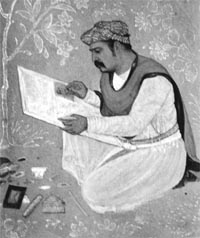 'Wonders of their age' the masters of miniature art documented life — as they saw it. But, they did not get a Vasari to write their biographies. Their genius remained unsung.

It could only be ironic that about fifty people had to fly from India to Zurich, in August this year to see a show of Indian miniature art! In October the traffic of art connoisseurs moved to Metropolitan Museum of Art, New York, where the same show had been installed, with some variations. Most of these fliers spent days savouring the intricate details of these works, thematic as well as stylistic, and wondered, why these shows could not be held in India!
At a time when art is growing larger than life, there must be something very endearing about these centuries old minute art works — made on paper, that the world is spending millions to curate, catalogue and research! Before the year comes to a close, two major art centres of the world would have showcased selected works of miniature art, fuelling the global demand for these works among buyers and collectors.
Getting home the foreign way
While the domestic art market, promoters, museums and collectors remain passive spectators to this great art activity taking place abroad, it leaves one wondering how much money would have been invested in tracing down the cultural contexts in which these paintings were made by their anonymous painters, who lived between 12th to19th centuries. It is interesting to note that despite a large collection of miniature art available at various Government Museums in India, it was in Venice that a collection of miniature art was first exhibited in 1961. The interest of the international art connoisseurs began to grow not only in the Indian miniature art but also in its artists, who, for the first time were recognised in an exhibition of Pahari paintings held at Museum Rietberg, Zurich, in 1990, conceptualised by the art historian Dr B N Goswami, in collaboration with Dr Eberhard Fischer. This effort also resulted in publishing of an elaborate catalogue by the museum on Pahari Masters ( now available in a book form Pahari Masters : Court Painters of Northern India), enlisting 14 master painters from different schools of Pahari paintings like Kangra, Guler, Basholi, Chamba etc.
Perhaps what drew the attention of the world community of connoisseurs to this genre of art was the fact, that unlike the Mughal school of miniature art, which was more dramatic and driven by depiction of heroic events, works of Pahari masters are more meditative, imaginative and effusive — appealing to a larger section of society. One could also witness the painter's sense of humour in some of the works. These master painters were patronised by the kings of small Rajput riyasats of the hill states, and enjoyed complete freedom and blossoming of their unique styles.
At the Zurich exhibition, for the first time an effort was made to give a name to the artists rather than treating the entire body of miniature paintings as one genre. When the names were not traceable, the works were categorised under 'series', like Bhagwat Puran, Raagmala series etc.
" We conducted a kind of census of Pahari works and came to realise that these artists could not be treated as a flock, they were individuals, they were thinking men, each one with a strong individual observation and style. But they were anonymous, it was a mystery that had to be solved — breaking their code name!" says Dr Goswami, who worked tirelessly for years to find the missing links.
Soon after the exhibition of Pahari works, that lent a name to its master painters was held at Zurich, an extraordinary sale of Indian miniature art from the Bachofen von Echt Collection took place at the Sotheby's in 1992 and proved that an exhibition based on such extensive research work and planned at such scale can change the fate of an art form. This sale catapulted miniature art into the high league, 37 of the 38 works put on sale were sold for 'unthinkable' prices.
Fixing a larger frame
Whereas the Zurich show of 1990 showcased works of about 14 Pahari masters, in May- August, 2011, the show titled The Way Of The Masters – The Great Artists of India, 1100–1900, shown once again at Museum Rietberg, Zurich, traced landmarks of 800 years of Indian painting with some 240 masterpieces by more than 40 artists, selected from all major schools of miniature paintings — found across the geography of the sub-continent. Three renowned curators, Milo C. Beach (Smithsonian, Washington), B.N. Goswamy and Eberhard Fischer lent an identity to the most significant painters from over 800 years of history and area that was spread from Esfahan in Iran to Delhi, and the Deccan in India.
To make the experience of 'seeing' of these works unique and contemporary, for the first time, a film was produced by Eberhard Fisher, directed by Amit Dutta on the life and art of Nainsukh, one of the 18th century Pahari masters from Guler, to help the viewer relate to the life and times of these masters. Eberhard Fischer, who curated both the shows of miniature paintings for Zurich exhibition recounts the challenges involved in showcasing the miniature works," These are not Picasso, which will occupy the visual space, the works are small and delicate, a lot of light might damage them, they require intimate viewing in a meditative silence," which is what was provided in these exhibitions, using a unique display mechanism.
It goes without saying, once again, the price fetched by works of miniature art multiplied. One of the rare works of Nainsukh fetched $ 2.25 million at the Christies.
Small too can grow big
Dr Fischer is not satisfied with the price tag of a couple of million dollars for the miniature art. It is still low, seeing the international art market, he says. The present figure is nothing, compared to what is anticipated for the Indian miniatures. " These are period works, they are not going to be multiplied, their numbers are limited and the demand is growing." In the next ten years, he anticipates, the manner of viewing the miniature art will be transformed by better availability of technologies, which will further magnify the actual colour pigments and their lustre without distorting these amazingly meditative works.
But, the high price tag is leading to a situation, which, at best could be termed ironic. Private foreign collectors, who held the maximum number of these works (carried as souvenirs by the British, Portuguese and French colonisers) now find these works out of their reach to add to their collection. And Indians are wary of touching them, thanks to the Antiquity Act. Only museums are left as patrons of this art, that too, in foreign lands. And, they buy miniature paintings only from foreign based dealers.